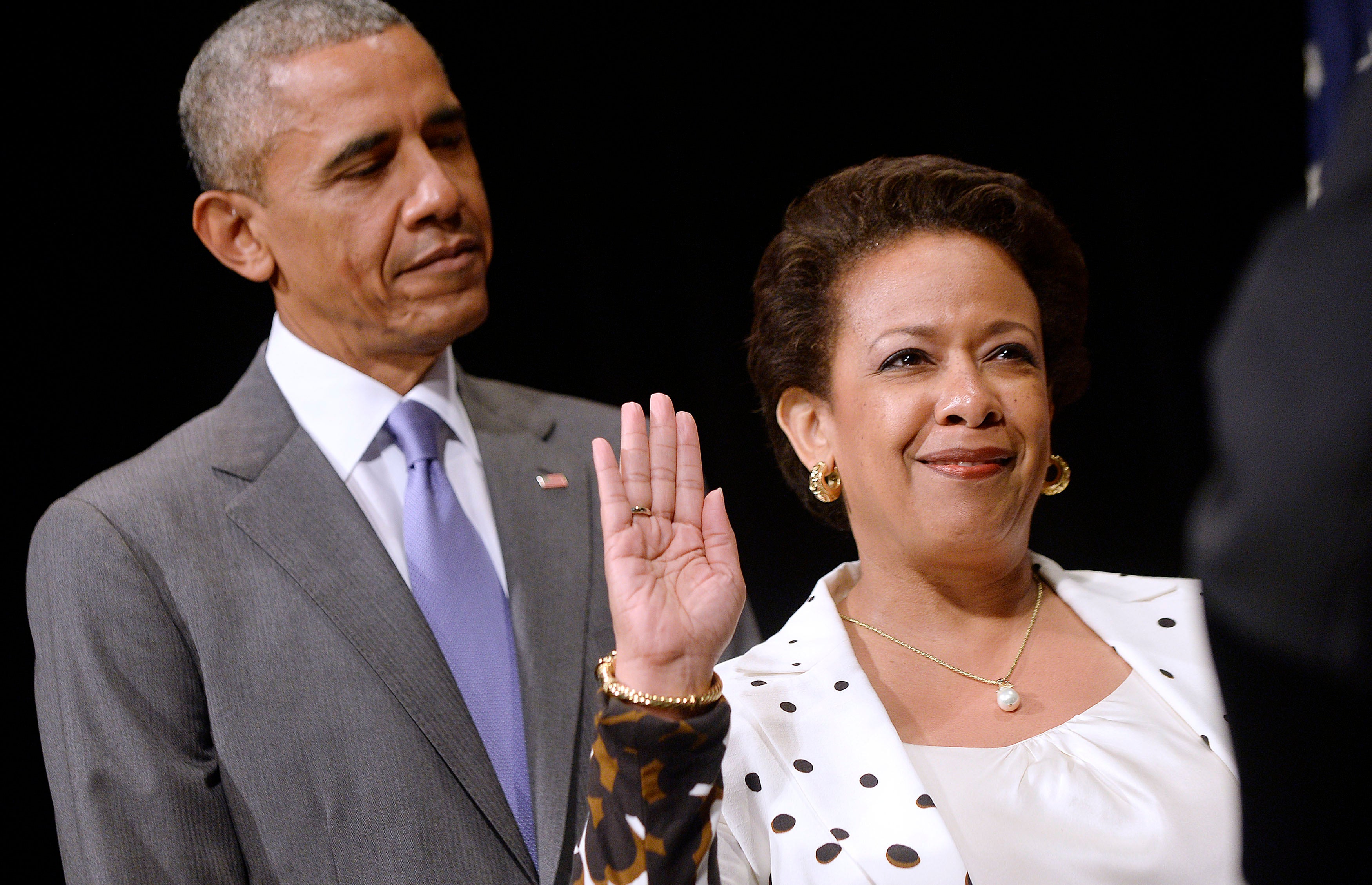 Obama imagines a "mortified" Loretta Lynch at her swearing-in as AG
President Obama praised his new attorney general, Loretta Lynch, at her formal installation ceremony, but he also injected a little levity into the proceeding with an anecdote about her background check.
The president talked about Lynch's "wealth of experience" and strength of character. He noted that she's already made her mark "at home and abroad." In May, Lynch opened an investigation into the Baltimore Police Department after Freddie Gray died in police custody. Weeks later she announced settlements with five of the world's biggest banks over their admission that they had manipulated the euro-dollar exchange market and rigged a benchmark interest rate.
Lynch's parents also merited a mention during the investiture. "They are her biggest cheerleaders," Mr. Obama said of Lynch's father, a fourth-generation Baptist minister, and her mother, a school librarian.
And to illustrate the depth of their pride in their daughter, the president launched into the story of what happened when Lynch first sought work at the Justice Department.
"[W]hen she applied to work at the US Attorney's Office, and a FBI agent went to their house to conduct a routine background check, her parents pulled out a bunch of scrapbooks of Loretta's accomplishments," the president told the crowd at Washington's Warner Theatre. And, he continued, they "made the agents look through them."
"I'm sure Loretta was mortified," Mr. Obama added, chuckling.
He imagined her parents showing the FBI the scrapbooks, and pointed out the accolades of young Loretta Lynch: "And here in third grade she got the prize, and here's one of her old poems," concluding, "[T]he agent later told Loretta that she probably wasn't a threat to America because if she were, her parents would have documented it in some way."
Lynch, who took office in April after a months-long confirmation process, gave a few words of her own after being formally installed by Justice Sonia Sotomayor.
"Over 200 years ago, we decided what kind of a country we wanted to be," the top law enforcement official said, after she had laid her hand on Frederick Douglass' Bible during the swearing-in ceremony. "We have not always lived up to the promises made. Yet we have pushed ever on, and with every challenge we get a little bit closer."
Lynch had launched her official Twitter account Wednesday:
And a photo of the Douglass Bible was among her first Tweets.
CBS News' Jillian Hughes contributed to this report.
Thanks for reading CBS NEWS.
Create your free account or log in
for more features.