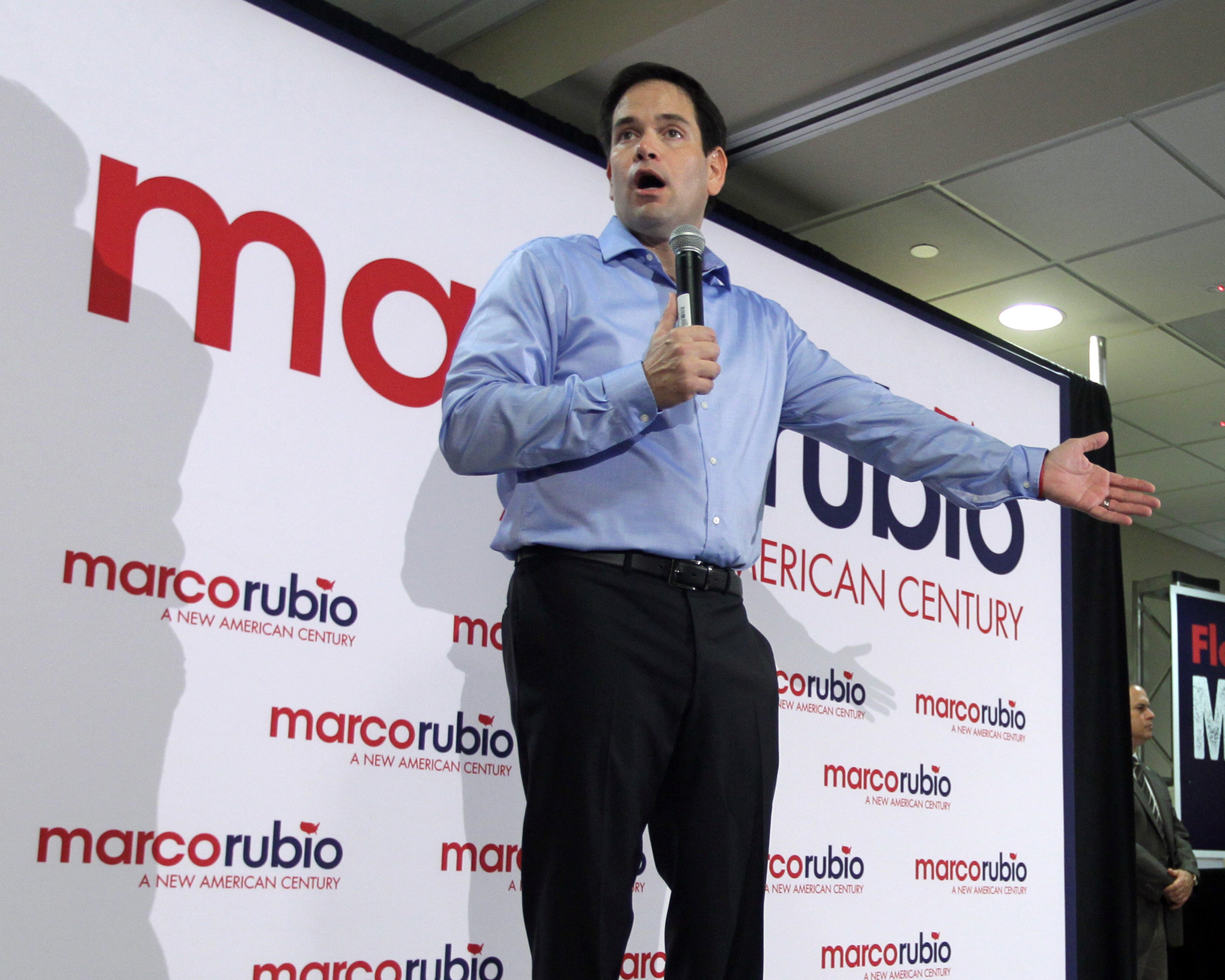 At Florida homecoming, Rubio talks San Bernardino, state primary
Sen. Marco Rubio, R-Florida, returned home to south Florida Saturday morning to an event for 500 of his closest and oldest supporters.
Rubio received a hero's welcome as he walked on stage with his wife Jeanette. The event, a $20-a-person fundraiser billed "Where It All Began," was held in West Miami, where Rubio began his political career as city commissioner and just blocks from his home.
Rubio addressed the enthusiastic crowd in Spanish for much of his remarks but switched back to English to articulate several points on terrorism and national security that he has been highlighting since the attacks in Paris and now in the wake of San Bernardino.
On San Bernardino specifically, Rubio pointed to the unique circumstances around how Syed Farook and his wife, Tashfeen Malik, carried out the attack.
"We've now learned, quickly after this incident, that this woman involved in the shooting pledged allegiance to ISIS on Facebook. This is the world we now live in," Rubio said, adding that Farook "was quickly radicalized and -- more than just radicalized online -- was inspired to take action and attack and kill fellow Americans."
"This is a very dangerous world that we live in," he said.
That danger of what Rubio calls "radical Islamic terrorism" is why he has been a staunch advocate of restoring the government's surveillance capabilities that lapsed with the June passage of the USA Freedom Act. The Florida senator chastised other Republican candidates like Texas Sen. Ted Cruz and Kentucky Sen. Rand Paul for voting to take those tools away this summer.
Rubio said that the lapse in collecting metadata that resulted from the new legislation has put the country at risk and made it harder to stop future attacks.
"A week ago, we were still able to see the phone records of a potential terrorist 'cause we held them -- now, you have to hope the phone company still has them. You have to argue with their chief counsel. By the time you get access to it and try to find out who they've been calling and who they've been working with, it's too late," Rubio said.
The event was only one of a handful Rubio has had in Florida that has been open to the press. With less than 60 days until voting begins in Iowa, the senator was honest with the crowd about how much he would be back in southern Florida.
"Over the next few weeks, unless you go to the grocery store on Sunday, you're gonna be seeing less of me than you've been seeing in the past -- a lot less because I'm gonna spend a lot more time in Iowa and in New Hampshire and South Carolina and Nevada," he said.
But Rubio looked ahead to the Florida primary, highlighting the state's importance in picking the Republican nominee for president and expressing his hope that it would be him.
"The early part of March you're gonna start to see us again because I hope and I pray, God willing, that if we can continue to grow our campaign when we come here for the 15th of March ... that perhaps on that night, in Florida, this party will be able to nominate someone for the presidency," he said.
Thanks for reading CBS NEWS.
Create your free account or log in
for more features.