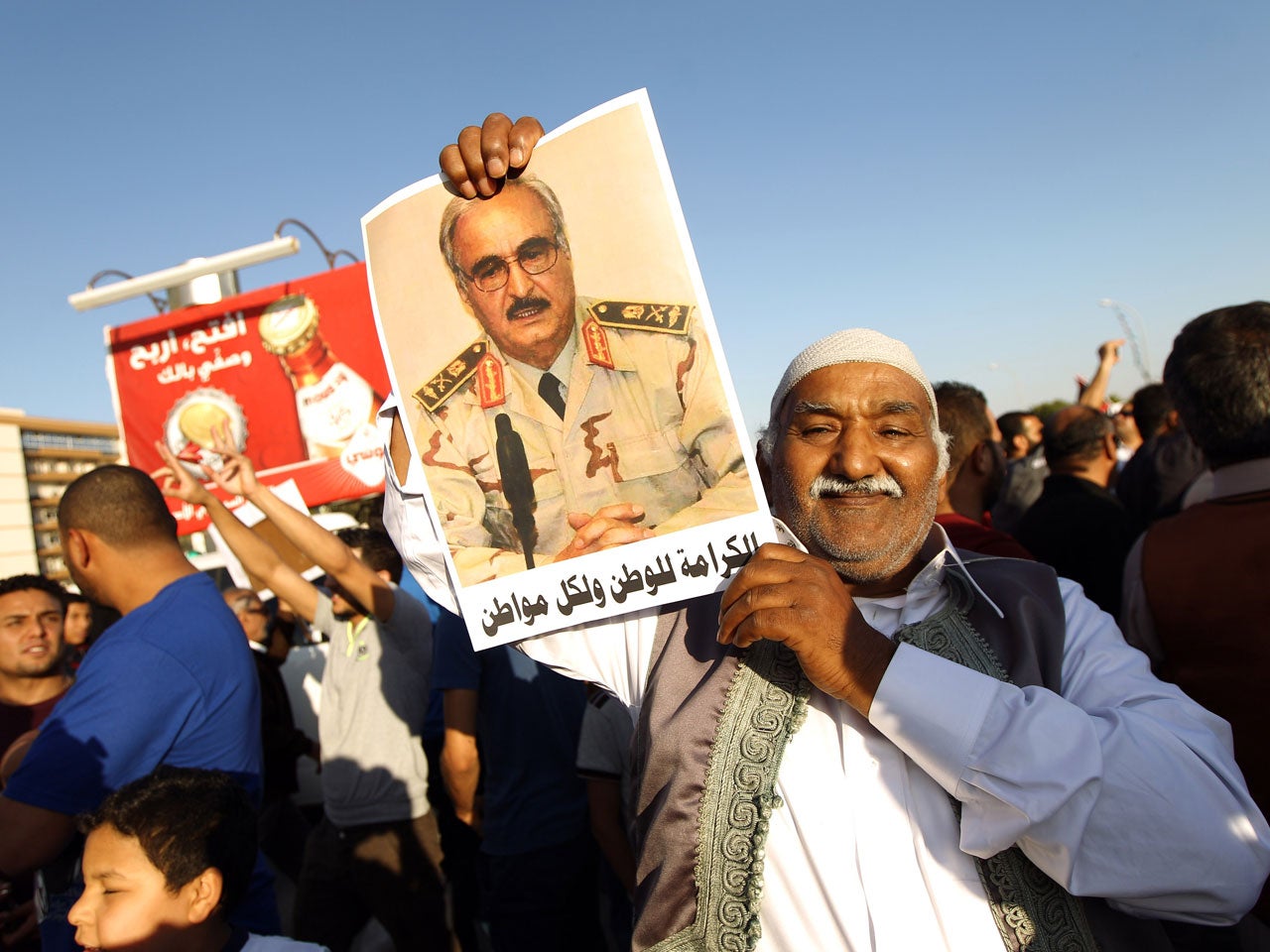 As Libya deteriorates, U.S. prepares for possible evacuation
TRIPOLI, Libya - As Libya deteriorates into an increasingly armed conflict between hardline Islamic groups and forces loyal to renegade Gen. Khalifa Hifter, the State Department urged U.S. citizens to leave the country as the U.S. began positioning troops to quickly evacuate Americans if necessary.
The amphibious ship Bataan with Ospreys and 1,000 Marines on board has moved into the eastern Mediterranean to be ready for a possible evacuation, CBS News correspondent David Martin reported. The ship had been taking part in an exercise with Jordan.
This is a significant increase over the 200 Marines who had been moved to Sigonella, Sicily, and a significant decrease in the distance Marines would have to travel to evacuate Americans.
The State Department on Tuesday night warned U.S. citizens against traveling to Libya and urged Americans currently in the North African nation to "department immediately."
"The security situation in Libya remains unpredictable and unstable. The Libyan government has not been able to adequately build its military and police forces and improve security following the 2011 revolution. Many military-grade weapons remain in the hands of private individuals, including antiaircraft weapons that may be used against civilian aviation. Crime levels remain high in many parts of the country," the State Department said in its advisory.
"Extremist groups in Libya have made several specific threats this year against U.S. government officials, citizens, and interests in Libya," the advisory said. "Travelers should be aware that they may be targeted for kidnapping, violent attacks, or death. U.S. citizens currently in Libya should exercise extreme caution and depart immediately."
There is no evacuation currently planned for the U.S. Embassy staff in Tripoli, who can still use the airport if necessary, reported CBS News correspondent Margaret Brennan. Positioning the Marines is part of contingency planning put in place after the the 2012 attack on the U.S. Consulate in Benghazi, in which U.S. Ambassador Chris Stevens and three other Americans died.
A lot of criticism befell U.S. officials for its assets not being better able to respond to the 2012 attack, and there are a significant number of U.S. personnel on the ground in Libya outside the U.S. Embassy.
The positioning of Marines came as the leader of Libya's Ansar al-Sharia militant group in Benghazi warned the U.S. against interfering in the country's crisis, according to Reuters.
Ansar al-Sharia is listed as a foreign terrorist organization by Washington and has been accused of orchestrating the 2012 Benghazi attack.
Mohamed Zahawi, head of the Benghazi brigade of Ansar al-Sharia, accused the U.S. government of backing Hifter, who has begun a self-declared campaign to purge Libya of Islamic militants, Reuters reported.
"We remind America, if they intervene, of their defeats in Afghanistan, Iraq and Somalia, because they would face in Libya something much worse," he said in a statement.
Meanwhile, Libya's prime minister, who was recently approved in a contested parliamentary vote, was unharmed in an attack on his home that set off a gunbattle with guards early Tuesday, a government official said.
The official said four attackers fired rocket-propelled grenades at the house of Ahmed Maiteg, sparking clashes with security guards. One of the assailants was killed and another was arrested while the rest fled, the official said, speaking on condition of anonymity because he was not authorized to talk to the press.
Maiteg was named premier in a vote deemed illegitimate by non-Islamist lawmakers.
The appointment escalated a political crisis pitting Islamist lawmakers and militias against forces loyal to Hifter, three years after the revolt that toppled and killed Moammar Gadhafi.
Thousands of Libyans have held demonstrations in recent days demanding the elected assembly halt sessions and accusing it of financing Islamic militias and acting as their political wing.
Islamists have condemned the offensive launched earlier this month as a "coup," while several prominent government officials, diplomats and military units have rallied to Hifter's cause, hoping he can bring stability to the petroleum-rich North African country.
Many of the heavily armed rebel brigades that defeated Gadhafi's forces three years ago have since been transformed into militias that refuse to disarm or join the national security forces. They have been blamed for a string of kidnappings and assassinations of diplomats, government officials, activists, judges, and members of police and army.
Last year, Islamist militiamen abducted then prime minister Ali Zidan in a dramatic illustration of the challenges faced by the weak central government. He was released unharmed several hours later when other militias intervened.
Thanks for reading CBS NEWS.
Create your free account or log in
for more features.