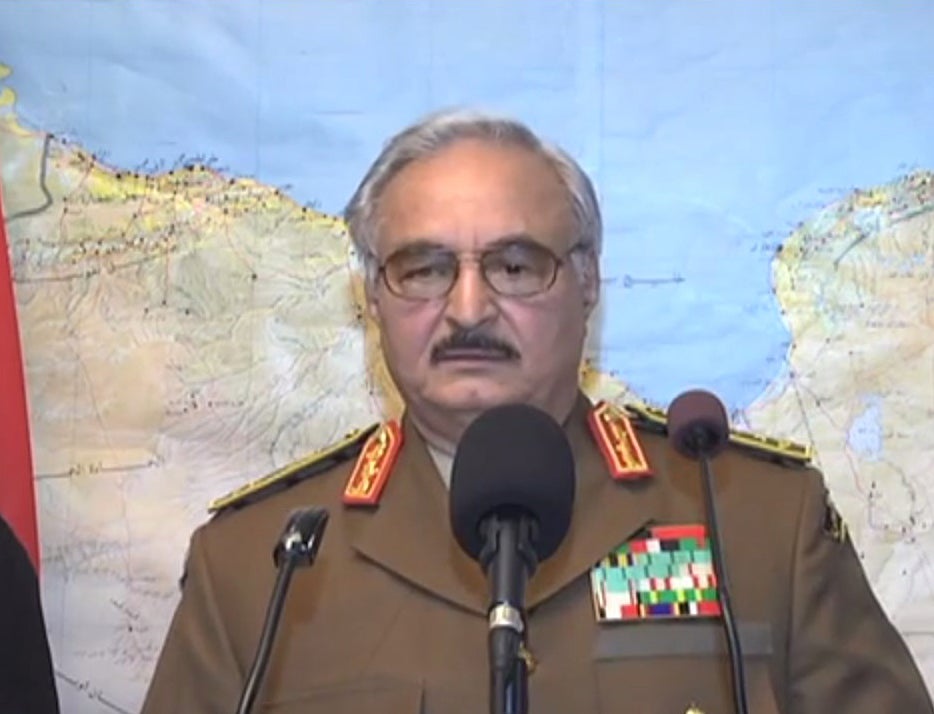 Libya Major General Khalifa Haftar claims gov't suspended in apparent coup bid; PM insists Tripoli "under control"
TRIPOLI -- A Libyan military commander on Friday called for the suspension of the interim parliament and the formation of a presidential committee to govern until new elections are held.
Major General Khalifa Haftar was a leading figure in the 2011 revolution against Muammar Qaddafi, but it was not clear how much influence he has within the nascent army in a country where diverse armed groups hold sway.
"The national command of the Libyan army is declaring a movement for the new road map," Haftar said in a statement in which he said the armed forces were calling for the country to be "rescued" from its upheaval.
"We will hold meeting with different parties and groups regarding implementing this roadmap," he said.
In a statement later Friday, Prime Minister Ali Zidan flatly denied that there had been any coup, telling Libyans that both the government and the parliament were up and running, and that "the situation is under control."

There were no immediate signs of any troop movements or activity outside the parliament in Tripoli, the prime minister's office or any ministries.

The U.S. Embassy in Tripoli would not comment on the situation in the capital when contacted by CBS News on Friday.

Libya, since the fall of Qaddafi, is chaotic, with its fragile government and armed forces unable to impose their authority on competing political factions and the brigades of former rebels who refuse to disarm.

Prime Minister Zidan himself was briefly abducted and held by gunmen in October last year, before being released by his captors.

Islamic extremist groups remain powerful in some parts of the country. A senior al Qaeda operative, Anas al-Libi, was grabbed off a Tripoli street by U.S. commandos and taken into custody just last year.

Al-Libi, is believed to have once been close to Osama Bin Laden and is accused of playing a role in the 1998 bombings of two American embassies in Africa, which left more than 200 dead.

That U.S. raid to arrest al-Libi came about one year after the deadly attack on U.S. diplomatic offices in the tumultuous eastern city of Benghazi, which left American Ambassador Chris Stevens and three other U.S. nationals dead.
Thanks for reading CBS NEWS.
Create your free account or log in
for more features.