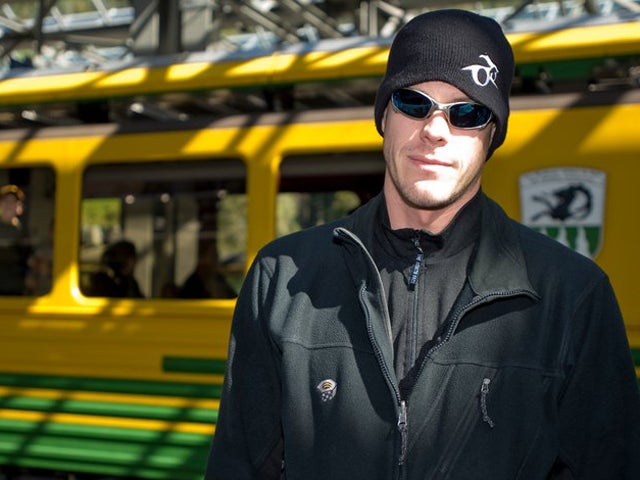 Are extreme sports too dangerous?
Extreme sports bring excitement, and are starting to draw big bucks.
But are the athletes putting too much on the line?
The daring participants say extreme sports are all about the thrill, the rush of adrenaline they get. They're climbing higher, jumping farther and moving faster, all in the name of personal glory.
Still, when things go wrong, they pay a heavy price.
Humans aren't supposed to fly, but Jeb Corliss comes pretty close.
His extreme exploits have a huge following. One video of him in action alone has gotten almost 9 million views.
Corliss hurt in stunt jump
Uncertainty clouds recovery of skiier Sarah Burke

On Monday, Corliss was seriously injured on Table Mountain in Cape Town, South Africa. Moments after he stepped off a cliff -- a 3,500-foot drop -- he hit the wall, breaking both his legs. He had to be taken by helicopter to a hospital.
Only a day before that, another extreme athlete, ice climber John Roberts, died after a 60-foot fall in Colorado.
And last Tuesday, free-skier Sarah Burke was critically injured during a training run in Utah.
All of these athletes take risks and are at the leading edge of extreme sports -- a one-time bit player on the sports scene that has exploded in recent years, thanks in part to social media and TV coverage.
The extreme athletes known as "Birdmen" even attracted the attention of "60 Minutes" in 2010.
Sponsorships have helped extreme athletes soar to new heights. Corliss has eight sponsors, including camera company GoPro.
GoPro CEO Nick Woodman says what Corliss does is risky, but not nearly as risky as most people would think, because he's so good at it.
Corliss jumped without permission from South African authorities, a jump that not only put him in danger, but his rescuers, as well -- one of the many reasons why big brands tend to shy away.
"A lot of big brands, (and) rightly so, don't want to take that chance. You don't want to see blood spattered all over a logo that you've invested millions and millions of dollars in," says sports marketer Joe Favorito.
But, Favorito adds, athletes who are determined will find a way. "What they're trying to do is offset costs and take it to another level as, quote, a professional athlete," he said. "And people think, when you're associated with sponsors, that makes you a professional. Sometimes, it makes you become a little more risky."
Professional skier and base-jumper JT Holmes knows how dangerous extreme sports can be. He knew Burke, and watched his close friend, Shane McConkey, die after jumping off a 2,000 ft cliff. Holmes was also the subject of the Steve Kroft "60 Minutes" story on "Birdmen," and was a stunt man for the film "Transformers." Holmes insisted on "CBS This Morning" that he engages in extreme sports because they're "just good, clean fun." He admitted he thinks about the possibility the activities could kill him. "Certainly," Holmes said. "Every single jump, every single ski run, you have to be aware of the (possible) consequences and, if you're going to choose to put yourself in these perilous situations, you need to be prepared."
To see the entire interview, click on the video below.
Thanks for reading CBS NEWS.
Create your free account or log in
for more features.