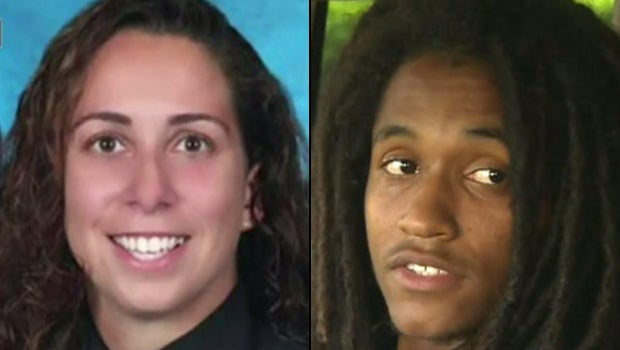 Arby's makes decision on clerk accused of denying officer service
PEMBROKE PINES -- An Arby's clerk in Florida accused of denying a police officer service for being a police officer has met with company executives and has been handed down a punishment, reports CBS Miami.
Kenny Davenport, 19, said he was working when Pembroke Pines Police Sergeant Jennifer Martin pulled up to the drive thru window. But he says their interaction was a joke that was taken the wrong way.
According to a police report on the incident, Martin was told by Manager Angel Mirabal at the restaurant that an employee, now identified as Davenport, did not want to serve her. Mirabal allegedly said, "He doesn't want to serve you because you are a police officer."
After the uncomfortable encounter, Martin said she was uncertain she wanted to eat at the restaurant because her food may be tainted. The manager tried to assure her everything was fine, and handed over her food.
According to the report, the manager allegedly laughed and said the clerk was allowed to refuse service to the officer.
CBS Miami reports that Davenport met with company executives Friday morning where he was put on leave with two days pay.
"This was a complex and difficult decision, but as a company that highly values trust and fairness, we ultimately found that the crew member was not involved other than to attempt to remedy the situation," said the company's CEO Paul Brown in a statement. "We have reviewed our process and decision with the Pembroke Pines Police Department who made it clear they consider the case closed."
The manager, on the other hand, was fired.
"As a result of our thorough investigation, we have terminated the manager and placed the crew member on temporary paid leave," the statement read.
Thomas McCutcheon tells CBS Miami he was not happy with how the Arby's controversy has played out so far for his grandson Kenny Davenport.
"I want my grandson exonerated of all this misunderstanding and not to have to look over his shoulder," said McCutcheon.
The company has also reached out to local law enforcement by offering free meals to uniformed officers on Friday. Police can go into any of their Miami-Dade and Broward locations for the free meal.
CBS Miami previously reported that a South Florida police union called for a national boycott of Arby's after Martin was denied service.
"I am offended and appalled that an individual within our community would treat a police officer in such a manner. It is unacceptable," said Pembroke Pines Police Department Chief Dan Giustino.
In reaction to the incident, the Dade County Police Benevolent Association called for the employees involved to be fired.
Arby's issued an apology in regards to the incident.
"We take this isolated matter very seriously as we respect and support police officers in our local communities. As soon as the issue was brought to our attention, our CEO spoke with the Police Chief who expressed his gratitude for our quick action and indicated the case is closed. We will be following up with our team members to be sure that our policy of inclusion is understood and adhered to. Further, we will be following through with disciplinary action up to and including termination of the employees involved, as appropriate."
A few days after the incident, Davenport had said that he does not hate cops.
"We don't hate anybody," he said. "We're just trying to get people out of the drive thru."
Davenport's grandfather had previously told CBS Miami that he believes the whole incident was being blown out of proportion. He raised his grandson and said he has respect for the police. He believes the whole thing was centered around a misunderstood joke.
"Officers lives matter," he said. "Everybody's life matters. Somebody made a joke and she just didn't take it the right way. She didn't think they were joking. She thought it was a serious matter. Now their job as an officer is very serious and I appreciate all that they do."
Kenny Davenport had told CBS Miami he saw little point in trying to explain himself.
"There's no point in talking," he said. "I'm 19. She's an officer and I'm colored."
Thanks for reading CBS NEWS.
Create your free account or log in
for more features.