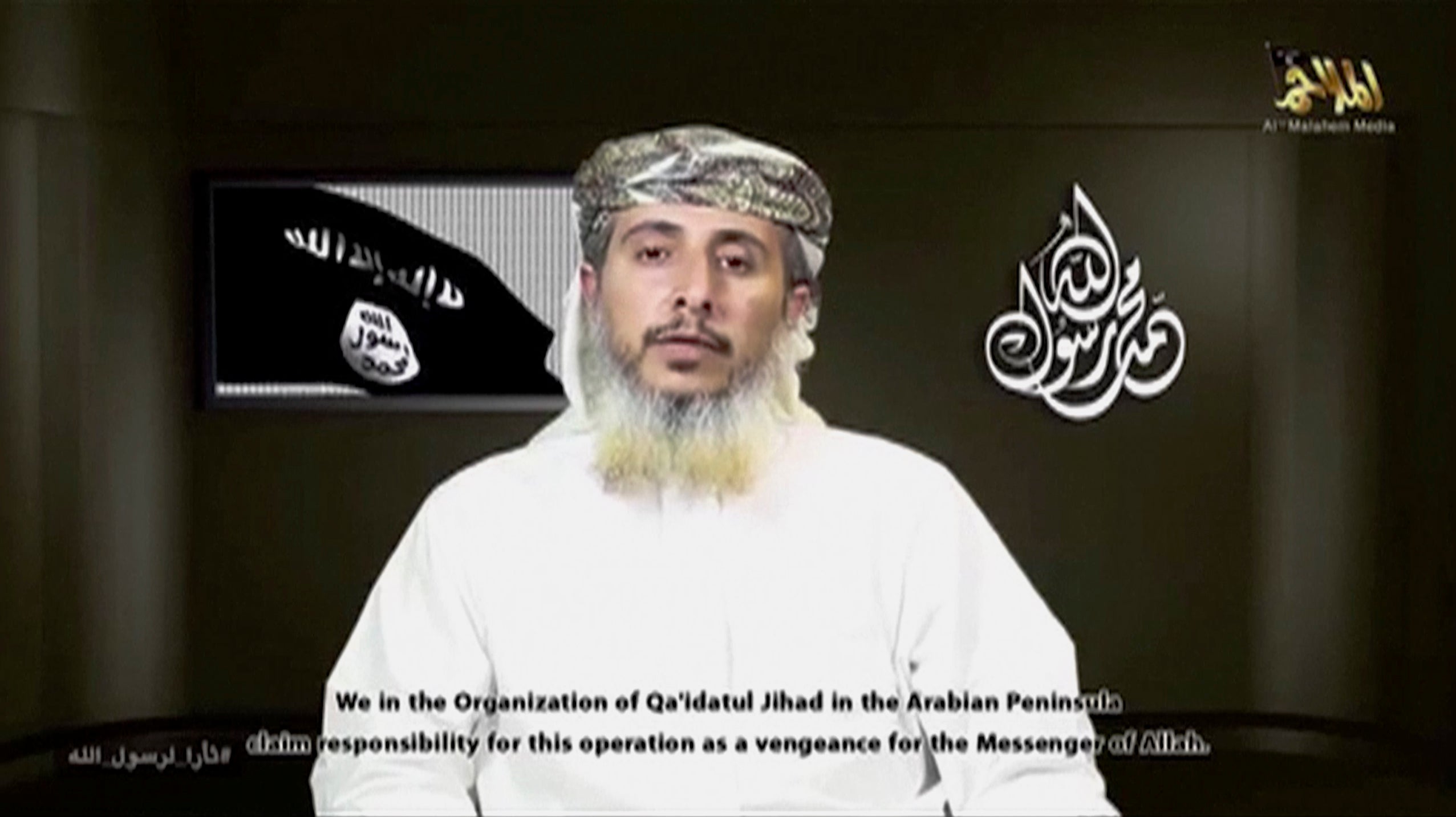 AQAP leader who claimed Charlie Hebdo attack killed by U.S. drone
A senior leader of Al Qaeda in the Arabian Peninsula (AQAP) who declared the group was responsible for the Charlie Hebdo attack in Paris has been killed in a U.S. airstrike, CBS News correspondent David Martin confirms.
Nasr al-Ansi, who had been serving as an ideological leader, was among several fighters killed in a CIA drone strike on April 21, Martin confirms. Washington considers AQAP to be the most powerful in the terrorist network.
Al-Ansi's death was announced by al Qaeda operative Khaled Batarfi in a video posted on the Internet. Batarfi did not say when or where in Yemen he was killed, adding only that al-Ansi's eldest son, Mohammed, and several fighters were killed in the same airstrike.
Al-Ansi, believed to have been close to al Qaeda's late leader Osama Bin Laden, has made several video appearances on behalf of the group's Yemen branch. In January, he announced that the Yemen branch was responsible for the attack on the offices of the French satirical magazine that killed 12 people.
After the attacks, AQAP posted an 11-minute video on the group's Twitter account and al-Ansi warned of more "tragedies and terror" in the future.
Al-Ansi said AQAP "chose the target, laid out the plan and financed the operation." He said the radical Yemeni-American cleric Anwar al-Awlaki, who was killed in a U.S. drone strike in Yemen in September 2011, had arranged the attack.
Al-Ansi's death comes less than a month after AQAP announced that its top cleric, a Saudi-national who had a $5 million bounty on his head, was killed in an alleged drone attack.
In late March, about 100 U.S. military advisers withdrew from the al-Annad air base where they had been leading the U.S. counterterrorism efforts in Yemen.
Washington rarely comments on drone attacks. U.S. officials had been concerned their counterterrorism capabilities would be diminished because of the withdrawal of their staff. However, they said the al Qaeda branch will likely be drawn toward the internal Yemeni conflict, and away from plotting to go after Western targets.
Al Qaeda is a staunch rival of the Shiite rebels, and has already waged a number of attacks against their advances.
U.S. officials also said that CIA drone strikes would continue but that there will be fewer of them
Thanks for reading CBS NEWS.
Create your free account or log in
for more features.