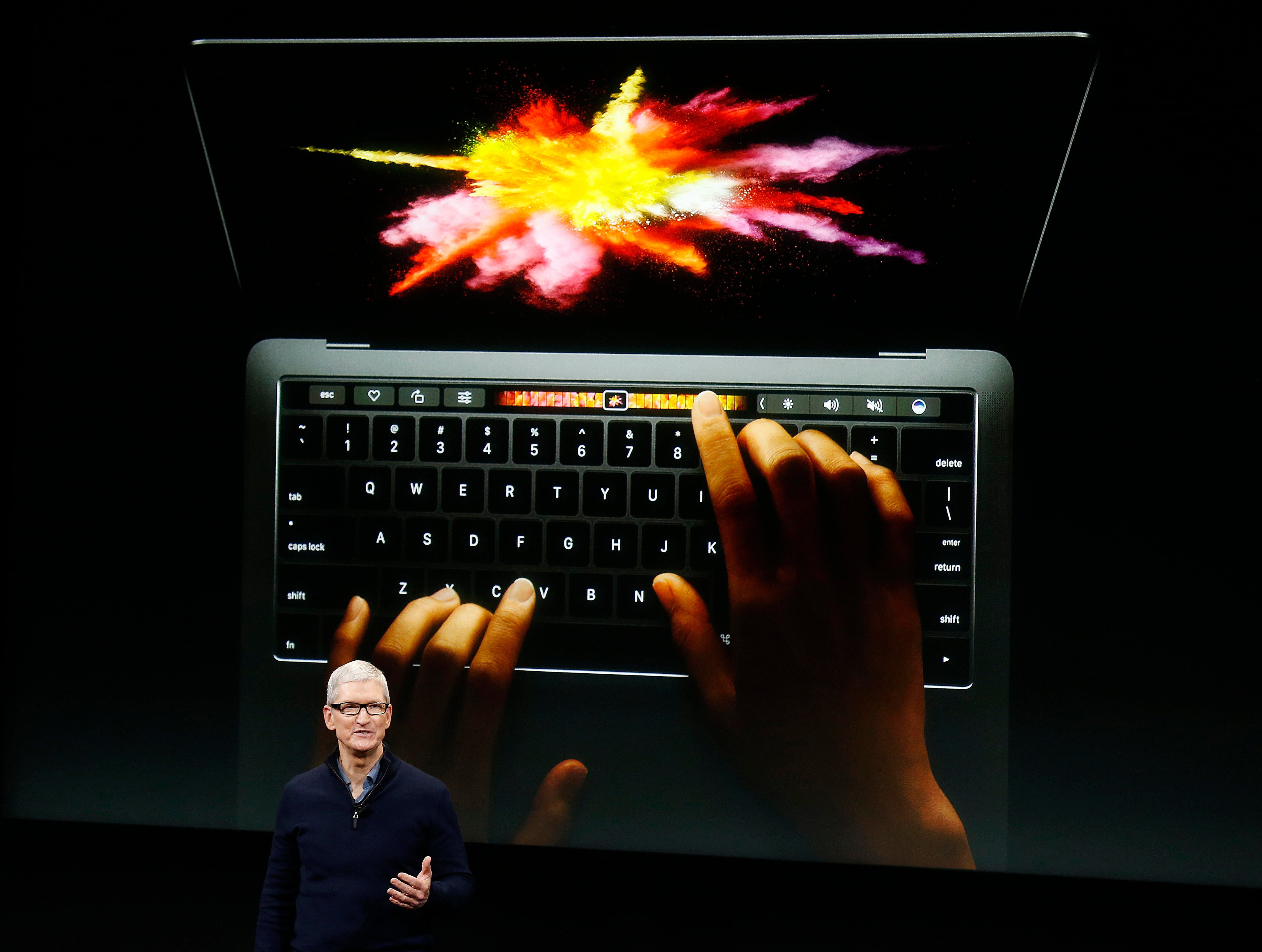 Apple rolls out a new MacBook Pro: Does it still matter?
Apple has rolled out a brand new architecture for its most expensive and powerful laptop line, the MacBook Pro. CEO Tim Cook showed off the new laptop at Apple's Town Hall center on One Infinite Loop on Thursday.
In exclusive interviews earlier this week with CNET, marketing chief Phil Schiller, software engineering lead Craig Federighi and top designer Jony Ive explained why the Mac matters and provided an inside look into the new product.
The "milestone" update, as Apple called it, took more than four years to develop.
"We challenge the teams to do great work and sometimes that great work can be done in one year, sometimes it takes three years," Schiller told CNET in a briefing at Apple's headquarters in Cupertino, California.
The flashiest change to the new MacBook Pro is a slim, multi-touch strip that replaces the function keys at the top of your keyboard, which Apple is calling the "Touch Bar." The new display, designed to work with Apple's MacOS Sierra software, lights up to show a changing menu of buttons, control sliders, dials and emojis.
The new MacBook Pro has an entirely new architecture, with a bigger touchpad and a shallow keyboard. It is thinner by several millimeters and lighter by half a pound. The magnetic charger and USB ports for four USB-C plugs are no more.
Techies can rejoice: the new laptop boasts faster memory, revamped thermal architecture, and speakers that can deliver twice the dynamic range of sound. The 15-inch MacBook Pro is specifically marketed for creative professionals, with faster graphics processing and the capacity to run two 5K monitors at the same time.
Features like "Continuity" address the overlap between Macs and iPads, making it simpler for the devices to communicate with each other. In general, the MacBook Pro is much more integrated in the overall Apple device universe: as CNET noted, you can start writing an email on your iPad and finish it on your Mac, take calls on your Mac, and use Siri voice commands on your computer.
The three new models cost at least $200 more than before. The 13-inch MacBook Pro -- which doesn't have a Touch Bar but boasts the thinner, lighter, smaller unibody design -- is already available and starts at $1,499. The 13-inch and 15-inch models with Touch Bar and Touch ID start at $1,799 and $2,399, but customers have to wait until mid-November for those.
The MacBook Pro enters a lukewarm market, CNET noted. Computer shipments dropped for the eighth straight quarter in September. Even so, Apple has been selling more Macs every year in the past decade, except in 2013 and 2016, according to data compiled by Statista, CNET reported.
What does all this mean? In essence, Apple is "winning a bigger and bigger slice of a shrinking pie," Asymco analyst Horace Dediu told CNET.
So, in this climate, does the Mac still matter? Apple insists it's the best laptop in the company's history. Sales will put that argument to the test.
Read more of CNET's analysis of Apple's new MacBook Pro and what it means for the tech giant.
Thanks for reading CBS NEWS.
Create your free account or log in
for more features.