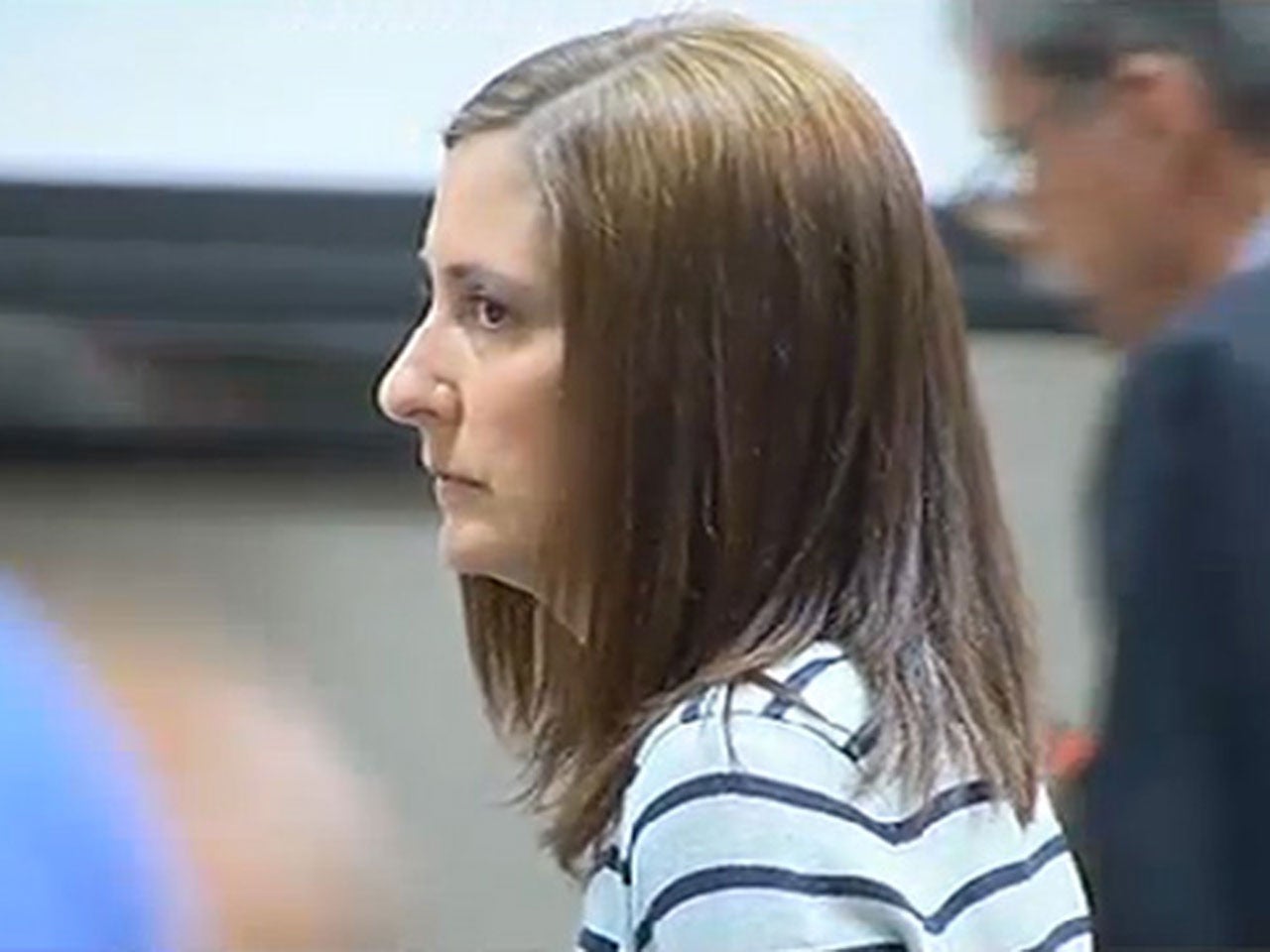 Andrea Sneiderman Trial: Prosecution paints Ga. woman as complicit in husband's murder in week 1
(CBS/AP) DECATUR, Ga. - The trial of Andrea Sneiderman, a Georgia woman who is accused of lying under oath and hindering the investigation into her husband's 2010 death, began last week with opening statements by defense attorneys detailing how Sneiderman was a happily married mother devastated by her husband's killing, not the woman prosecutors described as engaged in a "forbidden romance" with her husband's killer.
Sneiderman's husband, Rusty Sneiderman, was fatally shot in November 2010 outside a suburban Atlanta preschool. Andrea Sneiderman's former boss Hemy Neuman was convicted in the killing in March 2012, but he was found to be mentally ill.
Prosecutors initially said Andrea arranged her husband's killing, but murder charges against her were later dropped. She had pleaded not guilty and has repeatedly denied any romantic relationship with Neuman.
DeKalb County prosecutor Kellie Hill told the jury during opening statements early last week that evidence in the case will show that soon after Andrea Sneiderman took a job at General Electric, she formed a friendship with Neuman that quickly blossomed into a romantic relationship. But because she was married with young children, she felt conflicted about their relationship and was hot and cold with Neuman, Hill said.
Hill went on to argue that Andrea failed to tell police about her relationship with Neuman and failed to tell them she suspected he might be involved in her husband's death.
Andrea Sneiderman also lied under oath during Neuman's trial last year, denying the romantic relationship and lying about when she found out her husband had been shot, Hill said. As she was driving to the preschool after getting a call from an employee there about an emergency, she called her father-in-law and told him his son had been shot, even though no one had told her that yet, Hill said.
Defense attorney Tom Clegg painted a contrasting portrait of the defendant, telling jurors that Andrea Sneiderman told police the day after her husband's killing that Neuman had tried to break up her family.
Andrea Sneiderman was happily married, brushed aside advances from Neuman at work and never complained to human resources because she didn't want to create problems for herself and couldn't imagine he would do harm, Clegg said.
Andrea Sneiderman cooperated with police and suggested Neuman might have been involved, Clegg said.
She was so broken up over her husband's death that, on what would have been their 10th wedding anniversary, she put on her wedding dress and went to the synagogue in Florida where they got married, hoping to feel his spirit, Clegg said as he urged the jury to find Andrea innocent.
A number of witnesses testified last Monday after opening statements concluded, including a waitress at a nightclub who served Neuman and Andrea Sneiderman during a business trip in South Carolina in 2010.
"They were really close," testified Christine Olivera, who described for jurors how the pair danced and kissed passionately. "And he's got his hands around her butt."
Brady Blackburn, a man who claims to have worked at a hotel that Neuman and Andrea Sneiderman once stayed at during a business trip, also testified last Monday that Neuman asked him to deliver a note to Sneiderman once she checked in. Blackburn said Neuman identified himself as Andrea Sneiderman's husband.
"Andrea, for the sweetest and most beautiful woman in the world," the note read, according to Blackburn. "Peaceful sleep knowing that you are always in my dreams. Love Hemy," the note read, according to Blackburn.
Another memorable moment last week was when video was played showing footage from outside the daycare where Rusty Sneiderman was shot. The video captured Andrea Sneiderman's reaction when she arrived at the school, just after being told something happened to her husband.
Sitting at the defense table, the defendant appeared to cry and dab at tears several times.
"At that time when her knees began to give out, I was holding her up," Dunwoody police officer Jesus Maldonado told the court as the video played. "I kept saying, 'you got to get up, you got to get up. Just relax, calm down, you got to get up.' We were almost to the front door I was trying to get her there in one piece."
Later in testimony that week, the prosecution played clips of video of Andrea Sneiderman's interviews with investigators the day her husband was killed and nearly a week later.
"When you asked her whether or not anyone was trying to break up her family, did she give you a name?" prosecutor Kellie Hill asked Detective Andrew Thompson.
"She said 'yes, Hemy Neuman,'" Thompson replied.
Thompson testified that police would have looked more closely at Neuman as a suspect if Andrea Sneiderman had provided more details about the pair's relationship.
"She told me absolutely nothing to emphasize that there was an inappropriate relationship or extramarital affair with Hemy which would have guided my investigation directly at him," Thompson told the court.
On Thursday of last week, a former friend, Shayna Citron, testified that it seemed like Andrea Sneiderman had "checked out of her marriage" shortly before her husband was killed.
Citron also testified Sneiderman's "eyes were dark and cold" when she talked about her husband during a lunch in September 2010. In contrast, Citron said, Sneiderman's "eyes were sparkling" when she talked about her boss.

The week's testimony wrapped on Friday with Andrea Sneiderman's mother, Benita "Bonnie" Greenberg" taking the stand. She testified her daughter mentioned Neuman numerous times in 2010 and said he was "extremely helpful" as a boss but that he "really, really" liked her.
Complete coverage of the Andrea Sneiderman case on Crimesider
Thanks for reading CBS NEWS.
Create your free account or log in
for more features.