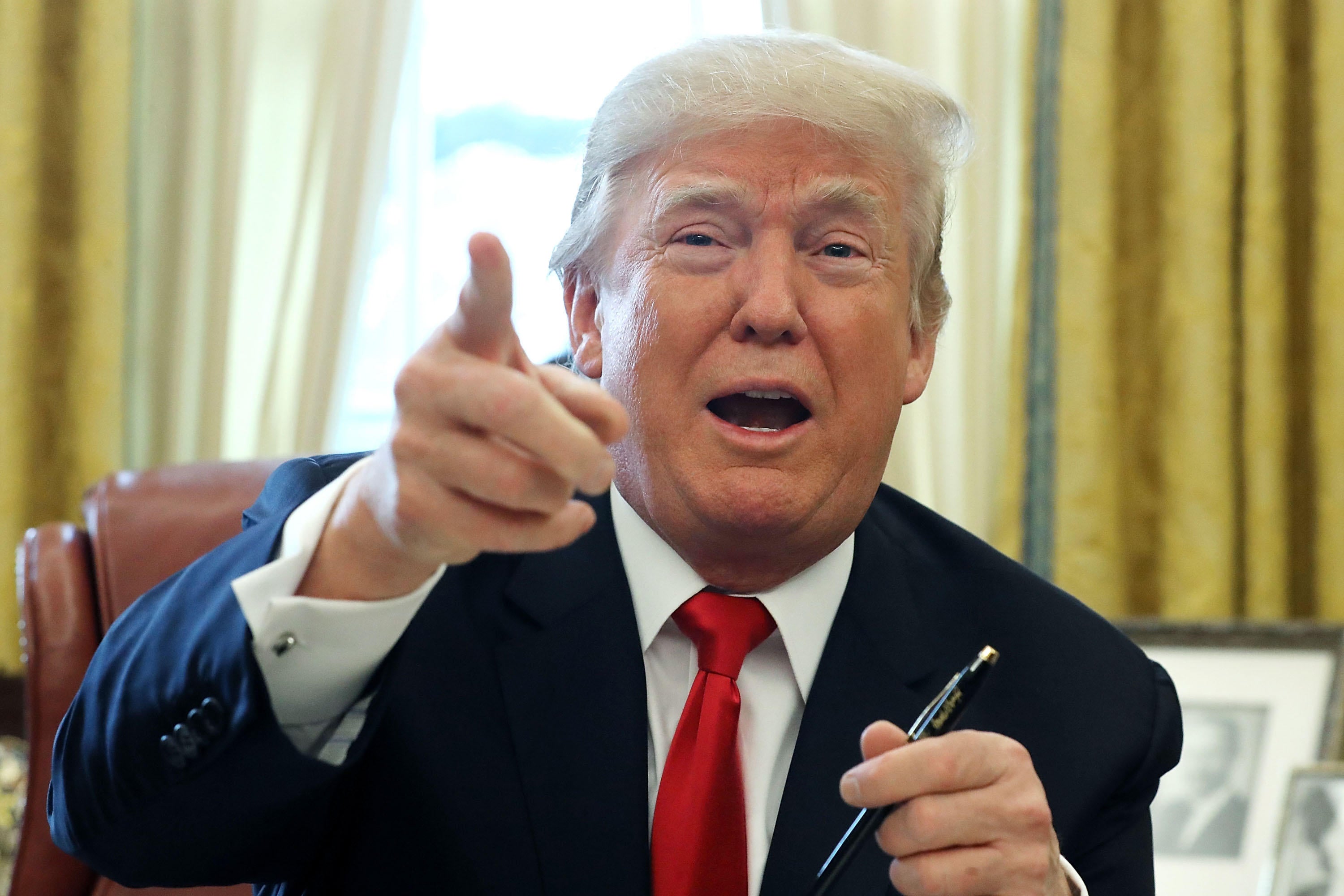 Analysis: The year in polls
January: One president leaves, and another arrives
President Obama left office a popular figure -- 62 percent of Americans approved of the way he handled his job over the past eight years, ranking him third among outgoing presidents since CBS began asking the question in 1981 – behind outgoing presidents Bill Clinton (68 percent) and Ronald Reagan (68 percent).
As for the incoming president, more than half of Americans (56 percent) said they were optimistic about the next four years with Donald Trump in the White House, yet that was the lowest level of optimism for any president-elect in CBS News polling going back to Jimmy Carter in 1977, when the question was first asked.
Most said Trump would bring change to Washington (59 percent) and more than half saw him as a strong leader (55 percent). Six in ten thought he would divide the country rather than bring people together.
February: Low approval for Trump, but with higher economic optimism
In February, the CBS News Poll took its first measure of Donald Trump's job performance: 40 percent approved, while 48 percent disapproved. His rating was historically low when compared with other presidents during their first month in office. It's a rating that has remained fairly low ever since, but it has been pretty consistent – generally ranging from the mid to high thirties to around 40 percent.
Views of the president's job performance have been starkly partisan from the outset. Generally, more than eight in 10 Republicans have approved, while a similar number of Democrats have disapproved.
One of President Trump's early executive orders temporarily banned foreigners from seven majority-Muslim countries from entering the U.S. A slim majority of Americans disapproved (51 percent) of this action, including a majority of Democrats and half of independents. More than eight in 10 Republicans approved, however.
On the economic front, people were feeling optimistic. Sixty-one percent said the economy was in good shape – the highest that figure had been in ten years, before the Great Recession. The public's views of the economy continued to be positive throughout 2017, climbing to 69 percent in August.
March: Amid repeal effort, Obamacare more popular than ever
Repealing the Affordable Care Act, or Obamacare, has long been a goal of Republicans in Congress. In March, the House of Representatives failed in its first attempt of the year to pass repeal legislation. Most Americans supported making changes to Obamacare, but only about a quarter backed outright repeal. Republicans divided on this.
Meanwhile, Obamacare was becoming more popular. Before 2017, more had consistently disapproved than approved of the law, but in March, 49 percent said they approved of it – the highest since the law was passed in 2010. Forty-five percent disapproved.
Sexual harassment and gender inequality were big topics of discussion this year. In March, 50 percent of women said in today's society there are more advantages in being a man than in being a woman, compared to just 33 percent of men who thought that.
April: Airstrikes in Syria, Trump's 100 days, a new high for legal pot
In April, the U.S. launched airstrikes against Syrian military targets in response to a suspected chemical weapons attack by the Syrian government. Most Americans (57 percent) approved of that military action. Following the strike, President Trump's overall job approval rating inched up to 43 percent (it remains his highest approval to date in CBS News Polls).
President Trump marked 100 days in office and 85 percent of Republicans said Mr. Trump was trying to keep his campaign promises. Seventy-nine percent of Democrats said he was tweeting too much.
As more states legalized marijuana, public support for pot legalization reached a new high this year. Sixty-one percent of Americans said it should be legal. Back in 1979, just 27 percent felt that way.
May-June: Trump fires Comey, member of Congress Shot
In May, the president fired FBI Director James Comey, a decision six in 10 Americans disagreed with. But three in four Republicans agreed with it as most believed the Russia investigation was a witch hunt.
In June, a shooting occurred at a baseball practice for Republican members of Congress that severely injured House Majority Whip Steve Scalise. In its aftermath, 68 percent of Americans, including majorities across the political spectrum, said the tone and level of civility in our political debates had been growing worse. But at the time, most were optimistic that people of different political views were capable of working together. However, by the fall that optimism had dwindled.
July-August: Violence in Charlottesville
A rally by a group called Unite the Right was held in Charlottesville, Virginia. Violence occurred resulting in a motorist running over and killing a young woman. Sixty-three percent of Americans considered the attack an act of domestic terrorism. Large majorities of independents and Democrats and just over half of Republicans agreed. At the time, more Americans said the President's policies encouraged racial division (44 percent), rather than racial unity (12 percent). Another 39 percent didn't think they had much effect.
On a brighter note, most Americans were excited or interested in the total solar eclipse. And forty years after the death of Elvis Presley, 8 percent of Americans believed he may still be alive.
September: Health Care, NFL Protests, OJ Gets Out
Health Care Part II: After a health care bill passed the House in May, the Senate introduced its own in September. Just 20 percent of Americans approved of the bill, known as Graham-Cassidy; 52 percent disapproved. Fewer than half of rank-and-file Republicans supported the bill. Many Americans didn't see much of a benefit in it: More felt it would hurt them personally than help them. The bill was defeated.
The NFL season got underway with some players protesting racial injustice by "taking a knee" during the national anthem -- actions that were often criticized by President Trump. Generally, Americans didn't like either the protests or Mr. Trump's comments about them. Views were influenced by partisanship and race. Whites and Republicans tended to approve of the president's comments and African Americans and Democrats were more likely to approve of the players' protests.
Former football star OJ Simpson, was granted parole in September after being convicted for armed robbery and kidnapping. Most Americans continued to think Simpson is guilty of the 1994 murders of his ex-wife and a friend. But views have shifted among black Americans. Sixty-nine percent of blacks said Simpson was innocent in 1995, while views this year were more divided: 41 percent said they thought he was guilty, while 39 percent said not guilty.
October-November: North Korea can be contained, disapproval of Trump's approach
As President Donald Trump prepared for his first presidential trip to Asia, most Americans said North Korea could be contained without resorting to military action. Still, throughout 2017, more said military action would be required than thought that back in 2003.
Most Americans expressed uneasiness in President Trump's ability to deal with North Korea. In late October, 56 percent disapproved of his handling of the issue.
December: The GOP Tax Plan, Flynn's Guilty Plea, Sandy Hook Anniversary
Looking for a legislative win, Congressional Republicans and the President set their sights on tax reform. The Republican plan was met with disapproval by 53 percent of Americans. Most Republicans nationwide supported it and believed it would help the economy.
Still, most Americans of all political stripes felt the plan would help large corporations, the wealthy, and Wall Street investors. More thought these groups would benefit than thought they themselves would.
As part of the Russia investigation, former National Security Adviser Michael Flynn pleaded guilty to lying to the FBI. Most Americans (67 percent) said Flynn's guilty plea and cooperation with the special counsel is a serious issue for the Trump administration. However, most Republicans viewed the Russia investigation overall as politically motivated, while three in four Democrats saw it as justified.
Investigation into Trump Associates and Russia
This December marked five years since the shooting at Sandy Hook Elementary School in Newtown, Connecticut. Today, a third of Americans call the amount of gun violence in the U.S. a crisis. More than half of Americans – 57 percent - want laws covering the sale of guns to be made more strict than they are now, but sharp partisan divides remain on this.
Looking ahead to 2018
What will be on Americans' minds in 2018? We'll be polling to find out if views of President Trump remain as polarizing as they are today. Will economic optimism persist? What about North Korea? And we'll see if Americans' views of the new tax law change over time, as it's implemented during the coming months.
Americans are divided on whether the country can come together.
Stay tuned.
Thanks for reading CBS NEWS.
Create your free account or log in
for more features.