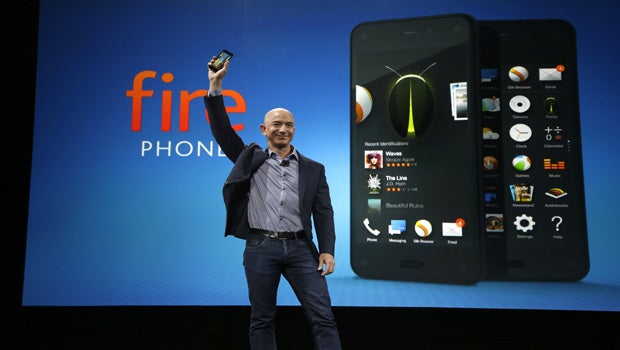 Amazon unveils its 3D Fire Phone
Amazon has unveiled its first foray into the smartphone market -- a new device called the Fire Phone that features 3D display capabilities.
Amazon CEO Jeff Bezos took the stage to introduce the new phone at a press event in Seattle on Wednesday.
The Fire Phone features a 4.7-inch screen, measured diagonally, making it smaller than leading Android phones but larger than Apple's iPhone. Bezos calls it ideal for one-handed use.
The highly anticipated 3D display is called dynamic perspective, and it shifts the images on screen to account for a user's angle of viewing and movement of the phone.
CNET's Roger Cheng said, "The images do look a lot better than they have in past 3D phones."
How does it work? "Amazon is doing two things that are different," Sanjay Patel, professor at the University of Illinois at Urbana-Champaign and CEO at Personify, an immersive video technology company, told CBS News.
"First on the imaging side, they're using four infrared sensors to really capture and identify a users' head position. They are getting it down to the eyeball level so that the phone knows where your eyes are relative to the screen on the phone - and they've come up with a low cost way to do this. Second, they've designed the display so that it is capable of providing a 3D perspective without the need for 3D glasses or exotic technology."
Before introducing the phone, Bezos opened the event by talking about Amazon's $99-a-year Prime membership, which includes video streaming, e-book lending, music and more. The Fire Phone will come with one year of free Prime access -- a key part of Amazon's strategy.
"When you buy a phone, you're not just buying hardware, you're buying software that gives you content," explained CBS News financial contributor Mellody Hobson. Right now, she said, "that content is dominated by two platforms: Apple with iOS and Google with Android, and they serve as a middleman between Amazon and its customers." The new Fire Phone may help Amazon break that cycle and connect with its customers more directly.
The Fire Phone will be offered exclusively through AT&T with a two-year contract. The phone will be priced at $199 for 32GB and $299 for 64GB. It is available for pre-order starting today, and will ship on July 25.
The phone also comes with a built-in "Mayday" help feature, similar to what's offered in Amazon's Kindle Fire tablets.
Amazon's new phone is arriving late to a tightly contested marketplace. Samsung and Apple dominate worldwide smartphone sales with a combined 46 percent share, according to IDC. In the U.S., Apple leads with more than 37 percent, with Samsung at nearly 29 percent.
Here are more details from the launch event at Seattle's Fremont Studios:
SPECS AND FEATURES:
- The phone has a screen that measures 4.7 inches diagonally. That's larger than current iPhones, but smaller than leading Android phones. Bezos says the size was chosen to be ideal for one-handed use.
- Bezos touts the camera on the new phone. He says it has image stabilization to counteract shaking as people take shots. Amazon is offering unlimited free storage on its Cloud Drive service.
- Bezos says images are typically flat - and Amazon wants to change that. You can rotate the phone around and get a different view depending on your angle of vision. He says the phone is basically redrawing the image 60 times per second. Bezos calls this "dynamic perspective."
- To make that happen, the phone has four front-facing infrared cameras to tell where your head is, even if your fingers happen to cover two of them.
- With a new Firefly feature, snap a photo of a book title, and it'll show you where to buy it. Listen to a song playing in the background, and it'll direct you to that tune on Amazon. It can even direct you to knowledge, such as pulling up a Wikipedia entry on a painting you snapped. The feature will also let you snap bar codes, phone numbers and more.
- There's an auto-scroll feature that lets you scroll down by tilting the phone. Samsung's Galaxy phones have that, too.
- Amazon's Kindle tablets run a highly modified version of Google's Android system, and it's likely an Amazon phone would do the same. That means apps for the phone would be limited to what's available through Amazon's own app store. The store has grown to include more than 240,000 apps, but there's much more for Android and Apple devices.
- The phone will come with earbuds that have flat cords and magnets to clasp them together, so tangled cords will be history.
THE BACKDROP:
- Amazon.com Inc. got its start in books and soon moved into music, video, devices and more. Analysts believe the goal of an Amazon-branded smartphone is to get customers to buy more things from the nation's largest e-commerce company. The device might include an Amazon shopping app or other features tied to the company's products and services.
- Competing won't be easy. Amazon is arriving late to a tightly contested marketplace. Samsung and Apple dominate worldwide smartphone sales with a combined 46 percent share, according to IDC. And in the U.S., Apple leads with more than 37 percent, with Samsung at nearly 29 percent.
- Amazon has tried to chip away at Apple's top position in the tablet market with its Kindle Fire HDX tablet, which beats the iPad Air's screen resolution and is lighter and cheaper. Still, the iPad dominates the category while Amazon has seen its market share shrink from 7 percent in 2012 to 2 percent in the first quarter of this year.
PAST FORAYS INTO GADGETS:
- Amazon's first gadget was a Kindle e-reader, released in 2007. Although there are plenty of devices that do more, many people still prefer stand-alone e-book readers because they typically have better screens for reading in direct sunlight and don't have distractions such as Facebook and email.
- The company started making Kindle Fire tablets in 2011. The latest models, HDX, are notable for a Mayday help button that accesses live tech support 24 hours a day, seven days a week. You see the representatives in a video box, but they can only hear you and see what's on your screen. They can also help guide you by placing orange markers on your screen or taking control of your device completely.
- In April, Amazon released its Fire TV streaming devices. What sets it apart from rival gadgets is a voice search feature that lets you speak the title, actor, director or genre into your remote to get matching content on the TV.
Thanks for reading CBS NEWS.
Create your free account or log in
for more features.