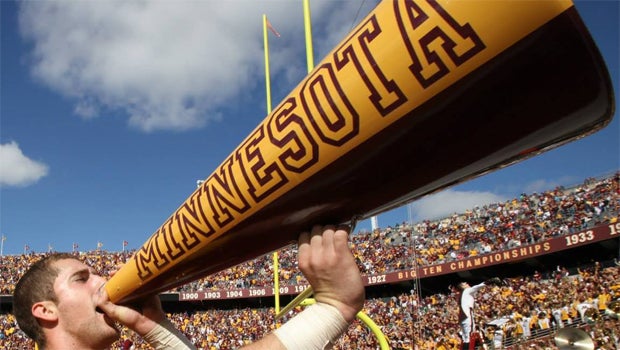 ​Almanac: The 1st cheerleader
And now a page from our "Sunday Morning" Almanac": November 2nd, 1898, 116 years ago today . . . a date worth cheering about.
For that was the day football fan Johnny Campbell of the University of Minnesota became America's first widely-acknowledged cheerleader.
Schools across the land followed Campbell's example, and for the next quarter-century America's cheerleaders were exclusively men . . . HONORED men at that.
"The reputation of having been a valiant 'cheer-leader' is one of the most valuable things a boy can take away from college," The Nation magazine wrote back in 1911. "It ranks hardly second to that of having been a quarterback."
In some cases it proved a stepping-stone to the Presidency.
Franklin Roosevelt led cheers at Harvard . . . as did Dwight Eisenhower at West Point . . . Ronald Reagan at Eureka College in Illinois . . . and George W. Bush at Yale.
Of course, WOMEN have long since joined the cheerleading ranks, including Meryl Streep, Madonna, and even Supreme Court Justice Ruth Bader Ginsburg, among many others.
Not that it's always been fun and games.
In 1991, Wanda Webb Holloway made headlines with an unsuccessful plot to murder the mother of a girl who beat out Holloway's daughter for the junior high cheerleading squad.
The case inspired the HBO movie, "The Positively True Adventures of the Alleged Texas Cheerleader Murdering Mom," with Holly Hunter in the starring role.
More benignly, cheerleading has come in for some good-natured kidding, as with Will Ferrell and Cheri Oteri on "Saturday Night Live."
Today, cheerleading goes far beyond anything Johnny Campbell could have imagined.
Still, his alma mater honors Campbell's memory to this day, by incorporating part of his original cheer into its fight song:
Rah! Rah! Rah!
Ski-U-Mah!
Hurrah! Minnesota! Hurrah!

For more info:
Thanks for reading CBS NEWS.
Create your free account or log in
for more features.