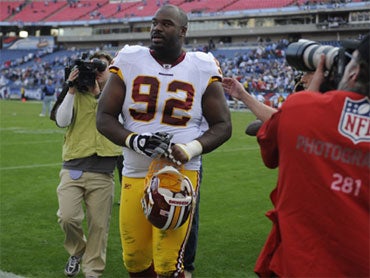 Albert Haynesworth Accused in Road Rage Assault
FAIRFAX, Va. - Redskins defensive lineman Albert Haynesworth has been accused of assault in what police said was a case of road rage.
Fairfax County police spokeswoman Shelley Broderick said a 38-year-old man told investigators he was driving a Honda Civic in suburban Washington when he saw a pickup truck tailgating him and made a hand gesture.
The driver of the truck, later identified as Haynesworth, got out of his car when the two vehicles stopped and reportedly assaulted the other driver.
Haynesworth has not been formally charged in the case. But a warrant has been issued in the case, and police have been in touch with Haynesworth's attorney, Broderick said. Arrangements have been made for Haynesworth to meet with officers, and he will appear in Fairfax County General District Court at a later date.
Simple assault is punishable in Virginia by not more than a year in jail and a fine of $2,500 or less.
Redskins spokesman Tony Wyllie said in an e-mail that team officials are gathering information about the incident and would not comment further.
CBSSports.com reports that Haynesworth's agent, Chad Speck, issued a statement (via Pro Football Talk):
"Albert has yet to speak to the authorities at all on this matter," Speck said. "So only one side of the story has been told at this point in time. If contacted by the authorities, Albert will certainly cooperate in any way. This man, who actually provoked the situation himself, recognized Albert and is now simply trying to turn it into his 15 minutes of fame and get, we can only assume, some money.
"Albert did not assault this man and looks forward to his day in court to refute these ridiculous allegations."
Haynesworth, a two-time All-Pro defensive lineman, has had his share of trouble while with the Redskins. He repeatedly clashed with coach Mike Shanahan and was suspended without pay for the final four games of the season for "conduct detrimental to the club." He has played only 20 games for the team since he was signed in 2009 to a seven-year, $100 million contract with $41 million in guaranteed money.
Haynesworth isn't the only Redskins player to be in trouble with the law recently. In December, defensive lineman Joe Joseph was arrested on charges of driving under the influence less than 24 hours after making his NFL debut.

Thanks for reading CBS NEWS.
Create your free account or log in
for more features.