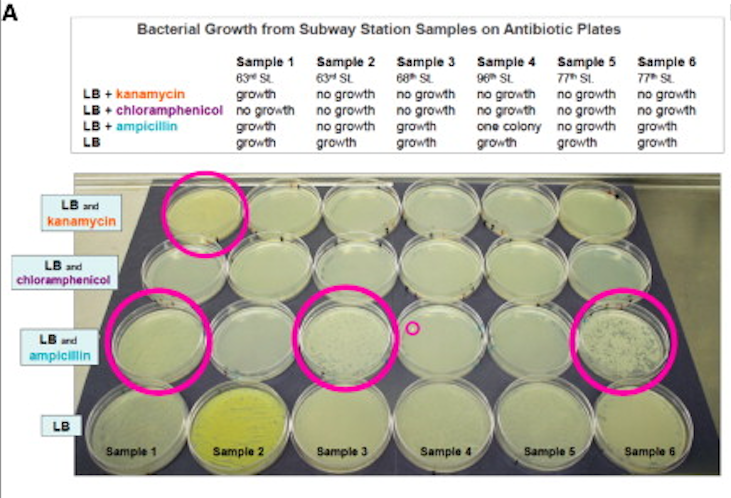 Alarming survey of NYC subway bacteria gets corrected
A study and extensive map of microorganisms in the New York City subway system, which gained wide attention when it was published in February, has been corrected by the authors at Weill Cornell Medical College.
The original study raised alarm by claiming that Bubonic plague and anthrax were among the many pathogens detected during a study of samples swabbed from surfaces in subway stations.
In the study, the researchers said that most of the bacteria and other microbes found were of a generally harmless nature, but that 12 percent of the samples were associated with disease, 27 percent were antibiotic-resistant species and -- most concerning -- that fragments of anthrax, or bacillus anthracis, and a plasmid linked to Bubonic plague, Yersinia pestis, were among the findings. Forty-eight percent of DNA they found on subway surfaces did not match any known organisms.
Health agencies including the NYC Department of Health, which performed its own analysis, and the CDC challenged the findings when the original study was published in the journal Cell Systems. They argued there was not enough evidence that what the research group had collected were, in fact, those two dangerous pathogens.
The newly corrected version of the study, published this week, concedes that evidence was lacking for the two microbes that caused the most concern.
"We now state that although all our metagenomic analysis tools identified reads with similarity to B. anthracisand Y. pestis sequences, there is minimal coverage to the backbone genome of these organisms, and there is no strong evidence to suggest these organisms are in fact present, and no evidence of pathogenicity," the authors write.
One of the paper's authors, Christopher Mason Ph.D., told the science watchdog blog Retraction Watch, "I would note that there is not a retraction of our paper and there won't be -- our main results have been validated by several groups already and publicized. The question is not about the data analysis -- it is about interpretation of the results."
The revised study maintains that the extensive genome map of microorganisms found in the subway could be useful as a template for the long-term health and bioterrorism monitoring in New York and other major cities.
Thanks for reading CBS NEWS.
Create your free account or log in
for more features.