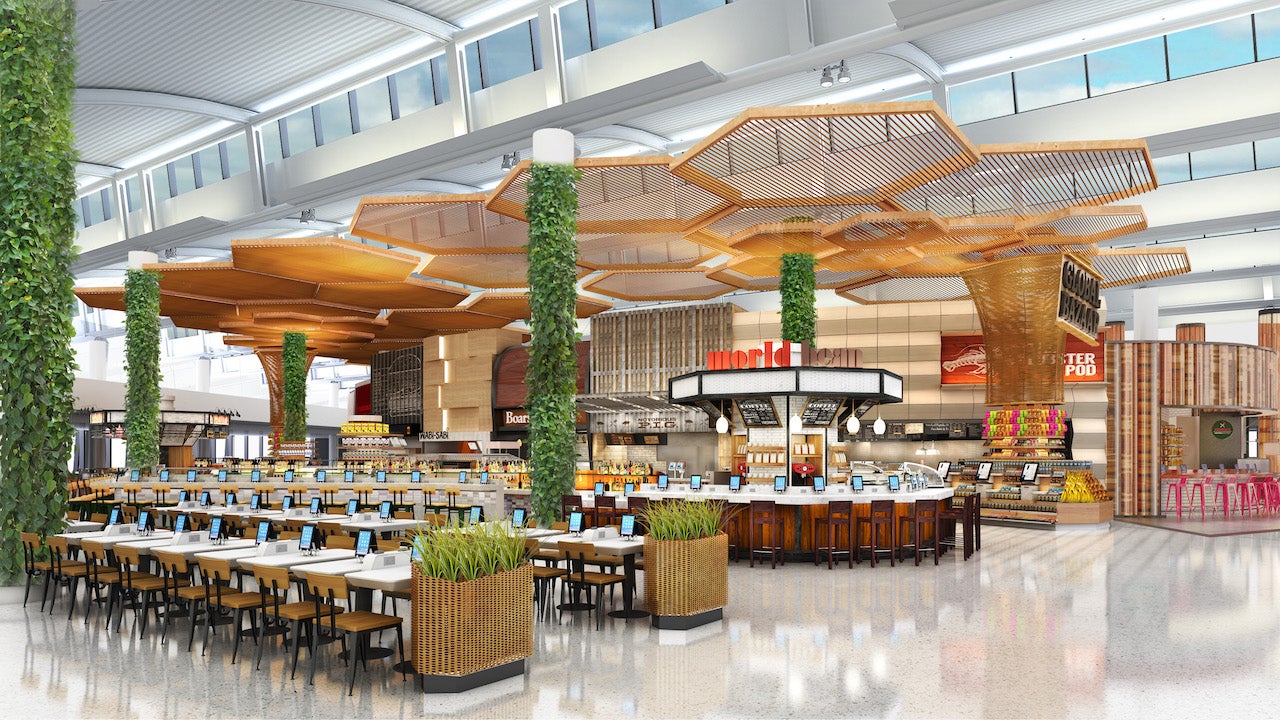 Renovations may revolutionize airports
There is a revolution underway at some of the nation's busiest airports. Tastier food options and brighter designs are part of the plans to make travel more enjoyable and help travelers feel more at home, reports CBS News correspondent Anna Werner.
More than 35 million people pass through Newark Liberty International Airport in New Jersey each year, and many of them would probably tell you they just want to get through, and get out, but designers hope a $120-million upgrade will turn the United Airlines terminal into an attraction passengers won't want to miss.
Architect David Rockwell said passengers should have the opportunity to be comfortable in airports.
"When you go through security, it's such a disorienting process, and then when you come out, the architecture, the basic layout doesn't acknowledge having a moment to breathe, see where you're going, decide what you need -- do you need a drink? Do you need a bite to eat?" Rockwell said.
Now, travelers can dine in style and, on an iPad, order everything from sushi to lobster, served with fine wine or a locally-brewed craft beer.
"One of the most unexpected things is that the food is actually being prepared there -- fresh food in an airport," Rockwell said.
A United Airlines' rep told CBS News that, in addition to ordering food and drinks, customers will be able to shop airport stores on iPads and have their purchases delivered to gates as they wait to board.
A similar concept unveiled last year at LaGuardia Airport caught Joanna Carol's eye.
"In some cases, they replaced the moving walkways with something a little less functional but more entertaining," she said.
Designers re-imagined existing spaces too -- those familiar, usually dull gate areas. Eventually, passengers waiting to board will also enjoy their own iPad with Internet and plenty of power outlets - 10,000.
OTG is the company making those changes.
"If you think about it, it's the single largest piece of real estate in airports around the world, and it's the most desirable location for the customer to be in," OTG founder and CEO Rick Blatstein said. "Instead of trying to drag them out and go into our restaurant and operations and food halls, why not go to them and create that great lounge environment?"
Passengers spend about 20 to 25 minutes at Newark after going through security and before they board. The goal there is to get them to arrive a little earlier and spend more money.
And it's a nationwide trend.
"Airlines and airports are spending billions of dollars to upgrade their terminals because it's a way to make passengers more comfortable and bring in a lot of revenue," USA Today National Travel Editor Charisse Jones said.
But along with changing the amenities, she said, airports have to change perceptions.
"It's going to take a little bit of time to get there because, right now, it seems very stressful; you don't look forward to it, you don't look forward to the flight, either," Jones said.
But if Carol's experience is any indication, it just might work.
"I feel like I got an extra vacation -- extra fun thing in my trip," she said. "It's not like the end of your trip. It's not like the drudgery of travel; it's like another fun thing."
Thanks for reading CBS NEWS.
Create your free account or log in
for more features.