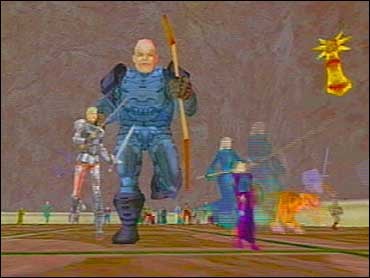 Addicted: Suicide Over Everquest?
Growing up in Wisconsin, Shawn Woolley was, at least on the surface, a happy kid.
His mother, Liz, was especially proud of his accomplishments, because, she says, Shawn struggled with learning disabilities and significant emotional problems.
But last year, he got a job and a new apartment. She did all she could to help him find his way; it wasn't enough.
Last Thanksgiving, Shawn, 21, committed suicide. His mother found him at his apartment. He had shot himself at his computer. On the screen was the online computer game, Everquest.
"That damn game. He shot himself because of the game," says his mother. She says he was completely addicted to it. He may have had other problems, but she thinks Everquest pushed him over the edge. Susan Spencer reports.
"He couldn't stay off it. That's how strong that game is. You can't just get up and walk away," she says. In the end, she says, the game became his life.
She guesses that something terrible happened in the game, to a character he called "iluvyou" - a rejection or betrayal, something that crushed him.
"He was so upset. And then I was trying to talk to him about it, and I said, 'Well, Shawn, you know, those aren't people- they're not real people.' He was so upset. I mean, he wasn't angry, he was hurt."
But Sony Online CEO John Smedley says the game did not cause Woolley's death. Smedley is one of the creators of Everquest. "When I spoke with Ms. Woolley I expressed my condolences. And it's really one of those terrible things that happens. And there's just nothing to suggest that Everquest had any role in his death," he says. "Everquest is a game. And I don't see any connection between a form of entertainment and somebody's tragic suicide."
According to Smedley, calling Everquest "addictive" is nonsense. "It's entertainment. Is a book dangerous? Is a TV show dangerous? I think the answer is no. People need to take responsibility and say, 'Hey, you know, this is too much. Enough's enough.' It's a game."
But Liz Woolley thinks it's a dangerous game, and addictive, by design. "I think the way the game is written is that when you first start playing it, it is fun, and you make great accomplishments. And then the further you get into it, the higher level you get, the longer you have to stay on it to move onward, and then it isn't fun anymore. But by then you're addicted, and you can't leave it," she says.
Late last fall, Shawn stopped working. He stopped seeing his family. "I think that was the beginning of the end," says Liz. "Because then he quit cleaning his place. He wouldn't let anybody come in."
Since her son's death, she has connected with hundreds of other people who claim Everquest addictions are ruining their lives.
At "Everquest Widows," a Web site devoted to people who think that their partners and spouses have become obsessed with the game, many people have the same feelings that Liz Woolley has.
She is now considering suing Sony. At the least, she wants Sony to include a warning label, saying that Everquest may be a risk for some people.
Sony hasn't done that. But following the interview Smedley did order a change: an alarm clock feature that allowing players to set their own limits.
Is there a vulnerable population that should play Everquest? "I think that in any form of entertainment there's going to be people that are going to take things to extremes that maybe they shouldn't," says Smedley. "And I don't think there's a role for us in trying to shepherd those people, because how do we identify them?"
Liz Woolley says that Everquest can be very dangerous. "If somebody shoots themselves in front of a computer screen of this game, they're trying to say something," she says. "You don't go sit in front of a computer game and shoot yourself if it didn't have something to do with the game."
Thanks for reading CBS NEWS.
Create your free account or log in
for more features.