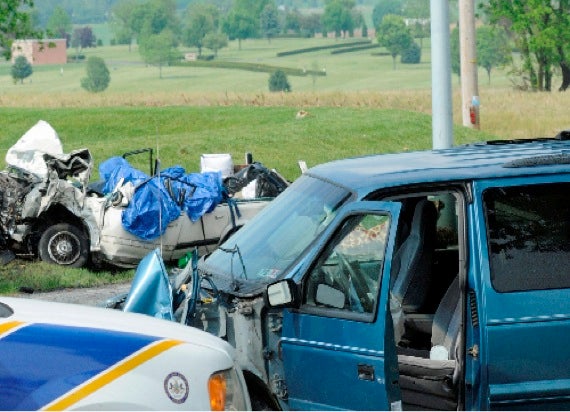 Hands-free technology in cars hardly danger-free, study finds
Many cars today have technology that is supposed to fight distracted driving, but a new study by the released Thursday shows how going hands-free can be more dangerous and distracting than first thought.
The AAA Foundation for Traffic Safety study found using the voice-controlled system in cars that syncs to smartphones can distract drivers long enough to go not one football field, but three, once they've finished using it, reports CBS News correspondent Kris Van Cleave.
Jacy Good experienced the danger firsthand. Her college graduation went from a perfect day to a nightmare in seconds, thanks to a distracted driver on a hands-free device.
"He turned left through the red light. And as he did that, the 18-wheeler served to try and miss him, still clipped the front of his car but then slammed full force into our family's car," Good said.
Good's parents were killed instantly. She was given just a 10-percent chance of survival. She beat those odds, but suffered a lasting brain injury.
"I don't have the brain cells that know how to move my wrists or my fingers or my ankle or my toes," she said. "I'm lucky I can walk."
Good now advocates against distracted driving, which killed more than 3,100 people and injured an estimated 424,000 in 2013 alone.
The study by the AAA Foundation for Traffic Safety finds even new hands-free systems that work with voice commands leave drivers with a technology hangover.
"You have to kind of get out of that distracted zone and to much more of an alert driver... but that takes time, it takes up to 27 seconds," said University of Utah Professor David Strayer, who evaluated more than 250 adults in 10 vehicles.
Lingering distraction was found across the board. How long depends on how hard the system is to use.
"If you are now all of a sudden talking to your car, talking to your phone, you are now focusing on one task, to the exclusion of tending to the driving environment," Strayer said.
Good knows these couple seconds can be deadly.
"I know whatever that young man was talking on his phone was absolutely not more important than my parents' lives," said Good.
Researchers found similar results when using smartphone voice commands. They say the bottom line is - just because the technology is in the car, does not mean you should use all of it when you are driving.
Thanks for reading CBS NEWS.
Create your free account or log in
for more features.