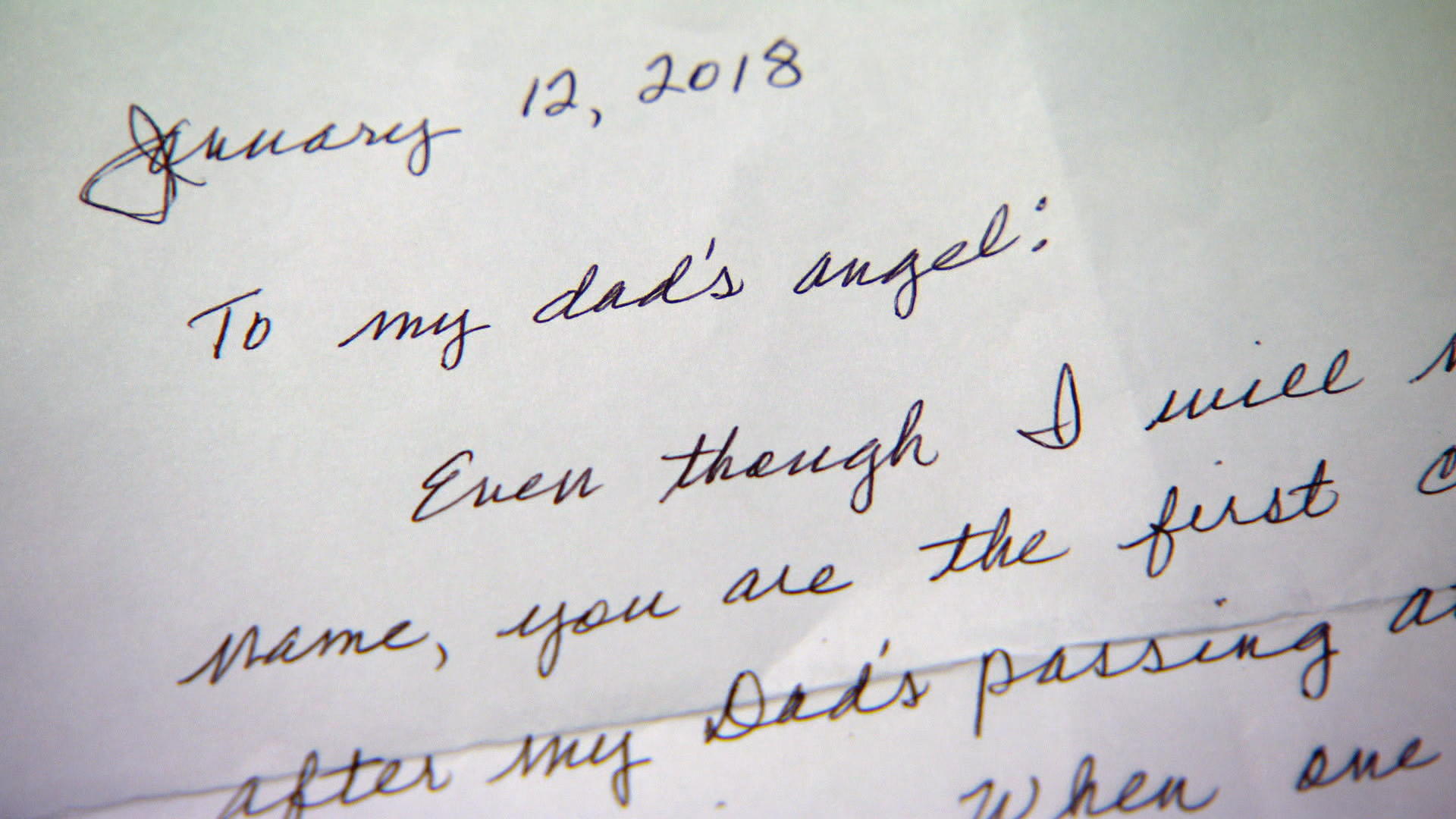 Joy, grief and a handwritten letter bring two Louisiana families together
This piece, which originally aired Feb. 1, 2018, has been updated with new photos and information at the end of the video.
Our continuing series, A More Perfect Union, aims to show that what unites us as Americans is far greater than what divides us. In this installment, we meet two families brought together by chance. Their story shows how strangers can share a person's memory.
---
Almost a year ago, a baby boy entered the world in the heart of Cajun country -- Lafayette, Louisiana.

His parents, Connie Despanie and Benjamin Hall, named him Kingston. But they were undecided on a middle name, until right after he was born when inspiration arrived in the form of a handwritten letter delivered by a stranger, reports CBS News' David Begnaud.

A surveillance camera at Lafayette General Medical Center captured the moment. Who was that woman with the letter?
"To my dad's angel, even though I will never know your name, you are the first child born here after my dad's passing. When one life is taken, another is given. Please keep my dad in your prayers," the letter reads.
Jamie Fontenot is the stranger. She wrote the letter shortly after her father died in the hospital. She was inspired to write the music that she heard playing on the hospital's PA system. It's a lullaby that plays throughout the hospital when a newborn has just arrived.
On January 12, 2018, Kingston James Hall was born, shortly after 86-year-old James Lee Grimmett had passed away.

"Somebody said, 'well then that's dad's angel,'" Fontenot said. "I just took my letter and I went to the OB unit….I said my dad passed away about 10:40 so give this to the first baby that was born after that time."

Dr. Jennifer Pugliese and nurse Cydney Begnaud who assisted with Connie's labor and delivery received Jamie's letter, and Dr. Pugliese gave it to Connie.
"She started reading it silently and she just had tears streaming down her face, it was really beautiful," Dr. Pugliese said.
"I came in…. And the dad says, 'oh, we found our middle name!' And I'm like, 'alright, what is it?' And he says, 'well, it's James of course!' And I'm like 'oh yes, of course!'" Cydney said.
"My nurse followed me to that side and she was like well, do you mind if we get your information and give it to Ms. Jamie?" Connie said.
There's another connection in this story: Nurse Cydney is David Begnaud's mother. She's the one who tipped CBS News off to the story and allowed us to witness Jamie and Connie's reunion.
"I'm so happy you came," Jamie told Connie through hugs and tears.
"I'm happy to meet you. I didn't think I was going to meet you," Connie said.
Jamie didn't think so either.

The best part for Jamie? Holding Kingston James.
"Family is everything, and if you don't have faith you don't have anything," Jamie said.
The two plan to stay in touch.
Other stories from "A More Perfect Union":
Thanks for reading CBS NEWS.
Create your free account or log in
for more features.