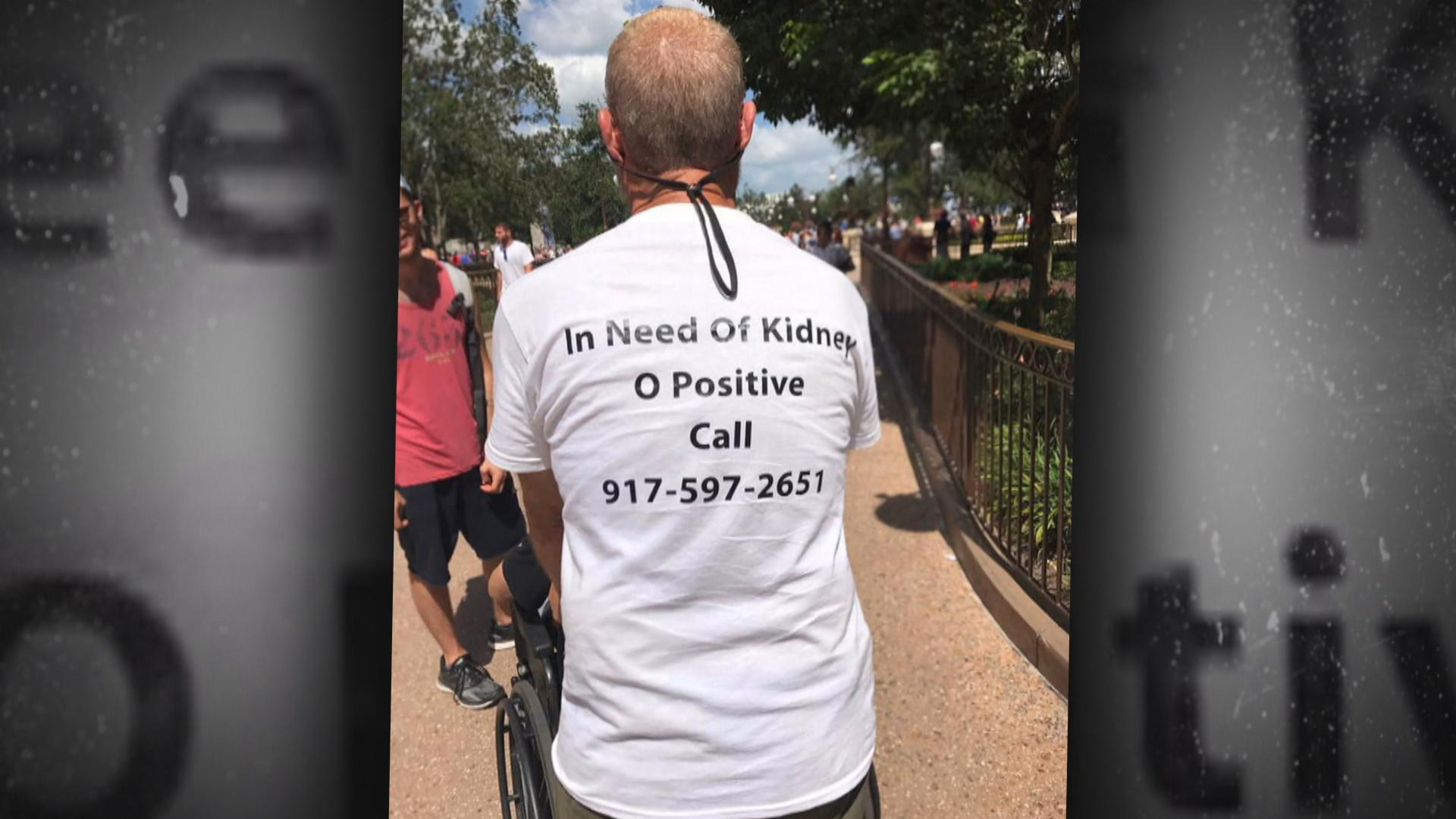 How a T-shirt, Disney World, and a viral social media post saved a father's life
Our continuing series, A More Perfect Union, aims to show that what unites us as Americans is far greater than what divides us. In this installment, we meet two strangers who had life-changing surgeries in New York City on Thursday. It's a story of two fathers and how a T-shirt brought them together.
---
Richie and Rob share an unbreakable bond, with help from a T-shirt and a viral social media post, reports CBS News' Don Dahler.
Sixty-year-old Robert Leibowitz says there were five moments he realized he was desperate for a transplant -- one for each of his five kids.
"That's what was my inspiration in terms of I gotta do something. You know I'm desperate," he said.
Suffering from chronic kidney disease and facing his own mortality, he knew a little desperation could go a long way.
Over the summer while on a family vacation at Disney World, the single father of five wore a T-shirt emblazoned with a plea, his blood type and a prayer for nine consecutive days.
"I thought, you know, if I can get one person who's my blood type to just respond and maybe that's my match, you know, it's worth the 35 dollar investment for the shirt," Rob said. "This amazing couple Rossio and Juan Sandoval took a picture of it and said, 'do you mind if I post it?'... Within the first week 90,000 Facebook shares."
His phone rang nonstop. On the other end of one of those calls was Richie Sully, a 39-year-old father of two from Indiana -- and a complete stranger.

"My biggest worry is -- is my daughter losing me or not getting to spend time with them. So, you know, it was kind of a no-brainer," Richie Sully said. "A few trips to New York, a lot of blood work. Every month or so we do another round of labs."
"Because, as you can imagine, it's an emotional rollercoaster and you know I can't say enough about this guy," Rob said of Richie.
After a mountain of tests, and months filled with anxiety, Rob received word that Richie's kidney was a match.

"I broke down and I screamed but of course screaming in New York, nobody – everybody ignores you anyway," Rob said of getting that phone call. "Words cannot explain. This guy's saving my life. He's saving my life. He's giving me more time with my kids."
Not only did Richie have two kidneys, but a heart "bigger than you can ever imagine," Rob said.
"The doctor brought up, 'what would you do after the surgery if Rob never calls you again?' I don't know how to answer that, I never once considered it. We talk on the phone, not every day but ..." Richie said.
"That would make me a cheap date," Rob joked.
Added Richie, "That would make you a horrible person but I hadn't considered it because I -- one, I didn't think he would do that and two, it's not my kidney anymore."
"The cure for chronic kidney disease is here and its humanity and this guy is the new name for humanity because you know everybody can help," Rob said.

Richie and Rob are both doing well. Both are resting comfortably at the hospital and both will stay in the city for the next few weeks as doctors monitor their progress.
Other stories from "A More Perfect Union":
Thanks for reading CBS NEWS.
Create your free account or log in
for more features.