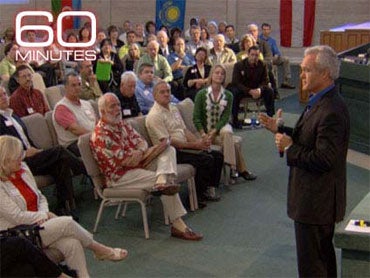 99 Weeks: When Unemployment Benefits Run Out
The economic jam we're in has topped even the Great Depression in one respect: never have we had a recession this deep with a recovery this flat. Unemployment has been at nine and a half percent or above for 14 months.
Congress did something that it has never done before - it extended unemployment benefits to 99 weeks. That cost more than $100 billion, a huge expense for a government in debt.
But now, for many Americans 99 weeks have passed and there's still no job in sight. Some have taken to calling themselves the "99ers."
"60 Minutes" and correspondent Scott Pelley went to several communities in search of the 99ers, but we didn't expect to find such a crisis in Silicon Valley, the high tech capital that many people hoped would be creating jobs.

Extra: Wiping Out Savings
Extra: San Jose and the Recession
Link: Job Connections
Link: Second Harvest Food Bank
Link: Martha's Soup Kitchen

If you want to understand why the economy is stalled, come to San Jose, Calif., and talk with 99ers like Marianne Rose. "I remember it coming close to like six months. I was saying, 'I can't believe I'm out of work this long.' Then the year mark hit. And I just started just panicking seriously. Now that it's over two years I can't believe it. I just, I can't believe it," she told Pelley.
Rose was a financial analyst at a real estate firm. Age 54, she's single with a grown daughter. After being laid off with about 100 co-workers, she spent her savings, lost her home and finally found herself sitting in a truck with her dog and all of her possessions.
She made a desperate call to a friend and found refuge upstairs in the home of strangers, her friend's brother and sister-in-law.
"How long did you think you would be in here?" Pelley asked.
"Two weeks really. That's all I thought," she replied.
But she told Pelley it has been six month. "And not really an end in sight, yet."
"What sort of things would you be willing to do at this point?" Pelley asked.
"Well, I can say that probably the lowest level position for me has been now to apply for a clerk, a county clerk and I just realized the competition is pretty stiff out there," she replied.
Asked what she meant by stiff competition, Rose explained, "There's a lot of people, speaking of the county. I had applied to those clerk positions. There's actually four positions that were open. I found there were over 2,000 people that applied for those four positions."
Rose is one of at least a million and a half Americans who've exhausted their unemployment checks.
Now, Silicon Valley, the capital of American innovation has a new creation: revival meetings for the unemployed. On weekends, they come by the hundreds.
"60 Minutes" joined a gathering called "Job Connections," held inside a local church.
It's part how-to-find-a-job workshop, part networking opportunity with the feel of a 12-step program.
The people in the group are the faces of unemployment in Silicon Valley, people in their 40s, 50s and 60s who thought they had done everything right: earned a degree, stayed with their company, saved for retirement.
"I'm curious. How many PhDs in this room?" Pelley asked. "One, two, three, four… several. Now leave your hands up. How many master's degrees? Oh boy. And how many of you went to college. Everybody keep your hands up if you have a college degree, a master's degree or a PhD."
Many in the room had their hands up.
"How many of you expected to retire from the company where you were working?" he then asked.
"More than half the room," he noted.
"How many of you have cashed out your 401ks? IRAs? Savings accounts?" Pelley asked.
Again, many hands went up.
A lot of them are too young to retire and, maybe, too old to rehire. The longer they're out, the tougher it gets.
Judy Thompson was marking the time before she loses her home. "Three months maybe, and I've been in that house since 1982. I don't want to move," she said.
Asked where she is going to go, Thompson told Pelley, "I don't know. I'm trying' not to think that far ahead. But anyway, didn't mean to get emotional. Sorry."
Sara Huber may lose her family business of 23 years. "Everything's gone and we can't survive 'cause these people can't survive," she explained.
"Because these people don't have jobs, they're not coming to your business?" Pelley asked.
"The equity lines are frozen, Right. People don't have credit. There's nothing there," she replied.
When asked how long her business can go on, Huber said, "We're going month to month, literally. I'm praying for more work."
Jim Wild has been applying for jobs two years. "I've gone through the tier one companies. I've gone through the tier two companies and now I'm down to Target. I just got a job offer from Target to work a part-time job at 9.50 or 9.25 an hour," he explained.
The Target job is floor sales; previously, Wild was a fiber optics engineering manager.
He's taking the job at Target and he's glad to get it.
These folks aren't that unusual: today, nearly 20 percent of the unemployed in America have college degrees.
Silicon Valley lost its jobs in construction, manufacturing and in high-tech engineering that went overseas. San Jose looks the same, but it shrank by 75,000 jobs. Many buildings there stand empty.
The national unemployment rate of about nine and a half percent sounds incredibly high and of course it is. But it doesn't nearly capture the depth of the trouble. It doesn't count the people who've seen their hours cut to part time. It doesn't count the people who have quit looking for work.
If you add all of that together, the unemployed and the underemployed, it's not nine and a half percent, it's 17 percent; and in California it's 22 percent.
And what makes it so much worse is that, nationwide, one third of the unemployed have been out of work more than a year. That hasn't happened since the Depression.
"60 Minutes" stopped by the soup kitchen in San Jose. Many folks used to think that they could see all the way to retirement. But now long-term unemployment is wrecking years of saving and planning by people like Lisa and Doug Francone.
Doug was a $200,000-a-year personnel executive.
"You must have thought that you'd get another job pretty quickly," Pelley remarked.
"Yeah. It really didn't cross my mind that I wouldn't find something. The question was trying to take the time to find the right job," he replied.
"You'd have a job in six months, a job that you liked in six months, and how long has it been?" Pelley asked Lisa Francone.
"Two years and three months," she replied.
They had saved for retirement and college for their son and daughter. But most of that is gone. "The unemployment checks were tiny, I can't remember what they were but…," Francone said.
"$475," his wife said.
"Lisa, what were you doing with $475 a week?" Pelley asked.
"Well, by the time we paid benefits, we had enough to pay a bill or two but certainly not meet the mortgage or property taxes or groceries," she replied.
Now their son is going to the military instead of college; selling the house will be next.
Doug Francone took matters into his own hands: he created jobs for him and his son, buying a franchise that cleans air ducts. He spent his 401(k) on this. But, there hasn't been enough business to make money.
"I don't wanna come off like 'Oh you know, woe is us.' There's other people struggling a lot worse than we are. But it's certainly very different for us," he told Pelley.
"You're surprised to be in this place?" Pelley asked.
"Oh, absolutely. Yeah. Shocked really," Francone replied.
Like the Francones, four and a half million Americans have taken hardship withdrawals from their 401(k)s. With savings gone, unemployment checks exhausted, many are coming to charities including the CALL Primrose Center, a pantry of free food.
Mary Watts has run CALL Primrose for 11 years.
"Before the Great Recession began, you were sending out how many bags of groceries in a year? Pelley asked.
"When I started in '99 it was 4,000 bags a year," she replied. "It's going to be 32, to 35,000 bags this year."
"You know these people coming into the pantry now, they must look like professionals," Pelley remarked.
"Oh absolutely, yes, absolutely professionals. Career professionals, people that never, ever would have thought they would be coming in our door other than perhaps as a donor," Watts said.
We met Claudia Bruce at the center. She was an office manager making $70,000 a year when she was laid off. Now her 99 weeks of unemployment checks are running out. She never imagined she'd need free food. But then, she never imagined she would be picking out trash to sell to the recycler.
"You do what you have to do. I'm not delighted, but I'm happy to have the money that it provides," she told Pelley.
"The day before you were laid off, what was your lifestyle?" Pelley asked.
"I was a shop-a-holic. Yeah. I was trying to reform myself, but there's nothing like losing your job for a long period of time to completely reform a shop-a-holic," she replied.
Her car has turned into a garbage truck, filled with recyclables.
She's learned a lot. Glass pays more than cans, and she has to be quick to beat the neighborhood homeless guy to the good stuff.
She estimated her haul would bring in $28; instead, she got $33.81.
"Personal record," she told Pelley.
"Did you ever think that $33 would mean so much?" he asked.
"No. But then, I never thought $5 would mean so much either," Bruce replied.
She has applied for hundreds of jobs, from office manager to clerical work. She's had four interviews in two years. She has kept a small apartment with help to pay the rent.
"I do get some help from my mom," Bruce said.
Her mother is 83.
"And so, she's helping you out even now," Pelley remarked.
"Yeah, I'm her baby still, you know," Bruce said.
"You didn't expect to be her baby at this point in your life?" Pelley asked.
"Absolutely not. I thought I'd be helping her now, that she wouldn't be helping me," she replied.
Her benefits will end when she hits 99 weeks soon. No one is expecting Congress to vote another extension of unemployment checks given our historic budget deficits.
As government benefits run out, a lot of people are depending on kindness to take their place.
Marianne Rose lived with her friend's brother for seven months, insisting on cooking and cleaning to earn her keep. In recent days she found a job in a public school. It'll pay about one third what she used to make. It's the best thing to happen in two years, but it's little and late.
"Do you imagine getting your lifestyle back?" Pelley asked.
"No," Rose replied. "Not to the same point now because now I would have to worry about, you know, my old age, in my old age you know its rebuild a nest egg, pay off my debts that I have. That has to happen so now, my lifestyle will not be the same ever, ever again."
Produced by Robert Anderson, Daniel Ruetenik and Nicole Young
Thanks for reading CBS NEWS.
Create your free account or log in
for more features.