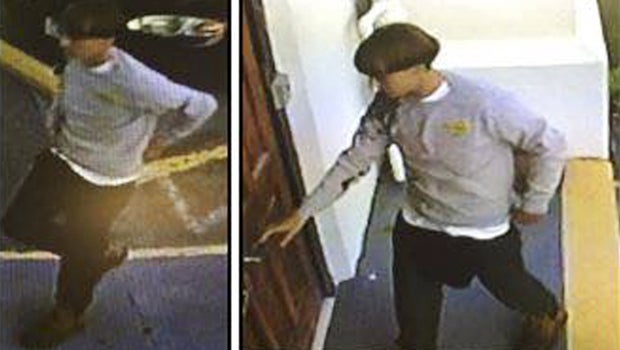 Manhunt on for South Carolina church gunman
CHARLESTON, S.C. -- A white man opened fire during a prayer meeting inside a historic black church in downtown Charleston on Wednesday night, killing nine people, including the pastor, in an assault authorities described as a hate crime. The shooter was still at large Thursday morning.
A federal law enforcement source told CBS News that the suspect has been identified as Dylann Storm Roof, 21.
On Thursday morning, a Justice Department spokesperson told CBS News a hate crime investigation was being opened into the shooting.
The shooting took place at the Emanuel AME Church. The suspect attended the meeting at the church Wednesday night and stayed for nearly an hour before the deadly gunfire erupted, Police Chief Greg Mullen said.
"You can't put your mind around it," the Rev. Norvel Goff, a presiding elder of the African Methodist Episcopal Church in South Carolina, said on "CBS This Morning" Thursday. "You cannot identify this kind of evil on this level because it is so horrific and unbelievable."
Mullen said six of the slain victims were women and three were men. Their identities have not been made public.
CBS News correspondent Jeff Pegues reports from Charleston that three people survived the shooting. Police released few details about their condition.
Mullen said police have surveillance video of the suspect and vehicle involved in the shooting. He met with reporters early Thursday to distribute the video. Mullen said he couldn't give a specific make and model of the vehicle because they could not be certain from the video.
The suspect is described as a white man thought to be in his early 20s. Mullen said he had no reason to think the suspect has left the Charleston area, but is distributing information about the suspect and the vehicle around the country.
"This is a very dangerous individual," Mullen said during a 6 a.m. news conference. "We want to identify this individual and arrest him before he hurts anyone else," the chief said.
Mullen said he believed it was a hate crime, and called the shooting "senseless."
The pastor, state Sen. Clementa Pinckney, 41, was a married father of two who was elected to the state house at age 23, making him the youngest member of the chamber at the time. "He never had anything bad to say about anybody, even when I thought he should," State House Minority leader Todd Rutherford said. "He was always out doing work either for his parishioners or his constituents. He touched everybody."
Goff, who helps oversee the Emanuel AME Church, called Pinckney "a very energetic, promising, very active pastor and political leader in our state, which had a bright future.
"There was no limit to where Rev. Sen. Pinckney would have ended up," Goff said on "CBS This Morning." "But most certainly those of us who knew him, labored with him in the various segments of our community, he was a bridge-builder, he was a family man."
Goff said Pinckney is survived by a wife and two daughters.
Mullen said eight victims were found dead inside the church and the ninth died at a hospital.
Mullen said the scene was chaotic when police arrived, and the officers thought they had the suspect tracked with a police dog, but he got away.
"The only reason that someone could walk into a church and shoot people praying is out of hate," said Charleston Mayor Joseph P. Riley. "It is the most dastardly act that one could possibly imagine, and we will bring that person to justice. ... This is one hateful person." Riley said the shooting was an "unspeakable tragedy. Inexplicable."
Community organizer Christopher Cason said he felt certain the shootings were racially motivated. "I am very tired of people telling me that I don't have the right to be angry," Cason said. "I am very angry right now."
The attack came two months after the fatal shooting of an unarmed black man, Walter Scott, by a white police officer in neighboring North Charleston that sparked major protests and highlighted racial tensions in the area.
The officer has been charged with murder, and the shooting prompted South Carolina lawmakers to push through a bill helping all police agencies in the state get body cameras. Pinckney was a sponsor of that bill.
Even before Scott's shooting in April, Cason said he had been part of a group meeting with police and local leaders to try to shore up relations.
On "CBS This Morning," NAACP President Cornell William Brooks called the shooting "morally incomprehensible."
"We need to be clear about this," Brooks said. "This is not only the desecration of the sanctuary; it's a desecration of the soul of the country. The fact that you could have a criminal come into a Bible study - a Bible study is an occasion in which those gathered, who are there to study scripture, it is their responsibility to be welcoming.
"So the fact that you had someone with a gun, this person was likely welcomed, given a Bible, asked to have a seat and encouraged to be a part of this daily, I should say weekly, ritual. So it is morally incomprehensible. This is like a flesh and blood obscenity."
In a statement, Gov. Nikki Haley asked South Carolinians to pray for the victims and their families and decried violence at religious institutions. "We'll never understand what motivates anyone to enter one of our places of worship and take the life of another," Haley said.
As police and the city's mayor updated the news media, a group of pastors huddled together praying in a circle across the street.
A few hours after the shooting, authorities began clearing the area after a bomb threat was called in to police dispatchers, reports CBS Charleston affiliate WCSC-TV.
The station also says a man matching the suspect's description who was initially arrested at the scene was later released. The man, identified as local photographer Austin Rich, says he was let go after being questioned.
The campaign of Republican presidential hopeful Jeb Bush sent out an email saying that due to the shooting, the candidate had canceled an event planned in the city Thursday.
The Emmanuel AME church is a historic African-American church that traces its roots to 1816, when several churches split from Charleston's Methodist Episcopal church.
One of its founders, Denmark Vesey, tried to organize a slave revolt in 1822. He was caught, and white landowners had his church burned in revenge. Parishioners worshiped underground until after the Civil War.
Thanks for reading CBS NEWS.
Create your free account or log in
for more features.