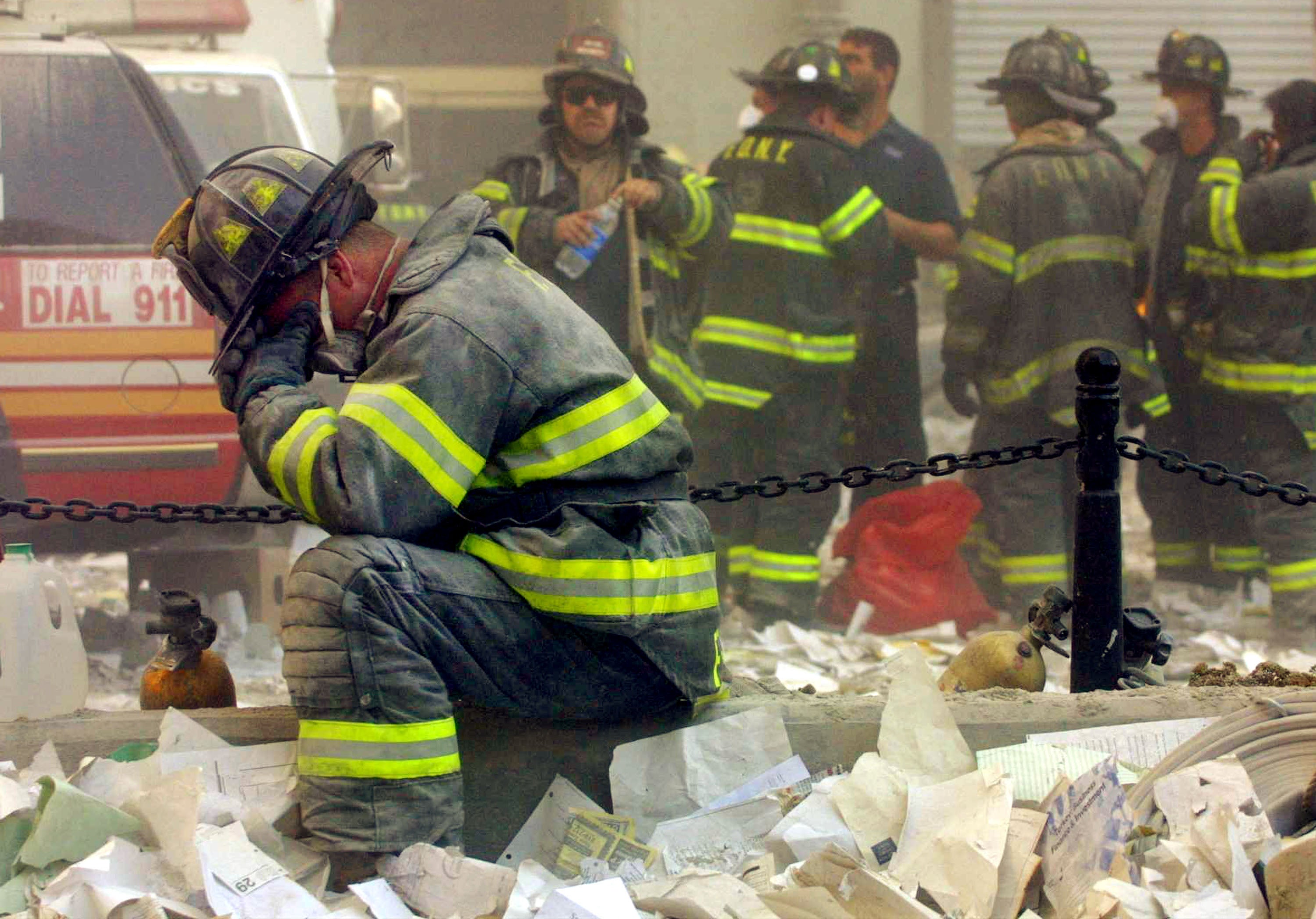 9/11 victim fund applications soar as deadline looms
With just hours remaining before the deadline to register for the 9/11 Victim Compensation Fund, Jennifer McNamara has straightforward advice for first responders.
"Get registered ... hire an attorney and ... spend every moment they can with their families and loved ones," she said, "because nothing in this life is guaranteed."
McNamara's husband John, a firefighter, died of colon cancer in 2009. His wife and colleagues say the cancer was caused by the hundreds of hours he spent toiling amid the debris in the rescue and recovery effort at the World Trade Center after Sept. 11, 2001.
In recent weeks, lawmakers and advocates have urged people to apply for the federal fund for people with illnesses that might be related to the toxic fallout from the terrorist attacks. As of Oct. 1, more than 35,000 people had completed registrations, an increase of 6,700 from the week before, a program official told CBSNews.com. Since late June, more than 15,000 people have signed up.
Applicants must register by 11:59 p.m. Eastern tonight to be eligible for funds to cover existing illnesses or illnesses that may appear by 2016.
Frances Gottfried, director of the New York office of the Sept. 11 Victim Compensation Fund, said the program has ramped up its outreach efforts, and more than doubled the number of people on its help line (1-855-885-1555).
Congress has authorized paying at least $2.7 billion to people exposed to the toxic dust that swirled around Manhattan when the twin towers collapsed. First responders, construction workers and residents who lived downtown during the terror attacks are all eligible to apply.
Previously, federal aid only covered people with ailments like asthma and acid reflux disease. Now, after mounting medical evidence, 50 types of cancer are covered.
A 2011 study in The Lancet found firefighters working at the World Trade Center had 10 percent more cancers than the general public and 19 percent more than firefighters who weren't involved with 9/11.
Dr. David Prezant, chief medical officer of FDNY and the lead study author of the Lancet report, told the CBS Evening News at the time that the association was moderately strong.
"The biggest surprise was that cancer increased," Prezant said at the time. "But that increase is real and now we need to address it."
Michael Barasch, an attorney who represents thousands of first responders who have linked their illnesses to 9/11 toxins, said he is gratified that the fund will now cover cancer but said the additional coverage will inevitably chip away at the total compensation for those who are sick or disabled.
"The fund is set up beautifully to compensate the people who need it the most," Barasch said. "But it begs the question: Is there enough money?"
Shelia Birnbaum, the special master of the Victim Compensation Fund, said there is no formula dictating how much a particular illness is worth.
"Every individual is treated individually although it depends on their lost income and their economic loss," Birnbaum said last month. "It's all going to depend at the end of how many people apply."
McNamara, who now runs a foundation in her husband's name, said that no matter how many people end up registering, the fund will never be adequate because medical care is more important than compensation.
Meanwhile, the grim fallout from the 2001 September attacks continues to unfold. Barasch says hundreds of firefighters and police officers have died from illnesses since 9/11. McNamara said she's been to countless wakes of first responders since her husband died, including 45 just this year.
"Everybody's got something," she said. "2009 was the tip of the iceberg. It's getting worse and worse as the days go by."
Thanks for reading CBS NEWS.
Create your free account or log in
for more features.