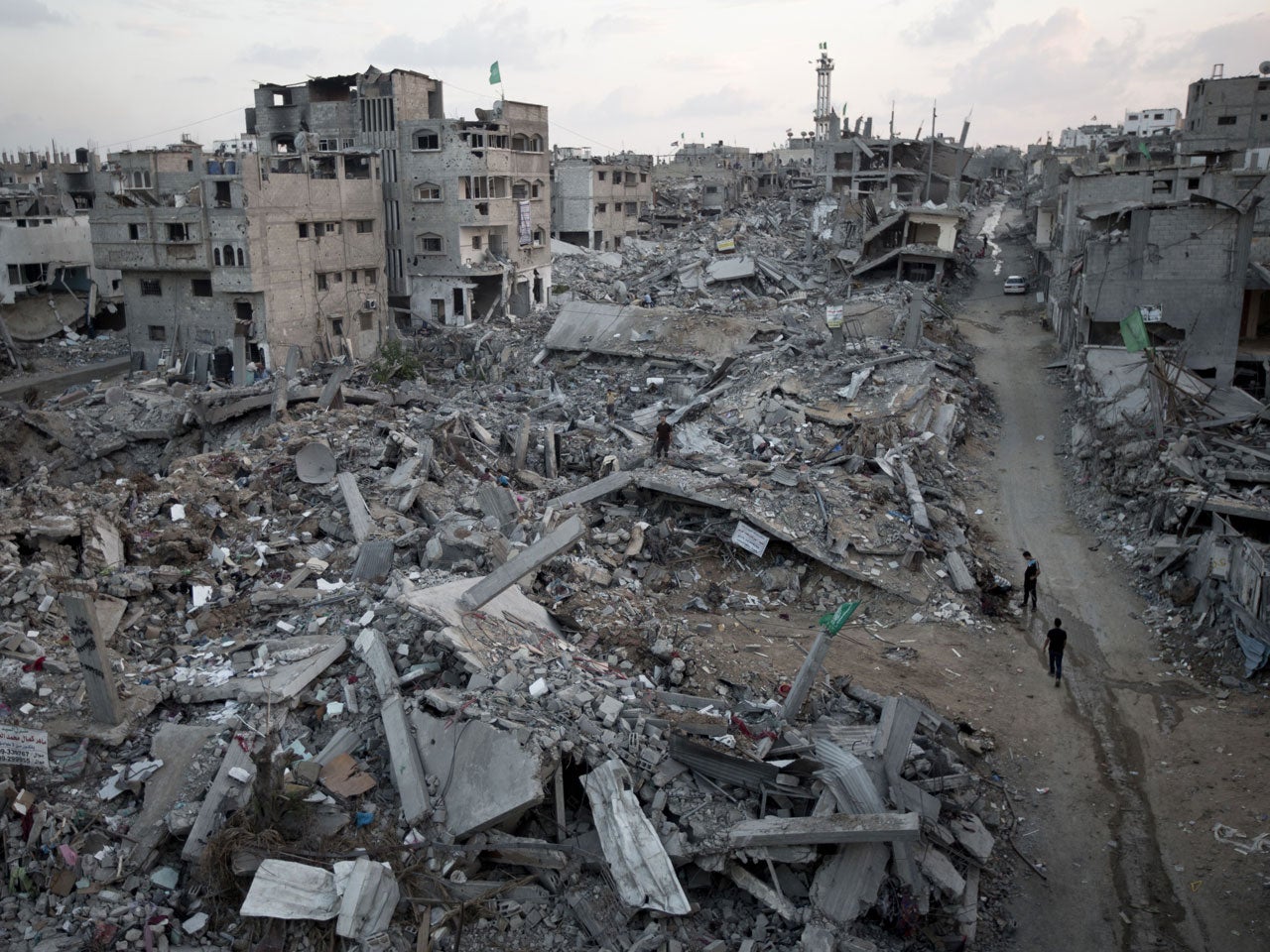 $5.4 billion pledged to help rebuild Gaza Strip
CAIRO - An international donors' conference convened in Cairo on Sunday and promised Palestinians billions of dollars in a bid to help rebuild the Gaza Strip following last summer's deadly conflict between Hamas and Israel.
"The participants pledged approximately $5.4 billion," announced Norwegian Foreign Minister Borge Brende in a news conference at the end of the day. The amount exceeded the $4 billion that Palestinian President Mahmoud Abbas said was necessary cover the costs of reconstruction.
The most recent round of fighting between Israel and Hamas lasted for 50 days and left over 2,000 dead, the majority of them Palestinian civilians. Over 100,000 Gazans remain homeless.
Brende said that donors had "committed themselves to start dispersing their assistance as soon as possible in order to bring about rapid improvements to the daily lives of Palestinians."
But even with billions of dollars pledged, it's unlikely that Gazans will see the full extent of that promised money translate into immediate and actual reconstruction on the ground.
What complicates reconstruction efforts is the economic blockade of the Gaza Strip imposed by Israel and Egypt following Hamas' takeover of the coastal enclave in 2007. Israel has severely restricted imports of construction materials like concrete, arguing that they are used by the Islamist group to construct military-purposed bunkers and tunnels.
But Palestinians decry the blockade as collective punishment, and international aid organizations like the United Nations Relief Works Agency (UNRWA) and Oxfam warn that no matter how much money is raised, the continued restriction of imports and suppression of exports will hamper any attempt at rebuilding the Gaza Strip.
In a statement, Oxfam warned the international community that a continued blockade means full reconstruction could last decades: "Unless donors step up pressure to end the blockade, many children made homeless by the recent conflict will be grandparents by the time their homes and schools are rebuilt."
That assessment was shared by a European delegation member attending the Cairo conference, who told CBS News that if the current restrictions on importing into Gaza persists, it could take up to 20 years for the full amount of reconstruction aid to be implemented in Gaza.
The largest pledge at the Reconstructing Gaza conference came from Qatar. Foreign Minister Khaled bin Mohammed al-Attiyah promised to contribute $1 billion.
Egyptian President Abdel-Fattah al-Sisi delivered the opening remarks.
"I tell the Israelis, both citizens and government - the time has come to end the conflict without further delay to grant rights and establish justice so that prosperity and security can prevail," al-Sisi said.
Representing the United States was Secretary of State John Kerry, who announced that the U.S. has pledged to contribute $212 million in aid to the Palestinians. A breakdown of that amount provided by the State Department stated that $75 million will go to support "critically needed relief and early recovery efforts in Gaza." The rest will fund the Palestinian Authority, controlled by Palestinian President Mahmoud Abbas.
Also in attendance was the European Union's Catherine Ashton, who announced that EU countries would collectively donate 450 million euro (roughly $570 million) to Gaza reconstruction. The United Arab Emirates, Turkey and Kuwait each promised $200 million.
The international donors hope to channel the raised funds through President Abbas and his administration, which is supported by the United States, Egypt, and Saudi Arabia over the Islamist movement Hamas.
Hamas, which controls the Gaza Strip, was not invited to the Cairo conference. In a statement posted on his social media accounts, Moussa Abu Marzouk, deputy chairman of Hamas' political office, criticized the conference for not inviting "Palestinian parties from all sides, especially those directly involved in reconstruction."
In Cairo, Kerry and his counterparts repeatedly stated that international donations alone would not provide a lasting solution to the conflict.
"Out of this conference must not come just money, but a renewed commitment from everyone to work towards peaceful aspirations for all," said Kerry.
But with Israeli-Palestinian peace talks stalled and inconclusive progress in reconciliation negotiations between the Palestinian political factions, a lasting solution is nowhere on the horizon.
"Ultimately, the successful reconstruction of Gaza requires a strong political foundation," said United Nations Secretary General Ban Ki-moon, who also announced he will visit the Gaza Strip this week. Without that, Ban warned, "Gaza remains a tinderbox."
Thanks for reading CBS NEWS.
Create your free account or log in
for more features.