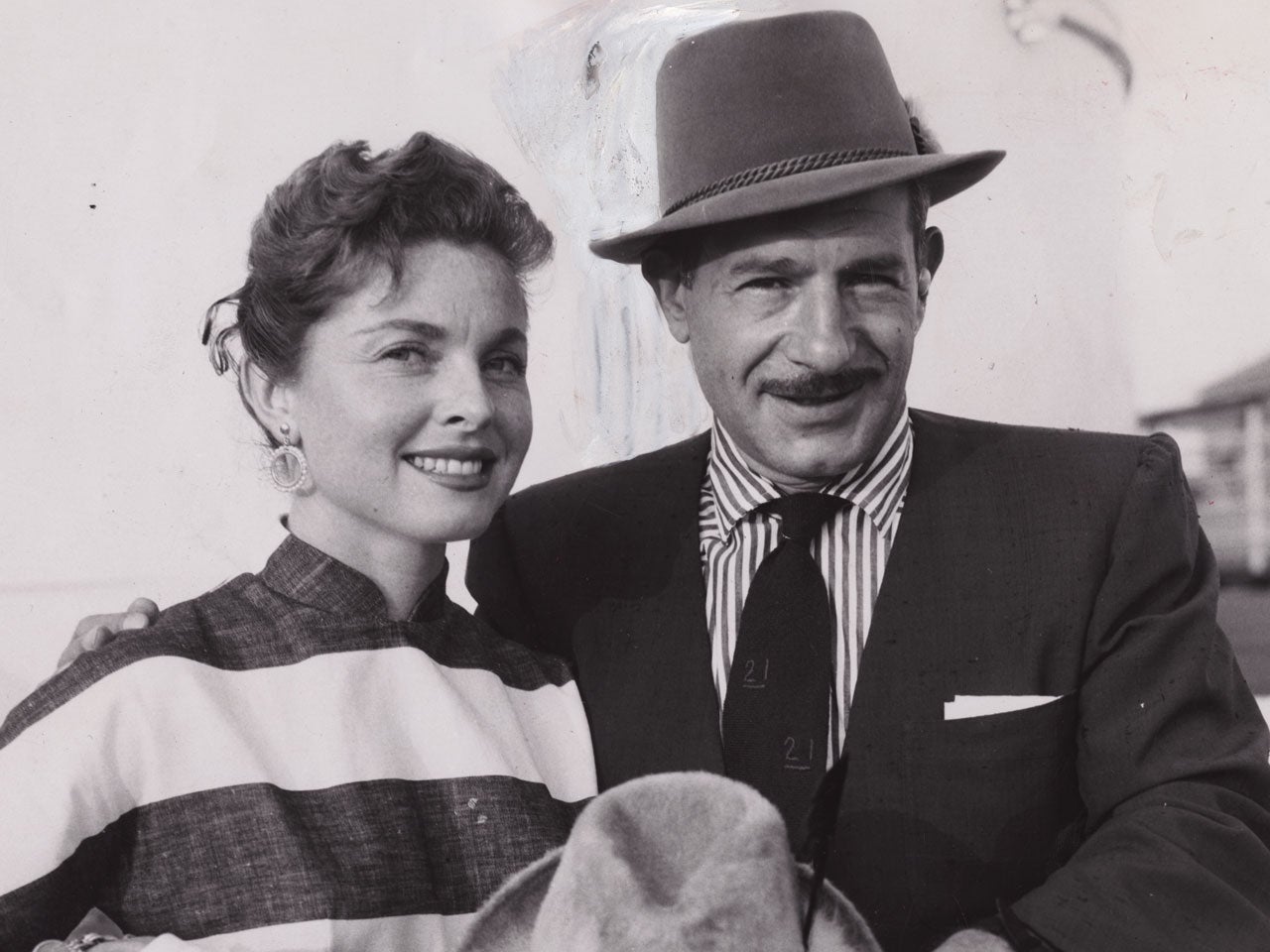 "48 Hours": How a reporter uncovered the murder of Miami matriarch Bernice Novack
(CBS) For 40 years, Bernice Novack lived quietly in her Fort Lauderdale home, amid the treasures of her glamorous life: expensive oil paintings, diamond jewelry, a grand piano used by Frank Sinatra and scrapbooks of pictures snapped with presidents, world leaders and movie stars.
A former model for Coca-Cola and Salvador Dali, Bernice was once married to Ben Novack Sr., builder of the fabled Fontainebleau hotel in Miami Beach. In her later years, Bernice lived a life of relative obscurity in a soberly upscale community where few neighbors knew about her storybook past.
Her large walk-in closet was lined with hundreds of ball gowns and dresses, each covered in plastic and labeled with the date and event that she wore it: President Kennedy's inauguration. Gangster Sam Giancana's daughter's wedding. The Welcome Home Elvis Show.
Set on a vast wall was a large oil painting of her son, Ben Novack Jr., painted when he was about 20 years old. He was sitting on the beach, a scarf around his neck floating in the breeze. Like everything else in Bernice's life, the painting told a story.
As an editor, writer and investigative reporter for 20 years, I have researched yellowed court documents, old wills, marriage and divorce records, police reports, property records and family ties.
During the past four years covering this story, I have come across events and records that even escaped police. I was the first reporter to uncover the story of Novack Sr.'s long-forgotten adopted son, Ronnie Novack, who was homeless, having lived on the street most of his life. I was also the first to question the death of Bernice, who was found dead in her Fort Lauderdale home in April 2009.
On July 12, 2009, three months after Bernice's death, Ben Novack Jr., 53, Bernice's only child, and heir to the hotel fortune, was slain execution-style at the Rye Town Hilton hotel in Rye Brook, about 35 minutes from Manhattan. The owner of a successful convention planning business, Novack had the hotel booked solid that weekend. More than 1,000 employees from Amway Global International, his most prestigious client, squeezed into the 455-room hotel -- and all of them were potential suspects, including his wife, a former stripper he had been married to for almost 19 years.
It was she who would find her husband's body: lying face down on the floor of his hotel room, in his underwear, his face covered in duct tape, his arms taped behind his back and his legs taped below his knees. His head was covered in blood. Later it would be learned that his killers had cut out his eyes.
There are few things that reporters live for except the kind of story that grabs hold of you and never lets go. So when I opened the paper on July 13, 2009 and saw a piece about the murder of the son of a famous Miami Beach hotelier, I thought this was a story that had legs. I had no idea, that years later, it would probably become the biggest story of my career, or that it would become a book.
The first thing I found was a clipping. It was an obituary for Bernice Novack, the 86-year-old family matriarch. In April, she was found dead in her laundry room and Fort Lauderdale police and the Broward Medical Examiner ruled it was an accident. She suffered head injuries from a fall, they said. But even three months later, the autopsy wasn't complete, and when I began to question police, my gut told me something just wasn't right.
A seasoned homicide detective once told me that there is no such thing as coincidences. As I delved into her death, I uncovered a series of tawdry family secrets involving kinky sex, adultery, amputee porn, voodoo and a strange 2002 home invasion in which Ben Jr. accused his wife of tying him up, beating him with a gun and threatening to kill him. In the police report, Bernice Novack told detectives that she believed that Narcy Novack had also tried to poison her.
Most troubling however, was that after Bernice was found dead, no one - not Fort Lauderdale police, the medical examiner or even my own editor at the time - believed that it was possible that Bernice may have been murdered.
I compiled binders full of evidence, photographs showing blood splattered all over home; the autopsy report that said she had massive head injuries, a broken jaw and finger. There was blood in her car and a trail of droplets through the house. Yet detectives never took fingerprints or DNA samples. The photographs of the crime scene were almost embarrassingly inadequate. At the time, even Ben Jr. felt something wasn't right, telling detectives that the glass of white wine on the table was suspect: his mother didn't drink white wine.
Detectives never interviewed Bernice's next-door neighbor, one of them a former Miami Dolphins linebacker who would have told them that strange men had been prowling outside Bernice's home in the weeks and months before her death.
With each story I wrote questioning her death, Fort Lauderdale police became increasingly uncooperative. At one point, they called my editor to berate me for harassing them with too many questions. At the time, I didn't know that they were also stonewalling investigators in Rye Brook, N.Y., probing Ben's murder. They had been sent an anonymous letter claiming that Bernice had indeed been murdered. It included names of suspects and details that no one else would have known so early in the case.
Faced with the letter, Fort Lauderdale police scoffed, saying it wasn't credible because they didn't know who wrote it. My editor agreed and the story about the letter was buried inside the paper.
I met at least three times with Broward County Medical Examiner Joshua Perper. Each time the story was the same: Bernice Novack had fallen and died from head trauma.
I took my piles of binders, a copy of her will, and the photographs to three seasoned police detectives to review. They remained skeptical.
I moved forward with a story about the botched police case, and later learned that Fort Lauderdale police were finally beginning to realize they had made a huge mistake. But not on their own: Rye Brook police had obtained a confession from the killer who told them he had been hired to beat Bernice Novack with a monkey wrench.
It was a horrible murder, as Bernice did not go quietly. And what was worse, because police had not collected evidence as if it was a suspicious death, there seemed to be little chance that the killer would ever be convicted, at least not in Florida.
Her beating death, authorities later announced, was part of a wider plot orchestrated by Narcy, who allegedly enlisted her brother and a contingent of other unsavory people to kill her husband and mother-in-law so that she could inherit the family fortune.
Ben Novack Jr. had doubts about how his mother died, but he was killed before he could demand a more thorough inquiry. Had he known she had been murdered, he may have hired a bodyguard or, at the very least, been more vigilant about his safety.
More than two months after his murder, Ben Novack Jr.'s body remained in the Westchester County morgue, prompting police to wonder why his widow was taking so long to have him buried. In fact, she was busy raiding his valuable Batman collection, stashing cash from his company coffers and sneaking into his safe deposit boxes by fooling bank tellers into believing her husband, alive and well at home, would return with a permission slip.
In July 2010, almost a year to the day Ben was murdered, the FBI arrested Narcy, her brother and several accomplices in connection with her husband's murder. A year later, she and her brother were also indicted for Bernice's murder. Fort Lauderdale police were forced to reopen the investigation into the family matriarch's death.
There are secrets that have never been able to fit into the hundreds of stories that made it into print. There are people were too afraid or didn't trust me enough to talk about what they knew when this case was still fresh and the culprits were still at large. However, over the length of time I became associated as the reporter on this story, more and more people came forward to share with me their stories about the Novack family.
No one has ever written a history of the Fontainebleau, arguably, the most famous hotel in the world, or its unusual cast of characters and its stubborn builder, Ben Novack Sr.
My book is about an extraordinary family: brilliant, wildly foolish, eccentric and dysfunctional, whose lives all ended either tragically, violently or forgotten to history.
A Miami Herald book reviewer once wrote:
"A writer who gets in bed with Miami Beach's historical characters ought to end up breathless.''
Four years later, I am still breathless.
Julie Knipe Brown is a reporter for the Miami Herald, and is a CBS consultant. She is writing a book about the Novack case.
Thanks for reading CBS NEWS.
Create your free account or log in
for more features.