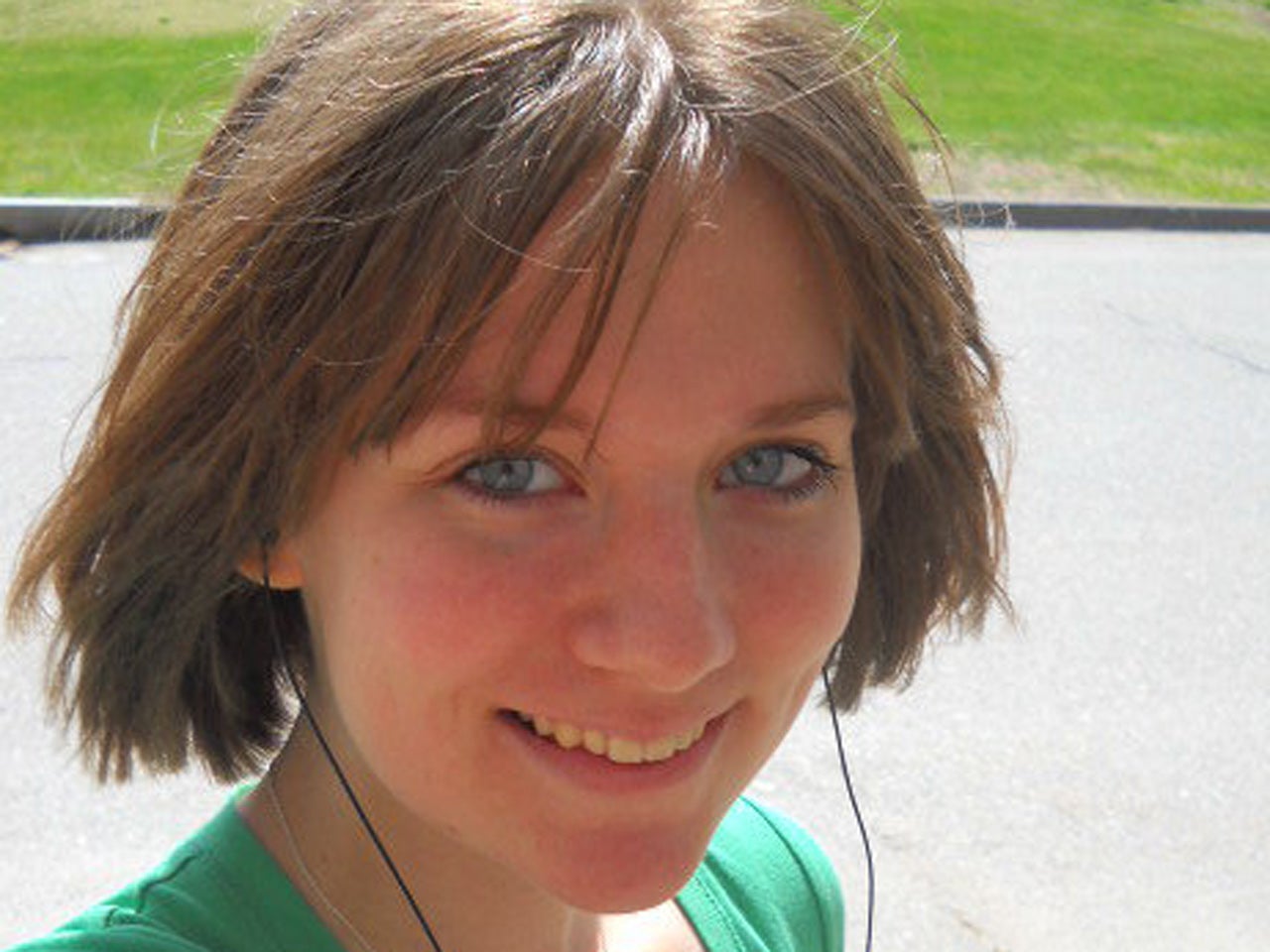 Dangerous Games: The Death of Lizzi Marriott
Produced by Sarah Prior, Sara Ely Hulse and Bruce Spiegel
[This story first aired on Feb. 14, 2015]
Portsmouth, NH -- The cool blue of the New Hampshire sea water is as deep as Lizzi Marriott's love for the ocean. But that same ocean would play a role in the tragedy that ended Lizzi's life.
"Lizzi was vivacious ... She loved her friends, she loved the little critters around her," Lizzi's mother, Melissa Marriott, said told "48 Hours" correspondent Troy Roberts. "You know, you'd see her and she'd have a tortoise in her hand or a little turtle, and, you know, be putting it back on the brook side of our road."
"She and I used to do just the silliest things together. Just no rhyme or reason," said her father, Bob Marriott.
In October 2012, Lizzi Marriott was 19 years old. She had just entered the University of New Hampshire as a sophomore.
"It has a wonderful marine biology program," Lizzi's uncle, Tony Hanna, said. "And it's where she really wanted to go."
And while attending UNH as a day student, Lizzi was living with her aunt and uncle.
"One of my favorite things was when she would come back ... she'd scream, 'I'm home.' And it really made us feel comfortable that she really felt like our home was also her home," said Becki Hanna.
Tuesday, Oct. 9, 2012, started out like any other day.
"On Tuesday she said she going to a friend's house ... be home no later than 12, 12:30," Tony Hanna explained. "...And that's the last thing we heard from her."
Wednesday morning, Lizzi had not come back.
"It ... kinda -- made me nervous," said Tony Hanna.
"I said, 'Well, you know, teenage girl, she probably stayed late... and ... 'Can I crash at your house?'" said Becki Hanna.
But by Thursday, there was still no sign of Lizzi.
"Thursday morning ... There's no car," said Becki Hanna.
"And she says, "'Oh my God, Lizzi's not here.' And that's -- and then it was, like, sheer panic. Now something's really wrong," said Tony Hanna.
"'Hi Tony, it's Bob. Have you heard from Lizzi?' 'No. We were about to call you," Bob Marriott said of his call to Lizzi's aunt and uncle. 'Oh my God. You know, what's going on?'"
"And that's when your heart goes in your throat," Tony Hanna said of the call.
"What do you do when your child is missing?" Bob Marriott asked Roberts. "I didn't have a checklist that told me what to do."
Lizzi's parents live a couple hours' drive away in Massachusetts. They immediately called police to report her missing.
"We worked the phones for, I don't know, two hours maybe. And finally just couldn't take it anymore and jumped in the car and drove," Bob Marriott explained. "It's like ... 'Let's call the FBI. Let's call the state police.' I'm driving and she's callin' the cell phone to call anyone we can think of."
Lizzi's family realized they didn't know who she was seeing that Tuesday night.
"I said to Becki and then I said, 'Friends, what friends are we talking about? Who was she going to see?' We didn't even know," said Tony Hanna.
But investigators had an early break: friends told them who Lizzi was supposed to see that night -- Kat McDonough.
"I know Lizzi and Kat had met. I didn't know if they were anything more than work acquaintances at the time," said Nate McNeal, who worked at a local Target store with both Lizzi and McDonough.
McNeal was one of Lizzi's new friends in New Hampshire.
"Lizzi was ... always happy and she always found the best in everyone," he said. "She had such an aura about her. You know, people wanted to talk to her."
When word got out that Lizzi was missing, he reached out to McDonough.
"At that point," McNeal explained, "I actually texted Kat because I knew that they plans Tuesday night. I asked, 'Hey, did Lizzi ever come over to your house? No one seems to know where she is.' And she texted back, 'No. I didn't see her. She never came over.'"
Nate McNeal had known Kat McDonough for years.
"She was my sister's friend from kindergarten," he said.
Investigators, piecing together Lizzi's last known activities, started looking at McDonough. At the time, she was living with her boyfriend, Seth Mazzaglia.
Reporter and editor Rod Doherty covered the story for the Foster's Daily Democrat.
"Kat McDonough was fairly well-known in the community," Doherty said. "...and she seemed to be a normal teenager."
Seth Mazzaglia and McDonough met in the summer of 2011 through the local theater scene.
"When I met her, she was very young. She was 17," Richard DiMario said. "And she was a sweet girl."
DiMario offered McDonough a part in a play he was directing in the fall of 2011.
"I saw -- a young girl who was -- very interested in partaking in the production. Who was reliable and helpful," he said.
But DiMario says McDonough changed dramatically after she started dating Seth Mazzaglia.
"I think that it's just sh -- she's a good girl who got mixed up in a very bad situation," said DiMario.
And the bad situation was going to get worse. Kat McDonough moved in with 29-year-old Seth Mazzaglia shortly after she turned 18 -- cutting off all contact with her family.
"We thought it was, you know, very sudden," McNeal said. "And we all knew that her parents didn't really approve of it."
Seth Mazzaglia worked at a local electronics store, taught martial arts, and was a trained EMT.
Reporters and police would discover Mazzaglia had a very dark side.
"Our reporter is researching him. And-- he's coming across his ... name ... on these -- sex and bondage sites," said Doherty, "That seemed to be a big part of Seth Mazzaglia's life."
That dark side, police learned, also involved McDonough. She posted dark pictures of herself online using screen names like "Vampirate Actress" and "Miss Scarlett."
"She had obviously developed this fetish that we learned about that had to do with ropes and bondage and submissiveness," Doherty explained.
McDonough and Mazzaglia were advertising on fetish websites, looking to bring a third person into their relationship.
But they didn't find Lizzi Marriott on those websites.
"And all she was tryin' to do was make friends with people," said McNeal.
Three days after Lizzi's disappearance, investigators were convinced McDonough and Mazzaglia knew something. Police brought them in for questioning at the same time; they were placed in separate rooms.
"The local police, the Attorney General's Office, the state police, were very active, very fast," said Doherty.
McDonough told police the same thing she told Nate McNeal in that text: Lizzi never showed up. About two hours into the interview, McDonough stopped answering questions. Police said she was free to go, but she waited there for Mazzaglia.
McNeal says, "That's when things started, like, blowing up."
Seth Mazzaglia was telling a totally different story. He spoke to police for 11 hours and what he told them was shocking: Lizzi Marriott was at the apartment the night she went missing.
He said there was sex ... something went wrong ... and Lizzi died.
THE DARK SIDE OF SETH MAZZAGLIA
With Seth Mazzaglia's bombshell admission that Lizzi Marriott had died in the apartment he shared with Kat McDonough--police had questions: Was McDonough involved? And where was Lizzi's body?
Mazzaglia says after Lizzi died, he panicked and brought the body to Peirce Island--where the Piscataqua River meets the Atlantic Ocean.
The search started immediately, but there was no trace of Lizzi. In the early hours of Saturday morning, Seth Mazzaglia was arrested and charged with the murder of Lizzi Marriott. 48 hours later, he was arraigned.
New Hampshire law enforcement broke the news to Lizzi's parents.
"I knew before I walked in it was bad," said Melissa Marriott.
"We went off into a separate room ... and -- were given the -- the news that Lizzi was dead," Bob Marriott told Roberts. "After you hear those words, you're kinda numb."
Mazzaglia's interrogation is sealed, so we don't know all the details of what he told police. Most importantly, was Kat McDonough involved in Lizzi's death? She would remain free ... for now.
Police found clues in the dumpster behind Mazzaglia and McDonough's apartment building-- men's underwear, a pair of black gloves and Lizzi's sweatshirt.
Law enforcement continued to search the Piscataqua River for weeks -- but they never found Lizzi's body.
"She's just out there some place," Melissa Marriott said in tears. "They just threw her away in the ocean."
There was one person who was not surprised when Seth Mazzaglia was arrested for Lizzi's murder. Her name is Catherine and she dated Mazzaglia when she was in high school and he was in college in upstate New York.
"It was inevitable that Seth Mazzaglia was going to kill," Catherine told Troy Roberts. "And Lizzi Marriott was the perfect victim for him.
Troy Roberts asked Catherine, "Did you think this was maybe a sexual encounter that went awry, and got too rough? Or was this murder?"
"No," Catherine replied with conviction. "Murder. This was murder."
"I wish that she hadn't been there. But if it wasn't Lizzi Marriott, it would've been somebody else," Catherine explained. "He fantasized about murder a lot when I was with him."
Catherine says she knows Mazzaglia's dark side.
"Initially he was, you know, the flowers and ... he was -- very caring," she said.
"And when did that change?" Roberts asked.
"He's always been into the BDSM-type thing," said Catherine.
BDSM stands for bondage, dominance and sadomasochism. And unlike "Fifty Shades of Grey" -- the popular book series-turned-movie -- Catherine says Mazzaglia became increasingly violent and sexually abusive.
"We were naked and fooling around. And he put his hand around my throat fully," she explained. "And -- I told him to stop. And he started doing it harder. And -- it just completely freaked me out."
Catherine says Mazzaglia gradually took total control of her life.
"It's this slow decent into lack of choices to the point where I can't leave," she said.
In 2002, the couple moved to New Hampshire, where Catherine says Mazzaglia was always trying to bring other women into their bed.
"It was something that was a constant ... there was always needing to have more than just me in the relationship," she explained.
Asked why she didn't leave, Catherine told Roberts, "Where would I have gone? I was 600 miles away from home. ...and afraid to leave because if I left he would kill me.... He would hunt me down and he would kill me."
Catherine managed to move out and went into hiding.
Ten years later, Seth Mazzaglia stands accused of killing Lizzi Marriott and his latest teenaged lover is coming to his defense. Two days after his arrest, Kat McDonough meets with his lawyers to try and clear his name.
McDonough is videotaped reviewing her statement. She now admits that Lizzi did come over that night. She says Lizzi's death was an accident.
"Seth was sitting and the two of us were kinda just goofing around," she said on the tape.
The night started with the three of them watching a movie and playing cards, which McDonough says led to consensual group sex.
"It started going from silly to sexual. It started -- getting a little more intense," she continued.
McDonough says Lizzi agreed to be tied up with bondage ropes and even draws a diagram of the harness.
"I'd tied a harness on myself before, but it was the first time I'd ever tied harnesses on someone else," she explained.
McDonough even stood to demonstrate how she says she was positioned over Lizzi.
McDonough gives Mazzaglia's defense team exact details of what she said happened that night: She tells them Lizzi had a seizure, suffocated and died as she was lying under her on the floor.
And McDonough seems strangely detached as she describes what she says were the last moments of Lizzi's life.
"It was too much to handle. I was freaking out," she said in her statement, looking unemotional and almost upbeat as she describes the death of a friend who died only a week before.
Lizzi's friend, Nate McNeal, says McDonough's story is preposterous.
"It was extreme. And it didn't make sense," he said. "I couldn't see [Lizzi] just outright doing something like that. Especially with Kat and some guy she only went over to a house once."
And McNeal knows Lizzi had a girlfriend, Brittany, and they were in a long-term, committed relationship.
"She always talked about all the fun things they would do and how much they really cared for each other," said McNeal.
Lizzi's family also finds Kat McDonough's story outrageous. And they can't understand why she is still not in jail.
"Kat's responsible. Kat's involved in this. You know, why isn't she arrested?" said Bob Marriott.
"Yeah, we got him behind bars," Tony Hanna said. "But what about her?"
Lizzi's family would wait two months before Kat McDonough was finally arrested -- but not for murder.
McDonough was charged with three counts involving hindering an investigation and ordered to have no further contact with Seth Mazzaglia.
"She needs to rot in jail," said McNeal.
But without Lizzi's body, it's a very tough case. Prosecutors need McDonough's testimony and they offered her a deal. Instead of a possible 21-year sentence, she'd get a maximum of three years. It was an offer she could not refuse.
A NEW STORY OF WHAT HAPPENED THAT NIGHT
In May 2014, two years after Lizzi Marriott died under mysterious circumstances, Seth Mazzaglia goes on trial for her murder.
"This is a case of deliberate rape, of deliberate purposeful and cold-blooded murder," prosecutor Peter Hinckley addressed the court. "The defendant struck quick, and he struck without any mercy whatsoever. ... This is his victim... 19 year old Elizabeth Marriott."
"When you have a kid, you spend a lotta time ... thinking, you know, 'what can I do for them.' And when that child is murdered, the number of things you can do really evaporates. And supporting her in the trial was one of the last things I'll be able to do for her," an emotional Bob Marriott told Troy Roberts.
"48 Hours" spoke with several of the jurors selected to hear the case the State of New Hampshire had against Seth Mazzaglia.
"How can you prove a murder without -- without a body?" I didn't think it was-- it was possible," said juror Derek.
"After his rape and murder, the defendant conspired with Kathryn McDonough to falsify evidence of his crimes," lead prosecutor Peter Hinckley told the court.
The prosecution's case will hinge on the testimony of Kat McDonough, testifying as part of her plea deal. She's about to tell yet another version of what happened that night.
"This is just the beginning where I've been able to open up and actually explained what really happened to her," McDonough testified.
McDonough now says Lizzi Marriott was murdered right before her own eyes:
Peter Hinckley: Kat McDonough, who killed Elizabeth Marriott?

Kat McDonough: Seth Mazzaglia.
The prosecution says Mazzaglia controlled McDonough completely.
"The defendant ordered ... McDonough was to obey without question," Hinckley told the court.
McDonough's earlier story -- that Lizzi's death was an accident -- was a lie, prosecutors say, to protect Mazzaglia:
Peter Hinckley: Did Lizzi die accidentally during some form of sexual activity gone bad that she agreed to?

Kat McDonough: No.
"Given her history of lying, was it a gamble to put her on the stand?" Roberts asked attorney Andrew Cotrupi, who represented McDonough in her plea deal.
"Absolutely," he replied.
"Her testimony was critical?"
"In my view, very much so," Cotrupi replied. "I think the government then understood ... that there'd be a decent chance that Mr. Mazzaglia would not be convicted without her testimony."
"The first two days of Kat McDonough being on the stand were raw," reporter Rod Doherty said. "The --stories of their relationship ... the sexual activity that went on."
Peter Hinckley: Who introduced who to ropes to use in sexual activity?

Kat McDonough: Um... He was the one who brought the ropes in.

Peter Hinckley: Did he and you engage in domination, master, submissive?

Kat McDonough: Yes.
"She descended into such a dark world," said co-worker Nate McNeal.
Prosecutors read from a text message Mazzaglia sent six weeks before Lizzi's death, where he promises to punish McDonough in explicit ways and commands her to find him another girl.
"'It's time I punished you, you filthy little whore,'" Hinckley said, reading the text aloud in court, from a text that details brutal and graphic punishments for McDonough. He then reads from the second part of the text, in which Mazzaglia is apparently demanding McDonough supply him a new girl "'You choose a friend, any of yours will do ... and you offer her to me that I may do anything I wish with her, while you watch.'"
Peter Hinckley: Ms. McDonough, did your efforts to locate another sexual partner for the defendant intensify when you received that text message?

Kat McDonough: Yes.

Peter Hinckley: And was that why you reached out to Lizzi Marriott ... and invited her over to the apartment?

Kat McDonough: Yes.
"This case is not a romanticized, fictionalized novel some of you may have read. ... This was the exercise of power and control," Hinckley addressed the court. "Lizzi was attractive, she was what he had been looking for. ...The defendant and McDonough schemed about how they could ... exploit her sexually.
Texts from October 9, 2012, the last night of Lizzi's life, show that she arrives at Mazzaglia and McDonough's apartment at 8:51 p.m.
"... and then, we all started to talk about what we wanted to do," McDonough testified.
They decided on a movie and, at McDonough's suggestion, a game of strip poker. Prosecutors believe Lizzi had no idea she was being set up for a sexual encounter.
"We all sat down, and began to play," McDonough explained on the stand. "The lights were (very) dim. ... We were kinda just laughing. ...I ended up not wearing anything. She ended up in just her underwear."
And that's when, says McDonough, Mazzaglia made his move to initiate sex.
"Seth suggested that ... I should kiss Lizzi, and she said that she wasn't comfortable with that and that she was in a committed relationship," she continued.
McDonough says Mazzaglia made still another suggestion.
"He asked her if he could have sex with me ... in the room," McDonough said on the stand. "She said, 'No.' She wasn't OK with it."
McDonough said she could tell that Mazzaglia was getting angry after being told no - not once, but twice.
"He didn't like to be told 'no,'" she continued. "Seth was sitting ... on the futon ... behind us ... and that's when he did it."
McDonough says while she and Lizzi sat on the floor watching a movie, Mazzaglia quietly put on gloves and grabbed a rope.
"He moved -- up behind her and he pulled the rope over her neck and strangled her," McDonough testified. "She let out a quick noise and then she -- sorta stopped moving."
Peter Hinckley: And do these appear to be the gloves that the defendant wore when he strangled Lizzi with a rope?

Kat McDonough: Yes.
The testimony is devastating for Lizzi's parents. So difficult, there were times when Melissa Marriott couldn't even be in the courtroom.
"It's too much," she said.
And then, McDonough says, Mazzaglia did the unthinkable -- he raped Lizzi:
Kat McDonough: She wasn't moving at all she was completely limp.

Peter Hinckley: Did she appear conscious?

Kat McDonough: No.

Peter Hinckley: Did you tell him to stop?

Kat McDonough: No.

Peter Hinckley: Did you go or yell for help?

Kat McDonough: No.
Nothing. Kat McDonough did nothing to save Lizzi's life.
After telling her account of Lizzi's death on the witness stand, McDonough breaks down into uncontrolled sobs and is escorted out of the courtroom.
"I definitely have sympathy for Kat," juror Cathy said. "I don't think she was in control of her anything, her mind, that night."
Roberta Gerkin, a friend of Mazzaglia's, testifies she got a strange call from McDonough around 10:49 that night.
"Something was going on. They wanted my assistance, and they wanted me to come over there," Gerkin testified.
Gerkin, and her boyfriend, Paul Hickok, arrived at Mazzaglia and McDonough's apartment a little after 11 p.m.
"As I'm walking in there's ... there's a body on the floor - there's a body on the floor right next to the bed," Gerkin testified.
Hickok testifies that Mazzaglia's explanation of what happened was vague.
"All he kept repeating was, 'He's gone too far this time, he's gone too far,'" he told the court.
"Seth was sitting there on the bed basically where her head was," Gerkin continued on the stand. "Kat was against the kitchen cabinets almost in a fetal position."
The scene they described resonated with jurors.
"[Seth]'s sitting right there, rocking, and saying, 'I went too far. I went too far.' Whereas Kat's in a fetal position in the kitchen," said juror Cathy.
Not wanting to get involved, Gerkin and Hickok left the apartment and never called 911. They did say they urged Mazzaglia to call an ambulance. But he had other ideas.
"Seth came over to me ... I was still curled up ... And, he held out his arm to me, and he said, 'Come on, we're in this together,'" McDonough testified.
And together, Seth Mazzaglia and Kat McDonough would descend further down a dark and disturbing path.
MAZZAGLIA & MCDONOUGH: BDSM RELATIONSHIP OR ABUSE?
Lizzi Marriott was the girl with the ready smile and the sweet sense of humor. What would unfold that last night of her life -- and after her death -- was beyond belief.
Kat McDonough: It was late, very late ... like 1 a.m.
Lead prosecutor Peter Hinckley: Together, the defendant and McDonough ... located Lizzi's car. ...they took that car ... using back roads that avoided the toll booths.
Kat McDonough says after Lizzi was murdered she helped Seth Mazzaglia put the body into Lizzi's car. They drove some 13 miles from their apartment to the New Hampshire coast.
McDonough says she and Mazzaglia parked at the end of Peirce Island and brought Lizzi's body --wrapped in tarp and stuffed into a suitcase --up a path to an overlook above the river.
They took Lizzi's body out of the suitcase.
Peter Hinckley: Who pushed Lizzi's body over cliff at that point and time?

Kat McDonough: Seth did.
McDonough says Lizzi's body tumbled down the cliff, but it was low tide and Lizzi landed on the rocks -- some 35 feet below. Mazzaglia told McDonough to climb down and drag Lizzi's body into the water.
Kat McDonough: He said he couldn't climb because he was too exhausted. ...So that's when ... I climbed down to her. ...he said to cover her with seaweed. So I covered her completely with seaweed ... and I managed to push her into the water.
McDonough would be the last person alive to see Lizzi's body, a fact that pains the Marriott family to this day.
"It's so hard to envision that level of evilness and disregard for humanity," said Bob Marriott.
McDonough says they spent the remaining hours of that night throwing away evidence that has never been recovered: the suitcase, most of Lizzi's clothing, and the rope she was strangled with. Finally, they left Lizzi's car in a dark parking lot at the University of New Hampshire and walked the six miles home.
"She helped dispose of a body," Roberts observed to McDonough's attorney, Andrew Cotrupi. "She didn't call police. She didn't run away and try to get help."
"I can't defend that conduct at all. It's indefendable. I understand that she clearly believed that he would do the same to her," Cotrupi replied.
Mazzaglia's defense attorney Joachim Barth's strategy is to turn the tables on Kat McDonough. He argues McDonough killed Lizzi in a sex game gone wrong.
"Ladies and gentlemen, Seth Mazzaglia did not rape, and he did not murder Liz Marriott," Barth told the court in his opening statements. "Kat McDonough caused her death."
Barth argues that McDonough's testimony is a lie. Mazzaglia was nothing more than a lovesick accomplice, and Kat was the aggressor that night. Barth admits Seth did help dispose of Lizzi's body.
"Although Kat caused Lizzie's death, Seth was, in fact, there," Barth told the court. "And so he did participate in ... the deeply flawed acts that followed the death."
They say McDonough is only now blaming Mazzaglia to save herself. Barth argues the story McDonough tells in her videotaped statement -- that Lizzi suffocated underneath her by accident during sex -- is the real truth.
And for at least one juror, that video did raise doubts.
"That put a question mark in my head," juror Brian said. "Could that actually have happened the way she's describing it?"
The defense tries at every turn to paint Kat McDonough as a liar:
Defense attorney Joachim Barth: Do you have the capacity to look these jurors in the eye, and lie to them while you project meekness and submissiveness and remorse?

Kat McDonough: I'm not lying to them. ...I'm up here to explain everything that had happened truthfully ... to the point where I'm admitting to awful things that I personally have done. ...I did lie a lot but I don't want to anymore and that's why I am up here telling the truth.
Letters shown in court, prosecutors argue, point to the reason McDonough lied for Mazzaglia. They say she was his victim in a relationship where violence and abuse were masked under the guise of so-called kinky sex. In one letter, Mazzaglia writes, "I will dominate you... brutally... without mercy."
Prosecutor Peter Hinckley: How often would the defendant be dominant and you be slave or submissive?

Kat McDonough: All the time.

Peter Hinckley: Daily?

Kat McDonough: Yes.
Prosecutors argue this was Mazzaglia's method of domination and control:
Peter Hinckley: Regardless of whether you'd be the defendant's slave or submissive, who always had the final say on matters?

Kat McDonough: He did.
At the time of Lizzi's death, prosecutors say McDonough was completely isolated -- cut off from her family and friends by Mazzaglia -- and totally dependent on him.
"I didn't -- I didn't want to lose him. He was the only person I had. ...I didn't have anywhere else I could go," McDonough testified.
To support their claim McDonough was a victim, the prosecution calls Dr. Scott Hampton -- an expert on abusive relationships.
"...you can love someone and be afraid of them simultaneously," Dr. Hampton testified.
Dr. Hampton says abusers gradually take control of a victim's entire life.
"This is what abusers count on. This is a very gradual increase of the manipulation and control and it usually just increases when they feel they need to," he continued on the stand.
And McDonough's attorney believes that's true.
"She did not do anything, later on in their relationship, that Seth did not want to have happen. Anything," Cotrupi told Troy Roberts.
Physical evidence would also be key to the prosecution's case: the underwear and the gloves McDonough says Mazzaglia wore while strangling Lizzi Marriott.
Prosecutor Peter Hinckley: And this was another item you threw away in the dumpster behind Mill Street? Kat McDonough: Yes.

Peter Hinckley: And are these the items, the gloves the defendant wore when he strangled Lizzi to death?

Kat McDonough: Yes
"The gloves, for me, were very incriminating. That was the point where I thought premeditation," juror Maria said. "When he put on those gloves, he was actually thinking about doing something."
Test results found Lizzi and Mazzaglia's DNA on the underwear, which prosecutors say supports Kat's story of rape. But the defense contends the DNA proves nothing.
"The physical evidence ... shows what? Sex," defense attorney Barth said in his closing.
Kat McDonough was on the stand for 10 days, but Seth Mazzaglia did not testify.
"Do you think that would have helped him?" Roberts asked jurors.
"I think it would have helped to hear his side," said juror Maria.
"She could have manipulated him," juror Brian said. "She's an actress. She's a compulsive liar. All these things are questions that go in your head."
The jury will have to make the choice: trust McDonough--an admitted liar--or the silent Seth Mazzaglia?
JURORS WEIGH THE CASE
Thirty-three witnesses, five grueling weeks and Lizzi's Marriott murder trial is finally drawing to a close. For Lizzi's parents, listening to the evidence has been unbearable.
"We were shell shocked during the trial," Melissa Marriott said. "Lizzi died twice a day every day. It was awful."
In closing arguments, the defense argues Kat McDonough can't be trusted.
"What we have is Kat McDonough being the manipulator of facts, lying ... to you from that witness stand," defense attorney Joachim Barth told jurors.
But prosecutor Geoffrey Ward reminds the jury that McDonough is not on trial; Seth Mazzaglia is.
"Send him the message that ... you ...know the truth about him, that he's a cold-blooded killer," Ward said in his closing.
Now, it will be up to five men and seven women to decide Mazzaglia's fate.
"We're talkin' about a man's life. You know, that's not an easy task to deliberate over," said juror Maria.
"The defense did a fantastic job in creating some doubt there," said juror Brian.
For the jury, Kat McDonough's testimony is critical.
"You have testimony from ... a compulsive liar. And that's what you have to -- base your decision on. So goin' in, I'm like, 'I'm not sure who to believe,'" said juror Brian.
"But I think the majority of her testimony was truthful," said juror Maria.
"True. I agree," said juror Cathy.
The first afternoon ends with no decision.
"It was kind of like ping pong," said juror Brian.
"We broke it down, step by step," juror Vicky explained.
By noon on the second day, jurors had a verdict.
"I have never been that nervous in my life," Bob Marriott said before the verdict was read.
"We were all sitting on pins and needles," said Melissa Marriott.
The verdict: guilty. Seth Mazzaglia is found guilty of first-degree murder by strangulation, guilty of first-degree rape and murder, and guilty on two counts of conspiracy.
Lizzi's father, who had not spoken publicly until now, breaks his silence at a press conference just after the verdict was read.
"We are very grateful that the jury returned a verdict of guilty for first degree murder," Bob Marriott addressed reporters. "The truth of what happened to Lizzi is horrendous. And every time it has been told it has reinforced the despair that we feel. [in tears]
For jurors this was life-altering experience.
"Not a day goes by that I don't think of Lizzi," juror Vicky said. "I hope that we brought her justice and her family some small amount of peace."
The Marriotts believe Lizzi's murder was the result of an abusive relationship that spiraled out of control.
"Kat ... was abused by him," Bob Marriott told Roberts. "I don't think that Kat McDonough in the absence of Seth Mazzaglia would have done the things that she did."
And incredibly, Lizzi's parents say they have sympathy for McDonough.
"She was 19 and very young," Melissa Marriott said. "And I think she felt like she had no place else to go."
But some jurors say McDonough deserves more time.
"I think that she's more culpable than her sentence," said juror Cathy.
"I think she should have got a longer sentence. I mean, we can't forget that she helped dispose of the body," juror Maria added.
But the Marriotts' main interest was making sure Lizzi's killer was held responsible. Seven weeks after the guilty verdict, Mazzaglia is back in court for sentencing.
At the hearing, Lizzi's family has the opportunity to speak:
"You are the one that took her life from her and from us, Lizzi's uncle, Tony Hanna, addressed Mazzaglia."You are a twisted individual who brought only darkness and pain in this world.
"Mister Mazzaglia. I'm Melissa Marriot. I'm Lizzi's mother. ...I miss Lizzi every day. I wake up in the morning and she's gone, I go to bed at night and she's still gone. ...And all because a cowardly 30-year-old man could not deal with a confident young woman."
"Lizzi is gone. I still find that hard to comprehend. You murdered her over a year-and-a-half ago and every day I wonder what she would've been doing," said Bob Marriott.
"I call this dad's exhibit one," Bob Marriott addressed the court, pointing to large photo of his daughter at the front of he courtroom. "Look close and you can see a frog gently cupped in her hands. ... Why is Lizzi so happy? ...she is saving that frog."
With the Judge Steven Houran's permission, Bob Marriott walks through the silent courtroom, holding his daughter's picture high above his head.
Then Judge Houran asks "Does anyone from the defense want to speak?"
Remarkably, Seth Mazzaglia now has something to say.
"I did not rape and murder Elizabeth Marriott," Seth Mazzaglia told the court. "I did play a part in covering up her death. ...and for that I am truly sorry."
Judge Houran is unmoved - and sentences Mazzaglia to life in prison without the chance of parole.
Mazzaglia is led away to spend the rest of his life in prison. Kat McDonough is scheduled for release from prison in July 2016.
It's been two years since her daughter's murder, and Lizzi's mother is not still not able to visit the place Lizzi loved so much -- the ocean.
"I haven't been to the beach since she died. I can't go. I just see it, and it's so overwhelming," she said through tears.
With Lizzi's body lost to the sea, there is no grave. Her parents have created a simple memorial for her--a bench in the sun, next to a lake in the Massachusetts woods... where Lizzi's spirit can be free.
REMEMBERLIZZI.ORG
Lizzi's family has set up a scholarship in her memory. It's called the Lizzi Marriott Intrepid Ocean Explorer Fund.
Thanks for reading CBS NEWS.
Create your free account or log in
for more features.