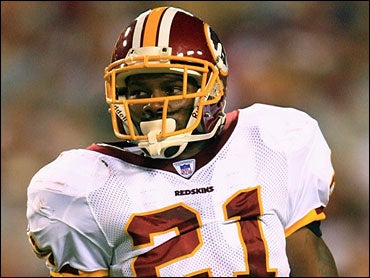 4 Charged With Murder In Taylor's Death
All four off the suspects in the shooting death of NFL star Sean Taylor are now charged with unpremeditated murder. Three of the suspects charged in the killing of the Washington Redskins star appeared in court by videoconference Saturday, with authorities and two of their lawyers saying that at least some of them have confessed.
A lawyer for one of the suspect tells The News-Press of Fort Myers that he doesn't expect the case to be long or drawn out because of confessions. And he says his client is remorseful about the situation.
Three of the four suspects - Charles Wardlow, Eric Rivera and Venjah Hunte - have been denied bond. All four suspects are charged with unpremeditated murder in Taylor's death, a killing police said was unplanned and arose out of a burglary at the player's home. The fourth suspect, Jason Mitchell, has yet to make a court appearance.
Miami-Dade County police Director Robert Parker said the suspects didn't expect Taylor to be home when they broke in early Monday, but the Redskins safety was recuperating from a knee injury and had returned from Washington. When Taylor surprised them, he was shot.
"They were certainly not looking to go there and kill anyone," Parker said. "They were expecting a residence that was not occupied. So murder or shooting someone was not their initial motive."
Authorities said they had more than one confession, but Parker would not elaborate.
The four were arrested Friday in southwest Florida, about 100 miles from Miami.
Wilbur Smith, the attorney representing Rivera, said Saturday he expected a speedy resolution.
"Don't expect this to be a long, drawn-out thing," he told The News-Press of Fort Myers. "Because there are confessions, I believe this will be quickly resolved."
Smith said while some media reports have pegged his client as the one who pulled the trigger, he had not yet spoken extensively with the suspect to determine if that's true. He said his client was remorseful.
"It's an indescribable tragedy for the Taylor family, and it's a tragedy for the families of these other young men because their lives are down the tube," Smith said.
John Evans, the attorney representing Wardlow, said it's likely all four suspects will be transported to Miami on Sunday. He said his client was reflecting on the gravity of the charges he faces.
"My client has not, I don't think, come to terms with what is being alleged," Evans told the AP on Saturday. "He's in a position, dressed in the orange jumpsuit over there in the county jail, thinking about his life and thinking about his future. You can only imagine the things going through his mind now."
The four suspects all have prior arrests, according to Lee County Sheriff's Office records.
Wardlow, 18, was arrested twice for selling marijuana and once for grand theft of a vehicle. Rivera, 17, has been arrested in October for trafficking cocaine and methamphetamine, and he previously was behind bars for altering the identification number on a firearm.
Hunte, 20, was arrested previously this year on drug and trespassing charges. And Mitchell, 19, has been arrested twice, most recently in October on charges of driving with a suspended license and violation of probation.
Richard Sharpstein, Taylor's former attorney, said he had not spoken with the victim's family regarding Friday's arrests, but said he doubted they provided any comfort.
"I know they are just saddened and appalled. The fact that they arrested his killer is no comfort to them," he said. "It probably inflames them more, because it tells them people were trying to steal from him. They are murderers. They should be treated like murderers and put in the Miami River and floated away."
The 24-year-old Pro Bowl player died Tuesday, one day after being shot at his home in an affluent Miami suburb during what officials said appeared to be an attempted burglary.
Police have been investigating a possible link to a Nov. 17 break-in at Taylor's home, during which they said someone pried open a front window, rifled through drawers and left a kitchen knife on a bed.
"We're looking into whether or not one or more of the individuals had been at the residence before," Parker said.
The Miami Herald reported that Mitchell and Wardlow had connections to Taylor. Mitchell cut Taylor's lawn and did other chores at the house, Mitchell's twin brother, Scottie, told the paper. Taylor's sister, Sasha Johnson, dates Wardlow's older cousin Christopher, and Scottie Mitchell told the paper the couple invited Jason Mitchell to Johnson's birthday party within the past two months.
A woman who identified herself as Jason Mitchell's mother told the Naples Daily News her son was at a birthday party at Sean Taylor's home a couple months ago. She also said her son was at home all week and last weekend.
"I don't know where he's at, I don't know why he's being held," she told the Naples paper. "No parent should see this happen to their child."
O'Brien would not confirm the reports when contacted by The Associated Press.
Taylor and his longtime girlfriend, Jackie Garcia, were awakened early Monday by loud noises at his home in an affluent Miami suburb. Taylor grabbed a machete he kept in the bedroom for protection, Sharpstein said. Someone broke through the bedroom door and fired two shots, one missing and one hitting Taylor in the upper leg. Neither the couple's 18-month-old daughter, also named Jackie, nor Garcia were injured.
The bullet damaged the femoral artery in Taylor's leg, causing significant blood loss. Taylor never regained consciousness and died a little more than 24 hours later.
"They targeted him for his wealth," Sharpstein said. "It makes his death even more pathetic, unnecessary and just actually disgusting."
A public viewing for Taylor is scheduled Sunday in Miami, and the entire Redskins organization plans to fly to Florida to attend Monday's funeral at Pharmed Arena at Florida International University.
The Redskins also announced that fans attending Sunday's game will receive a towel with Taylor's No. 21 jersey on it, and his name will be displayed prominently in an end zone.
Redskins owner Dan Snyder said the team will contribute a minimum of $500,000 to a fund to benefit Taylor's daughter, and he released a statement late Friday acknowledging the arrests.
"This is another step, but not a conclusion, in a very personal and painful tragedy," he said. "I also want to thank everyone who has joined us in mourning the loss of Sean. People from all over the world contacted the Redskins to share our grief and offer their prayers for Sean and his family. We will never forget the courage his family, especially Jackie, Pete and Donna, have shown. Their composure has been a source of strength for us all."
Thanks for reading CBS NEWS.
Create your free account or log in
for more features.