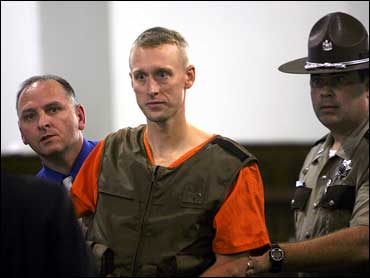 3 Of 4 Maine B&B Victims Dismembered
Julie Bullard and her daughter tried to put tragedy behind them when they moved from California to Maine to run a bed and breakfast. It was to be a fresh start after her daughter's husband died in a car accident.
Now, both are dead, and a guest in the inn was charged Tuesday with killing them and two others in Maine's biggest homicide case in more than a decade.
Three victims of the weekend carnage at the 130-year-old converted farmhouse were dismembered. State Police Chief Col. Craig Poulin called it "a crime of horrific proportions."
Police said Christian Nielsen, 31, who had worked as a cook at another inn in neighboring Bethel, did not resist when he was arrested on four murder charges.
Poulin said the investigation was too new to comment on a motive, but added, "We believe no one else was involved and there are no additional victims."
Nielsen, who had been living at the Black Bear Bed & Breakfast for a couple of months, told police that his first victim on Friday was James Whitehurst, 50, of Batesville, Ark., whose remains were burned and discarded in the nearby town of Upton, authorities said.
Inn owner Julie Bullard, 65, was killed Sunday, police said. The following day, her daughter, Selby, and friend Cynthia Beatson, 43, were also killed when they arrived at the inn unexpectedly, a state police affidavit said. All three women were dismembered.
Autopsies were being conducted on the three women Wednesday, said Jim Ferland, administrator of the state medical examiner's office. He said police were still at the scene with Whitehurst's remains.
State police were alerted to the carnage Monday evening by Nielsen's father and stepmother, who arrived at inn to find a woman's body and blood outside. Nielsen's father told troopers that he thought his son had committed the killing, according to prosecutors.
Nielsen, questioned by detectives Monday night, admitted killing all four people, the affidavit said. He then led a detective to Upton, where Nielsen said he had disposed of Whitehurst's body, the document said.
Whitehurst, described as a handyman who was helping out Julie Bullard, had been staying in the inn, a white clapboard farmhouse with a red metal roof, while he was in the area.
Julie Bullard had purchased the building, which had been converted into a bed and breakfast with a pool and tennis court, after moving to Maine two years ago. She had operated a bed and breakfast in San Francisco that she sold prior to coming to the area, a magnet for skiers and other outdoor enthusiasts.
"Her daughter, Selby, had just lost her husband in a car crash, and I think in some ways she and Selby were doing something together, getting a fresh start," said Robin Zinchuk, executive director of the Bethel Area Chamber of Commerce.
Julie Bullard decided in February to close the Black Bear, Zinchuk said, and there was a "For Sale" sign out front. Selby Bullard had recently been working part-time with Beatson at Apple Tree Realty Inc.
As news of the murders spread Tuesday, people in the community were shocked. Newry is near Maine's border with New Hampshire and about 75 miles northwest of Portland.
"The whole thing is surreal. It's a shock to this small community," said Nancy White, co-owner of the Sudbury Inn, where Nielsen worked. White described him as a reliable employee, a good cook and "soft-spoken, quiet individual."
Police stressed that the string of killings, unusual in a state with a low crime rate, was over. Nielsen knew at least two of the victims — Whitehurst and Julie Bullard — and probably knew all four, Poulin said.
Nielsen, who formerly lived and worked in Farmington in western Maine, had a history of driving offenses that included an arrest for drunken driving, but nothing more serious, Farmington police said. His license was revoked a year ago, said Farmington Lt. Jack Peck.
Nielsen was ordered held without bail. He appeared in court Tuesday wearing an orange jumpsuit and bulletproof vest. Nielsen uttered only two words in court: "I am," when the judge asked if he was present. He appeared calm and smiled as he was brought into and left the courtroom.

Thanks for reading CBS NEWS.
Create your free account or log in
for more features.