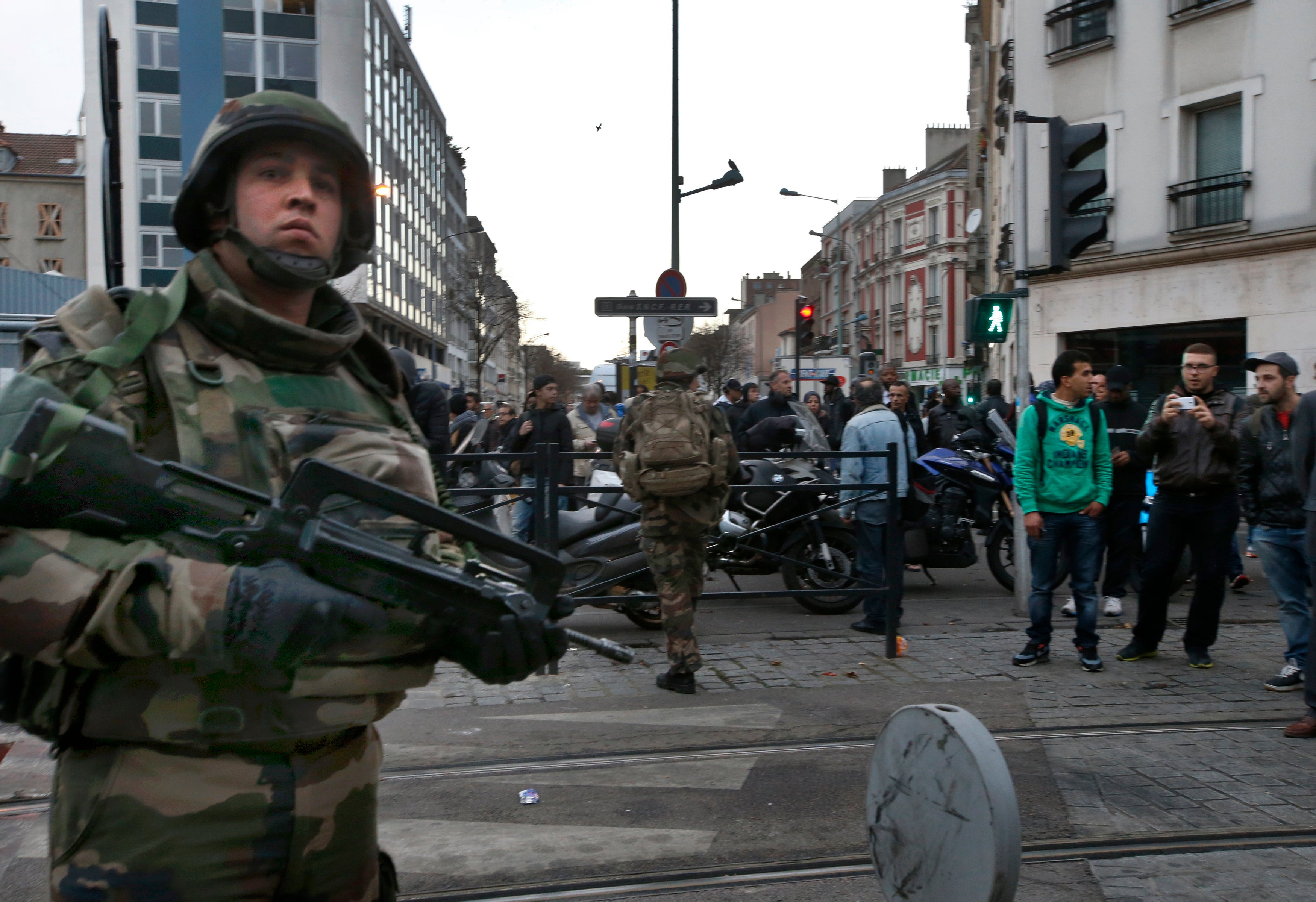 2016 presidential candidates: How they would fight ISIS
Days after the Islamic State of Iraq and Syria (ISIS) claimed responsibility for the terrorist attacks in Paris that left over 130 people dead and hundreds more injured, contenders for the White House are laying out their plans to defeat the extremist terror network.
Donald Trump
Donald Trump's strategy to defeat ISIS is a simple one: "bomb the sh*t" out of them or "blast the hell out of them."
The New York real estate mogul proposed bombing ISIS on Monday in a Fox News interview, but he has repeated a similar refrain throughout the course of his presidential campaign.
A day before the Paris attacks, Trump said in Iowa that he would "just bomb those suckers."
"I'd blow up the pipes, I'd blow up the refineries. Every single inch -- there would be nothing left," he told reporters.
Trump has also applauded Russia for attacks against ISIS. In September, when Russia launched its first air strikes over Syria, Trump said of Vladimir Putin: "If he wants to fight ISIS, let him fight ISIS. Why do we always have to do everything?"
Ben Carson
Retired neurosurgeon Ben Carson is open to using "every resource available to us" when it comes to defeating ISIS.
On Monday after the deadly events in Paris, Carson said that "we ought to take this as a warning that we need to really go in there with very serious intent not to contain them but to take them out completely."
"To destroy them, to eliminate them, I would use every resource available to us," he said.
Jeb Bush
In a Sunday interview with NBC News, Jeb Bush said the U.S. "should declare war" on ISIS. The former Florida governor proposed creating a global coalition to fight the terror group during a Tuesday appearance in Florence, South Carolina.
Bush is poised to outline a plan to expand the military and defeat ISIS in the coming days, shifting his focus on the campaign trail to his national security agenda.
According to a preview of his remarks, the former Florida governor will propose increasing the Army by 40,000 soldiers and the Marine Corps by 4,000.
"We have but one choice: to defeat it," Bush said Wednesday. He added that the U.S. "will need to increase our presence on the ground."
Marco Rubio
Florida Sen. Marco Rubio, prior to the Paris attacks, agreed with the prresident's decision to send about 50 special forces to Syria. He told CBS' "Face the Nation" in early November that it was an "important start" to defeating ISIS, but he also believes that the war called for an increase in the number of special forces in the war-torn country.
In an interview with CBS News Chief White House Correspondent Major Garrett, Rubio said that the U.S. "will need a significant number of special operators" to supplement a majority Sunni ground force.
"Ultimately, we would want to know what the outcome is -- that a combined Sunni force on the ground - made up of Sunni fighters from Egypt and Jordan and Saudi Arabia and Sunnis from Iraq and Syria - defeat ISIS militarily and ideologically," Rubio told Garrett. "That is the end goal. That will not happen unless the United States provides the air support, the logistical support and embeds alongside them a significant number of special operations forces along with our coalition partners doing their part in each of these endeavors as well."
Lindsey Graham
Graham told Fox News on Wednesday that he will soon take legislative action to combat the extremist terror threat in the Middle East.
Graham plans to introduce a bill after the Thanksgiving holiday that would authorize the use of military force (AUMF) in the fight against ISIS -- and if members of Congress "aren't willing to declare war on ISIL" they are "making a mistake for the ages."
The AUMF would allow "this president and every future president the ability to go anywhere ISIL goes, use any means necessary," according to Graham.
Some in the Republican field, however, are hesitant to volunteer U.S. troops in the fight against ISIS.
Ted Cruz
Asked on Saturday whether he would support American boots on the ground, Texas Sen. Ted Cruz said in Iowa: "We have boots on the ground. The Kurds are our boots on the ground."
Instead, Cruz has called on Congress to pass the Expatriate Terrorist Act, a bill he introduced last year that would allow government officials to take away U.S. citizenship for anyone suspected of supporting terror groups.
John Kasich
In an interview White House correspondent Major Garrett conducted with Ohio Gov. John Kasich Tuesday, the Republican presidential contender also called for a worldwide coalition -- including NATO countries along with other Middle East nations -- to become involved in fighting ISIS.
"I would say no fly-zones. I would say arm the Kurds who are taking the fight to ISIS in Iraq and put a coalition together to get both in the air and on the ground to destroy ISIS," Kasich said. "And it's got to be a broad-based coalition but it has to mean action. Ultimately we destroy ISIS and we're going to see a significant improvement in the ability of America to assume a leadership role again."
Rand Paul
Paul published an op-ed published Tuesday in Time, calling for the U.S. to take a "hard look at what is fueling [ISIS] growth: money."
He called for governments and private sources to begin policing funding for the extremist group -- particularly those based in Saudi Arabia, Qatar, and Kuwait.
"From now on, our message to these governments and their ruling families must be clear: take accountability for your role in murdering our citizens or we will freeze your assets," Paul wrote in his editorial. "Locate the citizens who are financing terrorism and lock them up or we won't sell you a single missile or fighter jet. The U.S. does not do business with terror financiers, period."
Paul has previously called for a declaration of war against ISIS and introduced a war resolution to Congress last year.
Carly Fiorina
Former tech executive Carly Fiorina wants the U.S. to "wage a war" against ISIS but has not been specific about the strategy she advocates.
After the Paris attacks, Fiorina also attacked President Obama's comments on Republican proposals against ISIS in the Middle East: "Instead of attacking Republicans, perhaps he ought to focus his passion and energy on our real enemies," she said Tuesday on Fox News.
Hillary Clinton
One day after the Paris attacks, candidates gathered in Iowa for their second Democratic debate, where they addressed rising terror threats. On ISIS, Clinton said: "I don't think that the United States has the bulk of the responsibility. I really put that on Assad and on the Iraqis and on the region itself."
Clinton also proposed that Congress should "update" the 2002 AUMF issued after the attacks on U.S. soil on September 11, 2001.
Martin O'Malley
Positioning himself in opposition to Clinton, Martin O'Malley said at Saturday's debate that "we do have a role in this."
The responsibility, O'Malley added, was "not solely ours, but we must work collaboratively with other nations."
The former Maryland governor also wants more U.S. investments in human intelligence.
Bernie Sanders
Sanders wants to build a global coalition to take on ISIS, saying in Iowa on Sunday that he would even be open to working with Russia and Iran to defeat the extremist group.
"Russia has got to join us. We are concerned about Iran, but Iran has to join us. We have concerns about Saudi Arabia, but Saudi Arabia has to join us," Sanders said in a speech delivered at Simpson College. "If all over the world these attacks are taking place, the world has got to come together."
Thanks for reading CBS NEWS.
Create your free account or log in
for more features.