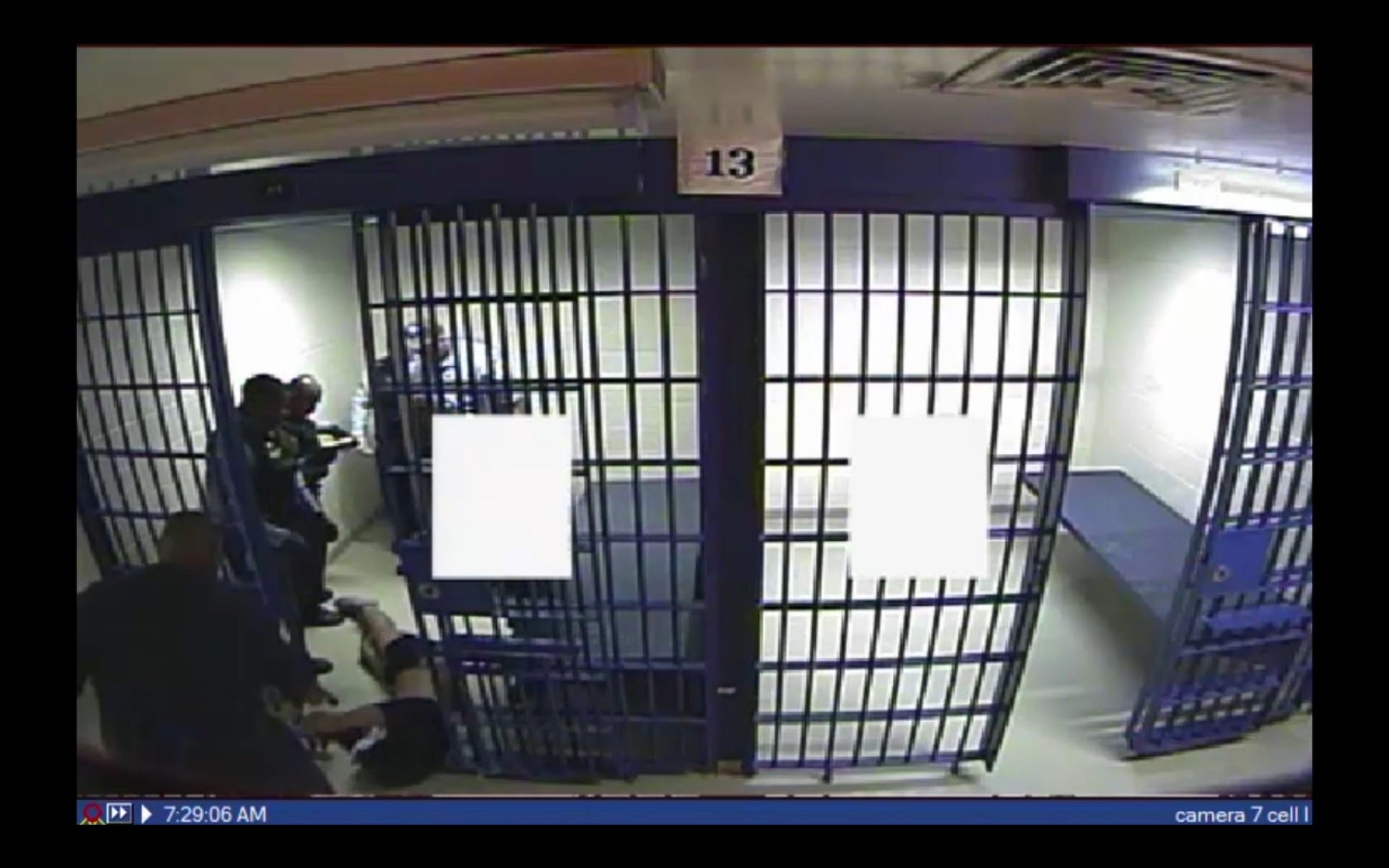 2012 death of Chicago police detainee under investigation
CHICAGO -- Chicago's acting police superintendent says officers' treatment of a man who died in police custody in December 2012 is under investigation, even though a much-criticized panel that looks into misconduct previously cleared the cops of wrongdoing, reports CBS Chicago.
Philip Coleman, 38, died at Roseland Community Hospital three years ago after he was taken into police custody and put in a cell. Newly released surveillance video shows officers crowding around Coleman before one of them uses a Taser stun gun on him.
The police station video shows six officers entering Coleman's cell as he lies sleeping. They wake him up. Coleman is seen standing up and soon falls down. An officer in the cell can be seen using the Taser. Another officer places Coleman in a headlock.
Police reports say officers used the Taser on Coleman when he became combative.
Video taken from another vantage point soon after shows a group of officers walking down a corridor as Coleman's limp body is dragged on the floor. Some of the officers appear to smile.
Coleman was taken to Roseland Community Hospital. Police claim he was aggressive there, too, and they used the Taser on him again. The number of times is in question.
City officials said Coleman died at the hospital of an allergic reaction to a sedative.
CBS Chicago obtained data showing the TASER was used on Coleman between seven and 16 times.
Coleman's family has filed a civil lawsuit against the city, alleging that the mentally unstable man, a University of Chicago graduate, was mistreated while in police custody.
They called police in 2012 after Coleman began acting erratically at their home. Family members say he should have been transported to a hospital, not a police precinct.
The man's father, Percy Coleman, told the Chicago Tribune that he an officer brushed off pleas from the family to take his son to a hospital.
"We don't do hospitals, we do jail," Percy Coleman recalled the officer saying. Coleman is the former chief of the nearby Ford Heights police department, and a former co-chair of Chicago's Republican party.
Chicago's Acticing Police Supt. John Escalante said in a statement Monday that the case is under investigation.
"While the independent investigation is ongoing we will be doing our own review of our policies and practices surrounding the response to mental health crises," Escalante said.
A separate statement from Mayor Rahm Emanuel suggests allegations of misconduct will be reconsidered by the Independent Police Review Authority (IPRA), which previously cleared the officers. IPRA has recently come under fire in another case, and the panel's head was removed this week.
"I do not see how the manner in which Mr. Coleman was physically treated could possibly be acceptable," Emanuel said. "Something is wrong here -- either the actions of the officers who dragged Mr. Coleman, or the policies of the department. I have not received a sufficient answer on either from IPRA's former leadership, and as a result I do not consider this case to be closed or the investigation into what happened that night to be over."
Release of the video comes after the federal Justice Department announced an investigation of the Chicago Police Department, amid protests related to the 2014 death of Laquan McDonald, who was shot 16 times by a police officer.
Thanks for reading CBS NEWS.
Create your free account or log in
for more features.