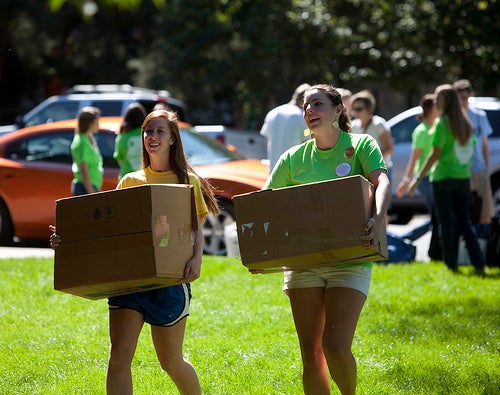 20 facts you didn't know about college freshmen
When students head off to college, they don't go far. Nearly 55 percent of freshmen attend school no more than 100 miles from home. More than 37 percent selected a college that's no more than 50 miles away away from mom and dad.
Those are two of the fascinating facts that you can find in the UCLA's latest survey of the nation's college freshmen.
Here are 18 more facts about the current crop of college freshmen during a year when fewer incoming students received scholarships to help defer college costs:
1. While many students live near enough to bring their laundry home, only 14 percent of freshman attend college 500 or more miles away.
2. Getting into college isn't as tough as many families fear, as 76 percent of freshman were accepted into their No. 1 college.
3. About half of the freshman earned a grade point average no worse than an A- in high school.

4. Fifty-five percent of students took at least one Advanced Placement class and 21.7 percent took at least five AP courses.
5. There are more liberal freshman (27.6 percent) than conservative students (20.7 percent). The majority of students describe themselves as "middle of the road."
6. Opinions about same-sex marriage have changed significantly, with 71.3 percent of freshmen supporting the right to marry versus 64.9 percent two years ago.
7. There's nothing wrong with the self-confidence of the latest crop of freshmen: 71 percent of students rated themselves as either being in the top 10 percent of students or above-average in their academic ability.
8. Only 39.5 percent of freshmen reported that they studied at least six hours a week as high school seniors.
9. Fewer incoming students received grants or scholarships (69.5 percent) versus 73.4 percent in 2010. Only 26.8 percent received $10,000 or more in scholarships versus 29.2 percent in 2010.
10. During a typical week in their senior year in high school, about 30 percent of the college-bound students did no pleasure reading.
11. A quarter of college freshmen said they would need math tutoring.
12. Forty-two percent of freshmen expect to earn a master's degree.
13. Paying for college is a "major" concern for only 12 percent of freshmen. (Sounds like a disconnect to me.)
14. Nearly 21 percent of freshmen estimated that their parents earned at least $150,000 a year.
15. Eighteen percent of students estimated that their parents earned less than $30,000 a year.
16. In their senior year, 46.5 percent of the students frequently or occasionally fell asleep in class.
17. More than 28 percent said they frequently felt overwhelmed by all they had to do.
18. The No. 1 reason students gave for attending their chosen schools was they have a "very good reputation." Only 18.2 percent said national magazine college rankings were "very important" in their decision.

College freshmen image courtesy of Flickr user University of Denver.

Thanks for reading CBS NEWS.
Create your free account or log in
for more features.