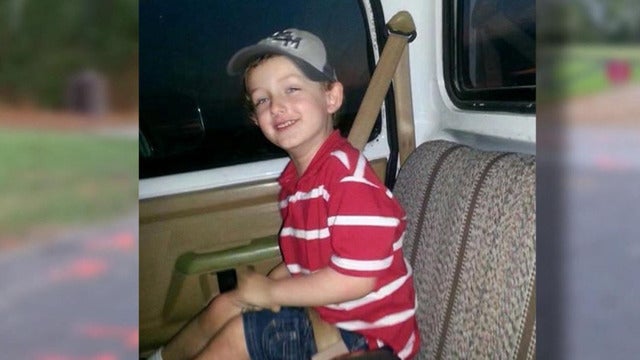 2 Louisiana city marshals face murder charges in child's death
Two city marshals in the central Louisiana town of Marksville will be charged with second-degree murder in the shooting death of a six-year-old autistic boy following a car chase involving his father, authorities announced late Friday.
Norris Greenhouse Jr., 23, a reserve officer, and Lt. Derrick Stafford, 32, were arrested Friday night by the Louisiana State Police, which is leading the investigation, CBS affiliate WAFB reported.
Jeremy Mardis was shot and killed Tuesday after his father, Christopher Few, led law enforcement officers on a chase. Few was wounded in the incident and is hospitalized in critical condition.
The marshals will also be charged with attempted second-degree murder of the father, Louisiana State Police Col. Michael Edmonson said at a news conference late Friday night.
Lt. Jason Brouillette and Sgt. Kenneth Purnell were also involved in the chase but have not been charged. All four officers were placed on administrative leave.
One of the officers was wearing a body camera which recorded the chase, the shooting and its aftermath.
"It is the most disturbing thing I've seen, and I'll leave it at that," Edmonson said, adding that the footage, witness interviews and forensic evidence led police to file charges.
According to the Marksville Police Department, Few led the law enforcement officers on a short pursuit Tuesday night and stopped on a dead-end road.
"The initial statement to my investigators was that the vehicle was backing up, they feared for their lives and they started firing," Edmonson told CBS News correspondent David Begnaud Friday morning.
"There were a lot of shots fired that night and they were coming in one direction. There's nothing for us that indicates that any fire came from that SUV," Edmonson said. "There was no weapon found in that SUV."
State investigators want more information from the officers, Edmonson said before the arrests.
"I think the longer it takes for these officers to come forward and give us information, it's more concerning," Edmonson told CBS News Friday morning. "Come forward and tell us what happened."
Thanks for reading CBS NEWS.
Create your free account or log in
for more features.