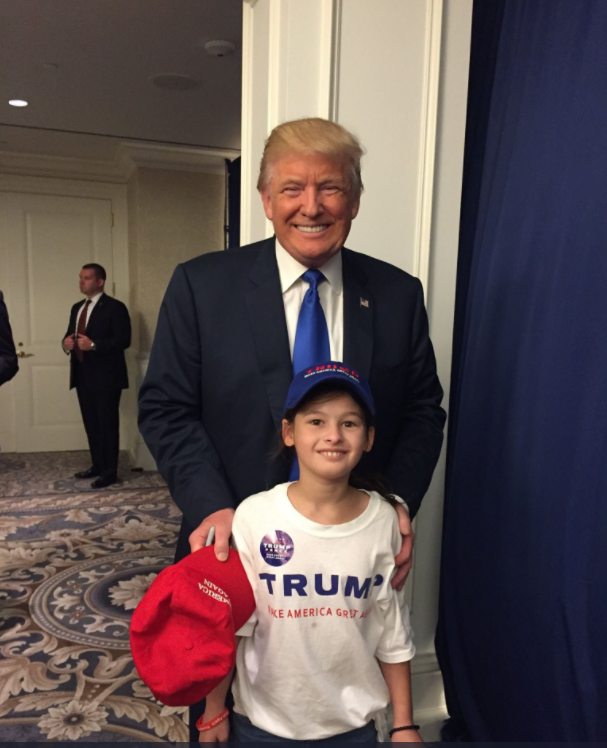 12-year-old Trump supporter says she would run for office
Not being old enough to cast an actual ballot in a state or national election hasn't stopped 12-year-old Millie March of Northern Virginia from getting involved in politics.
When her spirited endorsements of President Trump's agenda at the Conservative Political Action Conference (CPAC) went viral in February, March became the unofficial representative of youngsters everywhere who support Mr. Trump.
On Monday, March raised the bar for her civil involvement on "Fox & Friends," saying she was not ruling out a future run for the White House.
"If the country needs me, I will run. I don't care about being the first female president," March said when asked if she would like to pick up where former candidate Hillary Clinton left off.
It wouldn't be March's first competitive campaign, either. Although known as an ardent defender of the president inside the classroom, March managed to win her elementary school's race for student president earlier this year.
"I asked them, 'Who's our president? Who's our president?' And they were like, 'Truuuuump…'" March said, joking about some of her classmates who were less happy about November's outcome.
On "Fox & Friends," her father said that the March family used to be be involved in politics, but his daughter's views and political leanings were completely her own.
"We don't tell her what to think," he said. "She's the one that has read the books. She's the one that watched the news shows."
At one point during the program, March provided rapid-fire analysis on Republican Ed Gillespie's run for Virginia governor in the 2018 midterms: "He is a winner. He will win. He almost beat Mark Warner in the Senate election."
At CPAC, March represented Virginia Kids4Trump, a pro-Trump organization for politically-inclined youth in the Old Dominion. There, before reporters and camera crews, March held multiple press conferences where she advocated for the real-estate mogul-turned-president.
"Without Trump, I wouldn't be here," she said. "There was this guy. He talked about all the issues we were facing, all the problems. Okay, that's normal. Every politician does that. Then something extraordinary happened. He said how to fix them."
March's strong support of Mr. Trump and her articulate criticisms of Washington have caught the attention of some of Mr. Trump's closest allies. In the past year, March has shaken hands with many more politicians and Washington insiders than the average American.
March even met one-on-one with Mr. Trump less than two months out from election day. Last September, then-RNC spokesman Sean Spicer posted on Instagram a picture of the meeting at Trump International Hotel in Washington. According to the post, March had just conducted another media gaggle to help elect her favorite candidate.
Thanks for reading CBS NEWS.
Create your free account or log in
for more features.