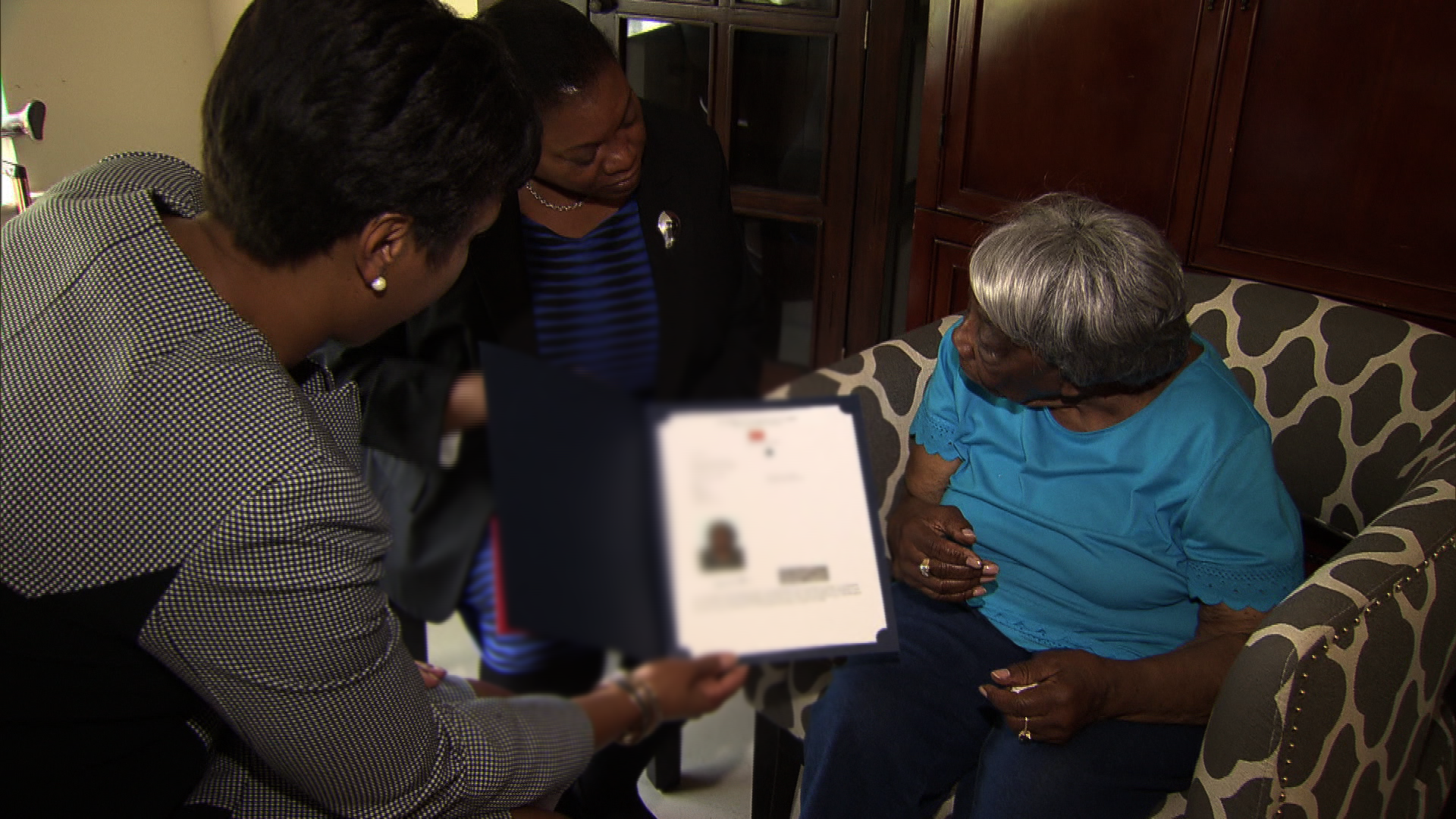 ID problem resolved for 107-year-old woman who danced with Obamas
"Thank the lord!" 107-year-old Virginia McLaurin exclaimed Tuesday morning as Washington D.C. Mayor Muriel Bowser handed her a copy of a new government-issued photo ID.
Just days earlier, McLaurin revealed in an interview with The Washington Post that after meeting and dancing with President Obama and first lady Michelle Obama in February, she had been invited to New York and Los Angeles for media interviews.
There was only one problem: McLaurin didn't have the ID she'd need to travel by plane or train, and she didn't have the appropriate documents to get one.
The Department of Motor Vehicles in D.C. said she would need documentation that proves her identity, such as a U.S. birth certificate, an unexpired passport or an unexpired military ID card, among other things. Now at the age of 107, McLaurin didn't have any of the required documentation to get a D.C. photo ID. She once had one, but it was stolen awhile back, she told the Post. In order to obtain her birth certificate from South Carolina where where she was born, she discovered she would also need a government-issued photo ID.
Bowser heard about McLaurin's ordeal and as a result, Washington, D.C. passed a new regulation on Monday that allows the city to make exceptions for elderly residents applying for a driver's license or photo ID. Under the new regulation, D.C. officials will now have the discretion to make exceptions for federal requirements for any D.C. resident over the age of 70, whereby they can come up with other acceptable documents.
"Thank you. Thank the lord!" McLaurin said after they handed her the temporary version of the ID. She will receive the official version in the mail.
Asked how she was feeling, she said, "Great! I feel great!...I don't feel like 107. I feel like I'm about 16."
CBS News' Lindsey Boerma and Jillian Hughes contributed to this report.
Thanks for reading CBS NEWS.
Create your free account or log in
for more features.