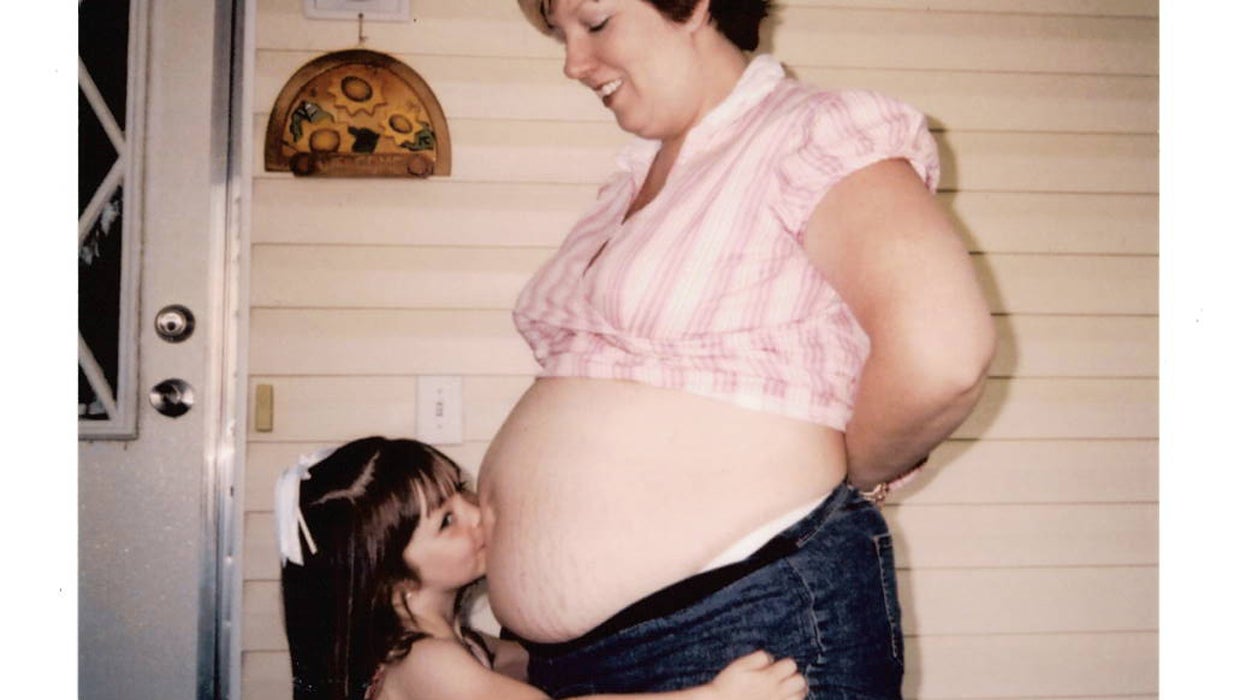 10 years later, pregnant mom's disappearance remains unsolved
FESTUS, Mo. -- Hubert Propst remembers his daughter bubbly and full of life on Aug. 14, 2005, the day she vanished. Eight-and-a-half months pregnant and nearing her due date, Amanda Jones attended church that Sunday morning with her parents and young daughter in Festus, Mo., south of St. Louis.
After the service, the 26-year-old kissed her four-year-old daughter, Hannah, leaving the child in her parent's care as she went off with the man she said was the father of her unborn child for a couple hours.
"When Amanda said a couple of hours, that's what Amanda meant," her mother, Bertha Propst, told 48 Hours' Crimesider. "If it was any longer than that, she would always call. She would never leave Hannah hanging."
When Amanda didn't call, the family knew something was very wrong.
It's been 10 years since Jones disappeared that hot summer day, and despite hundreds of leads and thousands of investigative hours by local law enforcement and the FBI, what happened to Amanda remains a mystery.
The Propsts and their granddaughter Hannah, now 14, marked the somber anniversary - as they do with Amanda's birthdays and Mothers' Day - by laying a flower at a memorial tree at the bank where she worked.
"Someone told us, it's been a decade, it's time to forget about it," said Propst, 59. "You can't forget something like that. It seems like yesterday to us."
Doc Coombs, an investigator with the Jefferson County Sheriff's Office who has worked the case since 2011, also can't be sure what happened to Amanda- but he's convinced it was something terrible.
"After many years in law enforcement I am seldom surprised by human behavior," Coombs wrote in an e-mail to 48 Hours' Crimesider last year. "However, I am sure Amanda did not 'just walk away' or wander off. I think something real bad happened to Amanda or she would have returned to her family."
Coombs and FBI special agent Mike Christian are continuing to follow up on new leads and conduct interviews, Coombs said. No suspects have been named. The FBI announced last year they are offering a reward of up to $20,000 in the case. During the August 2014 news conference held to announce the reward, Jones' parents begged anyone with information to come forward.
Hannah also spoke, through tears.
"I just want my mom to come home," Hannah said.
As a child, Amanda was a "young mother" to her older brother and younger sister, said her father, Hubert Propst. At 12, she would often cook a full meal for her family as her mother worked.
Then, when Amanda became a mother herself in 2000, she doted on her young daughter.
"Every place that Mandy went, there was Hannah," said Hubert Propst, 68. "It was an exceptional relationship between her and her daughter. Her daughter was her life."
At the time Amanda disappeared, she was divorced, working full-time as a loan processor at the Eagle Bank in Festus, Mo., and taking care of her daughter. The two lived together at a mobile home park in nearby Peverly.
She was also eight-and-a-half months pregnant, and had already decided on a name for her baby boy: Hayden Lucas.
Amanda's family is convinced that they know who is responsible for her disappearance: Bryan Westfall, the man Amanda said was the father of her unborn child and the last known person to see her.
The Jefferson County Sheriff's Office confirmed Westfall remains a person of interest in the case, but he's never been named a suspect and has never been charged. Through his lawyer, Westfall denied any involvement in Amanda's disappearance to 48 Hours' Crimesider. The FBI does not comment on people who have not been charged, said Rebecca Wu, an FBI spokeswoman.
Westfall and Amanda first met at her company's holiday party in 2004, according to Amanda's family. Westfall was bartending at the party, and the two hit it off.
But after they spent the evening together, the tryst quickly fizzled, Amanda's family said. The two didn't contact each other again until Amanda learned she was pregnant in February of 2005.
According to a 2005 missing person report prepared by the Missouri State Highway Patrol, Westfall told the agency that when Amanda called him to tell him she was pregnant, he said he didn't believe the child was his and that he wasn't interested in any further relationship with her.
At the time, Westfall was working for Jefferson College, a community college in Hillsboro, teaching high school students in a specialized computer information systems technical training program, a college spokesman told Crimesider. Westfall left the college, where he had worked since 1999, on May 31, 2005, after completing a one-year contract, said the spokesman, Roger Barrentine.
As Amanda's due date approached and she prepared for her baby's arrival, she considered talking to Westfall again to see if he had re-considered whether he wanted to be involved in the baby's life, Bertha Propst said. In early August of 2005, Amanda called Westfall again to set up a meeting, telling friends she was considering asking about child support, Propst said.
After church on Sunday, August 14, Amanda planned to meet Westfall at the Hillsboro, Missouri Community Civic Club around 1 p.m, according to both Westfall's statement to the Highway Patrol and Amanda's family. Afterwards, they planned to go to lunch at Off the Hook restaurant in DeSoto, about 6 miles south of the club, according to Amanda's family. But what happened next would become a key point of contention between Westfall and Jones' family.
According to the police report, the day Amanda vanished, Westfall told police he met with her at the civic club and they talked for about an hour.
Then, Westfall said, Amanda went inside to use the restroom, and when she came back, she told him that she was hot and returned to her car.
Westfall told police in the statement he thought Amanda left, but when he left the civic club - around 5 p.m., according to Coombs -- he said he saw Amanda sitting in her car and talking on her cellphone. That, he said, was the last time he saw her.
Police and family, however, said they don't believe Amanda would have sat in her car for that long - especially since the air conditioning in her car was broken.
"I find it inconceivable that anyone, especially a woman 34 weeks pregnant, could sit in a car on a hot and humid, August day, for three hours," investigator Coombs said.
The Propsts also said they doubt Westfall's story. In a brief phone call with Bertha Propst that day, Propst said Westfall initially told her he had lunch with Amanda, and then she left.
But in a second call with her husband that day, Bertha Propst says Westfall told her husband he met Amanda around 1 p.m., she left to go to the restroom, and then he saw her sitting in her car around 4 or 5 p.m. Bertha Propst says Westfall didn't tell her husband the two had lunch.
Bertha Propst says she asked Westfall what happened to her daughter, and he told her he didn't know.
During the meeting with Westfall, Amanda took a call on her cell phone at 1:15 p.m., according to the FBI. After the meeting, her blue 1997 Pontiac Sunfire was found unlocked and abandoned in the civic club parking lot, the FBI says -- her purse, car keys, wallet, and cell phone have not been found.
The Propsts haven't had contact with Westfall since those phone calls. They're convinced he is responsible. But Kevin Roberts, an attorney for Westfall, said in a statement to 48 Hours' Crimesider that Westfall wasn't involved and has cooperated with the investigation.
"My client categorically denies having any involvement in the disappearance of Ms. Jones," Roberts said in an email to 48 Hours' Crimesider last year. "When this incident first happened he cooperated with the authorities, providing law enforcement with a statement and access to his property. My client hopes that Ms. Jones is found so that her family and everyone else involved can have answers and closure over her disappearance."
Reached by phone by 48 Hours' Crimesider, Westfall referred the call to his attorney and declined to talk.
Ten years later, Amanda's family still maintains hope that they'll find out what happened to her. Her mother frequently shares Amanda's missing person poster on Facebook, hoping that someone will see it and come forward with information.
She's convinced that someone must know something.
"To lose someone in a way like this, you don't have closure," Bertha Propst said. "Deep down in your soul, it eats at you. You don't have the answers - you don't know the who, what, when, where and why."
For now, they say, the Propst's remember Amanda and her unborn child Hayden often, in whatever ways they can. Hannah, she said, talks frequently about the brother she never got to meet.
"If we're out shopping and she sees something, she'll say, "Oh, wouldn't Hayden look cute in this?" Bertha Propst said. "She'll say, I had a baby brother, but he was taken with my mom."
According to Propst, the girl still has vivid memories of her mother, and asks frequently about what she was like. Now on her high school's dance team, Hannah says she wishes her mother could see her perform.
"She says, I bet my mom would be proud of me," Propst said.
A reward of up to $20,000 is being offered for information leading to the location of Amanda Jones and her unborn child, and/or for information leading to the identity of the person or people involved with their disappearance, according to the FBI. Anyone with information is asked to call314-589-2500.
Thanks for reading CBS NEWS.
Create your free account or log in
for more features.