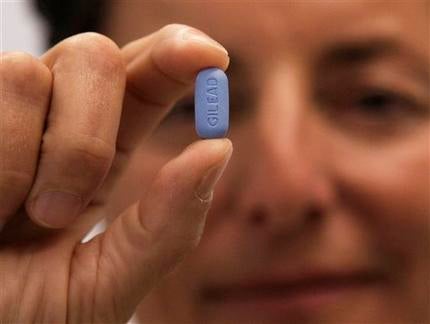 1 in 4 gay and bisexual men should take HIV prevention pill: CDC
One in four sexually active gay and bisexual men should be taking daily medications to help prevent HIV, the virus that causes AIDS, according to a new report from the Centers for Disease Control and Prevention.
The CDC says the drug treatment, called preexposure prophylaxis or PrEP -- marketed under the brand name Truvada -- can reduce their risk of sexually acquired HIV by more than 90 percent. It can also reduce the risk of HIV infection among people who inject drugs by more than 70 percent.
And the CDC says about 1 in 200 sexually active heterosexual adults should be getting PrEP to protect them if their partner is HIV-positive, or if they have multiple partners or partners at high risk of infection.
However, many people who could benefit from the pills aren't getting them.
Recent studies show that despite having been approved by the Food and Drug Administration in 2012, 1 in 3 primary care doctors and nurses have never even heard of PrEP.
"PrEP isn't reaching many people who could benefit from it, and many providers remain unaware of its promise," said CDC Director Dr. Tom Frieden said in a statement. "With about 40,000 HIV infections newly diagnosed each year in the U.S., we need to use all available prevention strategies."
About 1.2 million people in the United States currently live with HIV, the CDC reports. While cases of HIV have decreased overall in the past decade, there has been a worrisome rise in recent years among young people.
An estimated 26 percent of all new HIV infections in the U.S. in 2010 were seen in 13- to 24-year-olds, a sharp increase from 2002 when 10 percent of new cases were from that age group. Young gay and bisexual men showed a significant increase in new infections from 2008 to 2010.
What's more, about 13 percent of all people infected and 50 percent of youth with HIV do not know they have it, making it more likely they'll inadvertently transmit the disease to others.
For people who are HIV-negative and considered high risk for contracting the virus, taking PrEP include could greatly reduce their risk of infection. These groups include:
Anyone involved in an ongoing relationship with a person who is already infected with HIV
Gay or bisexual men who have had anal sex without a condom or been diagnosed with an STD in the past 6 months
Heterosexual men or women who do not regularly use condoms during sex with partners of unknown HIV status who are at substantial risk of HIV infection (e.g., people who inject drugs or have bisexual male partners)
Anyone who has abused injected, illicit drugs over the past six months, shared needles or other equipment tied to injected drug abuse, or been in a drug abuse treatment program
The CDC argues that PrEP can help fill a critical gap in HIV prevention efforts, but those at risk need to have access to it.
"PrEP has the potential to dramatically reduce new HIV infections in the nation," said Dr. Jonathan Mermin, director of CDC's National Center for HIV/AIDS, Viral Hepatitis, STD, and TB Prevention. "However, PrEP only works if patients know about it, have access to it, and take it as prescribed."
The report urges health care providers to test patients for HIV as part of routine medical care, follow PrEP clinical practice guidelines and counsel patients who can benefit from the drug on how to take it every day. Patients may also need help applying for insurance or other programs to pay for it.
"Providers must work with patients to assess which tools best meet their needs. PrEP can benefit many who have high risk. Other risk reduction strategies, such as condoms and access to sterile injection equipment, also offer substantial protection when used consistently and correctly," said Dr. Eugene McCray, director of CDC's Division of HIV/AIDS Prevention.
Thanks for reading CBS NEWS.
Create your free account or log in
for more features.