Backyard Chickens Eat Harmful Ticks, But Are Giving People Salmonella
CALVERTON, N.Y. (CBS Local) - As disease-carrying ticks continue to spread across the country, many Americans are turning to an inventive and all-natural approach to removing ticks: chickens.
"Within a couple of weeks, we realized, 'hey, it's funny, we're not seeing any ticks.' Our dog wasn't gnawing on his paws trying to get the ticks off. We're like, 'wow,' and then we realized they're eating the ticks," Christopher Paparo told CBS New York.
The Long Island resident is one of many people who have added a backyard chicken pen to their home. According to multiple reports, chickens, guinea fowl, and quail can all help reduce tick populations.
"If anything moves, a chicken will attack it," farmer Erin Hull said, via the Wall Street Journal in 2017.
The boom in backyard chicken sales comes at a point where government health officials say dangerous ticks are moving into areas not usually known for sightings. "Ticks are spreading. Tick populations have exploded," Wendy Adams of the Bay Area Lyme Foundation told CBS News.
A new study has reportedly found disease-carrying ticks in 83 counties where they'd never been found before across 24 states. "This is good data to show the extent of that. It's a message to people that even if you think ticks aren't a problem, they could be."
In New Jersey, a 14-year-old girl is believed to be the first person in the U.S. found carrying the exotic Longhorned tick in over five years. The rare tick was on the girl in early July but had not bitten her. The pest, which originates in Asia, is believed to have invaded the U.S. in 2013 and can infect humans with Japanese spotted fever or Lyme disease.
Although backyard chickens seem like the perfect predators to rid the Earth of these slow-moving insects, the CDC says there's a major problem with keeping live poultry around: salmonella.
The agency reports that a massive salmonella outbreak linked to live chickens has swept across 44 states. 212 people have reportedly been infected and 34 have been hospitalized. "People can get sick with salmonella infections from touching live poultry or their environment. These birds can be carrying salmonella bacteria but appear healthy and clean and show no signs of illness," the CDC explained in a July 23 warning.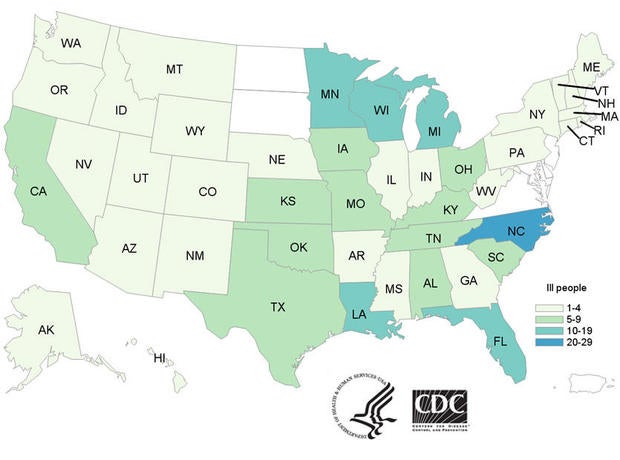 People infected with the outbreak strains of Salmonella, by state of residence, as of July 13, 2018 (n=212) CENTERS FOR DISEASE CONTROL AND PREVENTION
Health officials urge people keeping chickens to wash their hands after touching anything in the coop and never let chickens into the house. Salmonella can cause diarrhea, vomiting, fever and abdominal cramps.
Some chicken owners say they'd rather put up with some of the inconvenient things chickens do rather than risk contracting diseases from the ticks they eat. Sarah Siegel of Maine says her family was constantly attacked by harmful ticks until they bought a flock of chickens to roam their property.
"That's the thing that drives me nuts," Siegel told the
Sun Journal
about the waste her new guardians leave behind. "But I hose it off and I just figure chicken poop on the porch or Lyme... I'd take the chicken poop on the porch many times over."
Thanks for reading CBS NEWS.
Create your free account or log in
for more features.