More Than 1,300 Flights Cancelled, DIA Closes Runways, Poor Conditions On Pena Blvd. Due To Bomb Cyclone
DENVER (CBS4)- More than 1,300 flights were cancelled arriving and departing from Denver International Airport on Wednesday. DIA closed all the runways at 1:30 p.m. Wednesday and poor driving conditions caused multiple accidents on Pena Boulevard.
Winds up to 80 mph were recorded at Denver International Airport, which closed all of its runways in the early afternoon.
RELATED: Denver Weather: Blizzard Continues Through Tonight!
On a typical day, DIA has 1,600 flights departing and arriving. Many airlines were offering vouchers for passengers to re-book their flight until after the Bomb Cyclone hit Colorado.
"Safety is the number one priority of our entire airport community here at DEN. At this time, conditions have deteriorated and our major three carriers have all proactively cancelled their afternoon and early evening flights, and our airfield is closed. When visibility improves, crews will work quickly to re-open runways," said DEN CEO Kim Day in a statement. "The DEN team is working hard to ensure the comfort of passengers inside the airport. Most concessions are open and airport staff is available to address passenger needs."
Several passengers were stranded at DIA after they arrived to find their flights had been cancelled and some airlines didn't have a representative to help them navigate a re-booking.
Pena Boulevard was not closed from 40th Avenue to DIA but drivers were urged to avoid the road due to blizzard conditions.
PHOTO GALLERY: March Blizzard 2019
RELATED: I-25, I-70 Closed Surrounding Denver Metro Area Due To Blowing Snow
"Nobody is here, every other airline has a representative. So, I'm stuck here with two small children and I don't know when I'll get home. And I understand you can't control Mother Nature, can't get home today, but there's no one here to assist me with a ticket tomorrow or Friday or even Saturday," said passenger Jacinda Shapiro.
"I got here and got up here and it's empty. There's nobody directing, nobody can seem to answer questions. It's horrible. I'm not familiar with Denver," said passenger Patricia Ortega.
Early Wednesday morning flights seemed to be taking off and arriving as scheduled in the rain at DIA. As that rain turned to snow, more flights were cancelled or delayed.
On Wednesday evening, all remaining inbound and outbound flights at Colorado Springs Airport were canceled, about 47 flights.
See the full list of school closings.
A Blizzard Warning has been issued through midnight for everyone along the Front Range east of Interstate 25. These areas should receive 6 to 12 inches of heavy, wet snow along with wind gusts up to 70 mph.
RELATED: Denver Weather: Bomb Cyclone Explodes Right On Schedule; Heavy Snow And Wind!
The wind will cause visibility to drop near zero at times and travel will become very difficult if not impossible. The strong winds could also cause tree damage and power outages.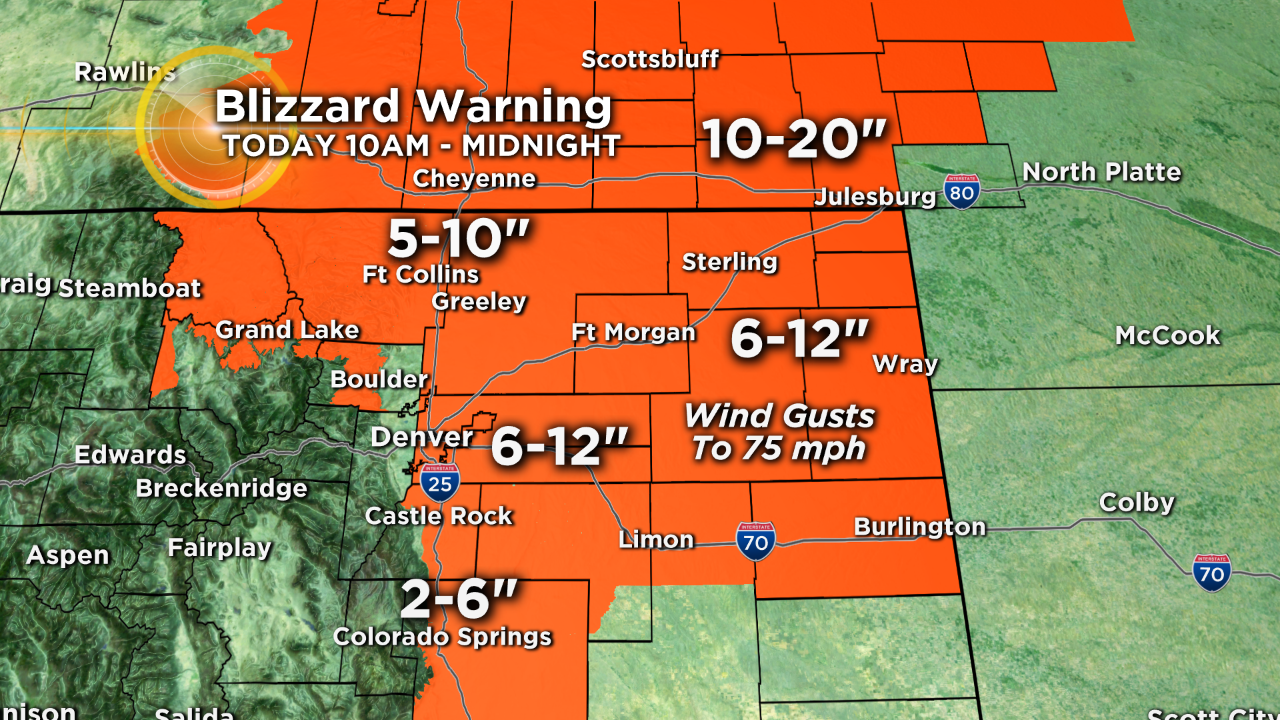 Thanks for reading CBS NEWS.
Create your free account or log in
for more features.