54-Vehicle Crash Shuts Down Part Of Kennedy Expressway Near North Avenue
CHICAGO (CBS)-- Snowy, slick conditions led to a massive multi-vehicle crash on the Kennedy Expressway Wednesday morning, sending 14 people to the hospital, with mostly minor injuries.
According to the Chicago Fire Department, approximately 54 vehicles are involved in the crash in the inbound lanes near North Avenue around 5 a.m. All lanes were reopened by 10:20 a.m.
Fourteen people have been taken to local hospitals and 45 other people have been evaluated at the scene. Twelve ambulances were called to the scene and all injuries reported were non-life threatening.
CBS 2 new photographer Alfredo Roman tweeted a stunning overhead image of the wreck.
Cell phone video captured video of cars crashing one after another; horns honking, drivers frantically trying to steer their vehicles out of the way.
A dozen ambulances responded to the scene.
"It's a lot of challenges at once, it really is. Social distancing, obviously, is our main concern, but we have other jobs to do as well," Chicago Fire Department Deputy District Chief John Giordano said. "Besides the pandemic that's going on, we're still dealing with everyday incidents, and this is one of them."
Tow trucks spent hours clearing the road after the massive pileup.
Overnight snow and icy conditions were considered the main causes behind the multiple collisions, but rescuers said speed also played a part.
"It did cause an effect where vehicles couldn't stop behind them, because of the high speeds that they were traveling," Giordano said.
Snow had been falling during the early morning. In fact, roads across the area were snow covered in spots and slippery.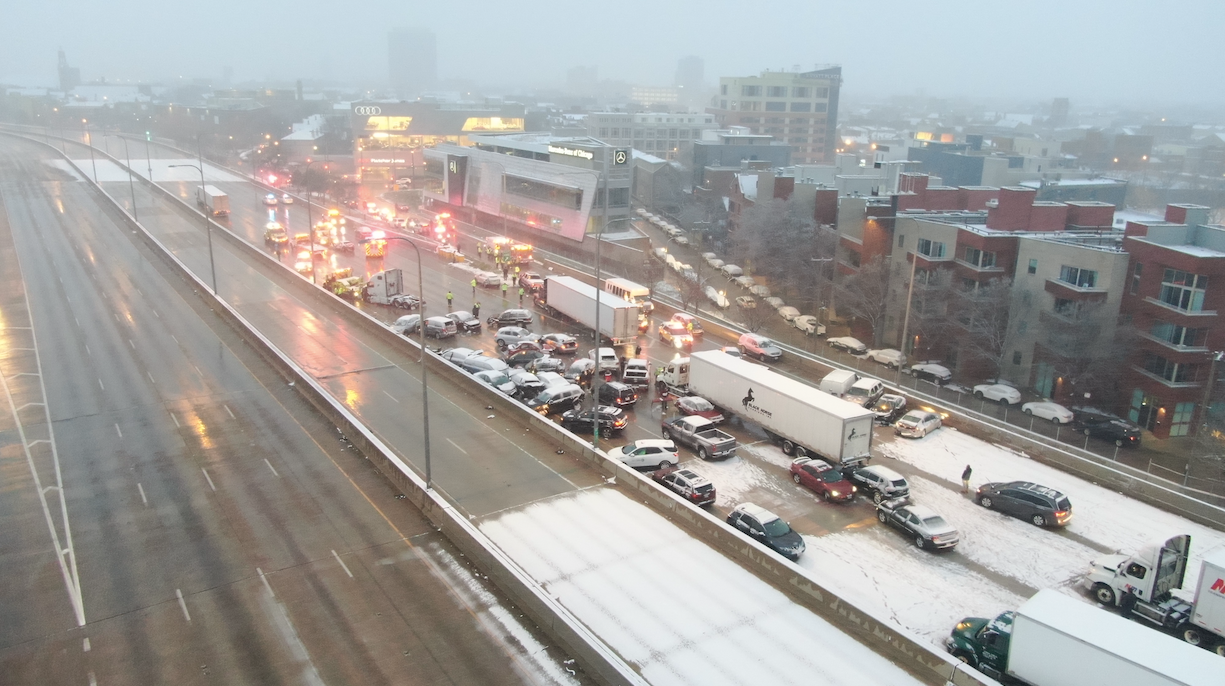 Thanks for reading CBS NEWS.
Create your free account or log in
for more features.