Winter Weather Advisory, Winter Storm Warning For Parts Of Eastern Shore, Southern Md. As Massive Snowstorm Hits The South
SALSIBURY, Md. (WJZ/AP) -- Parts of the southeast Maryland are under a winter weather advisory as a massive snowstorm hits the south.
It's the storm WJZ's weather team was tracking all week, but it missed Baltimore -- but has hit areas of the Eastern Shore and southern Maryland. DC surburbs could also see some snow.
St. Mary's County is under a Winter Storm Warning until midnight.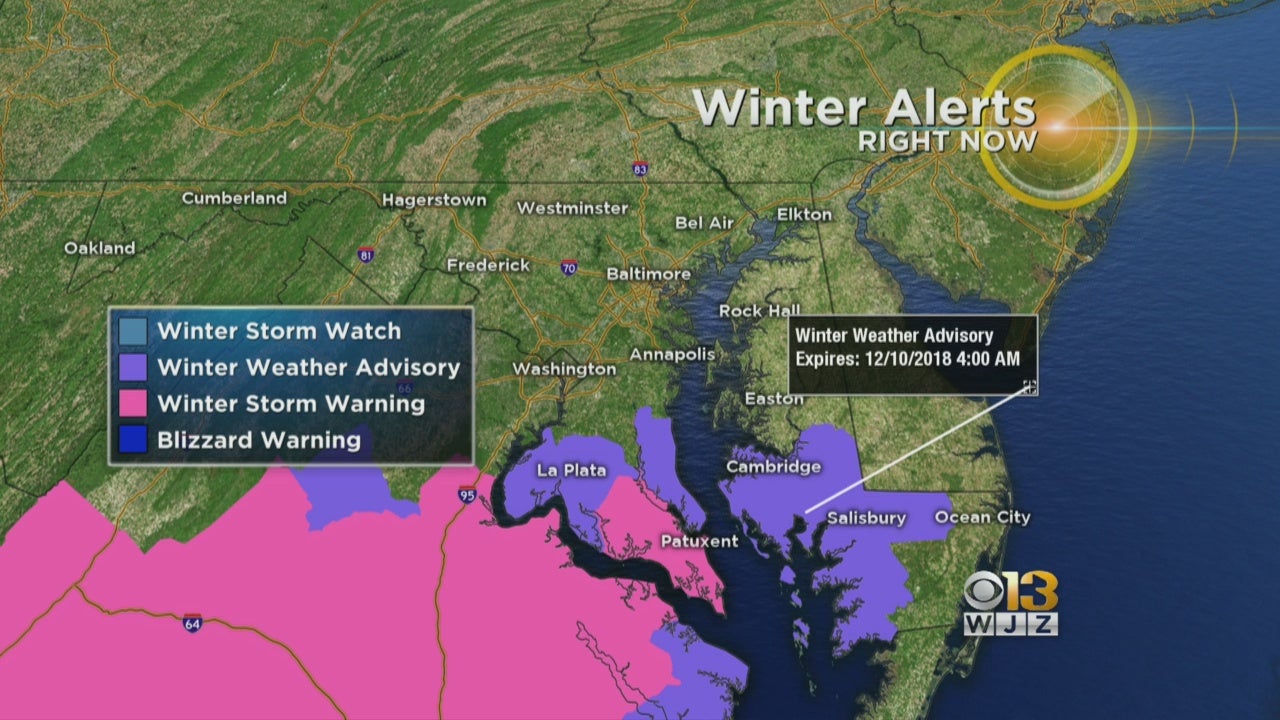 According to the National Weather Service, Maryland's Dorchester, Wicomico and Somerset counties are under a Winter Weather Advisory. This includes the towns of Salisbury, Crisfield and Cambridge.
The advisory is until 4 a.m Monday.
Forecasters said wet snow is expected with accumulations of two to three inches.
Winds will gust as high as 35 mph.
Motorists should plan for slippery road conditions.
Virginia Beach, Fredericksburg and other Virginia communities southeast of DC are also seeing snow.
The massive storm brought snow, sleet, and freezing rain across a wide swath of the South on Sunday including North Carolina and Virginia, where the governors called a state of emergency.
Accidents on snow-covered interstates caused major delays, hundreds of flights were canceled and drivers in North Carolina and Virginia got stuck in snow or lost control on icy patches. Meanwhile, kids and the young at heart took advantage of the early winter snow with snowball fights, sledding and snowmen.
Police in North Carolina and Virginia said they'd responded to hundreds of snow-related traffic accidents as of Sunday afternoon.
Governors and local officials in several states declared emergencies ahead of the storm crossing several Southern states, which hit portions of North Carolina and Virginia particularly hard.
Officials warned residents to prepare emergency kits and stay off roads in impacted areas. Schools districts in North Carolina and Virginia announced they'll be closed Monday.
"Virginians should take all necessary precautions to ensure they are prepared for winter weather storm impacts," said Virginia Gov. Ralph Northam.
The National Weather Service said a "prolonged period of snow" began late Saturday and would last until Monday in the region, with the heaviest snow expected in northwest North Carolina and southern Virginia. Some areas of North Carolina and Virginia saw more than a foot (30 centimeters) of snow by Sunday afternoon.
More than 300,000 power outages were reported across the region with the majority of those — about 240,000 — in North Carolina, according to poweroutage.us. Parts of Alabama, Georgia, South Carolina, Tennessee and Virginia also saw outages.
Charlotte Douglas International Airport, the sixth busiest airport in the country, said American Airlines reduced its operations, with more than 1,000 flights canceled on Sunday.
American Airlines also issued a travel alert for nine airports throughout the Carolinas, Tennessee, and Virginia, meaning passengers may be able to change travel plans without a fee.
Travelers were advised to check their flight status before heading to the airport. Cancellations were reported on flights from as far as the Midwest.
Follow @WJZ on Twitter and like WJZ-TV | CBS Baltimore on Facebook
(© Copyright 2018 The Associated Press. All Rights Reserved. This material may not be published, broadcast, rewritten or redistributed.)
Thanks for reading CBS NEWS.
Create your free account or log in
for more features.