5 Possible Cases Of Polio-Like Illness or AFM In Maryland Children, CDC Investigating
BALTIMORE, Md. (WJZ) -- There are currently five possible cases of a polio-like illness in Maryland children, state health officials confirm.
It's called acute-flaccid myelitis, or AFM. Symptoms are sudden arm or leg weakness, difficulty moving facial muscles, slurred speech and trouble swallowing.
Maryland would be the 17th state to see an outbreak in AFM.
"A polio-like disease because in the sense that it does involve the same areas in the nervous system," said Dr. Cristina L. Sadowsky, clinical director for the International Center for Spinal Cord Injury, with Kennedy Krieger Institute.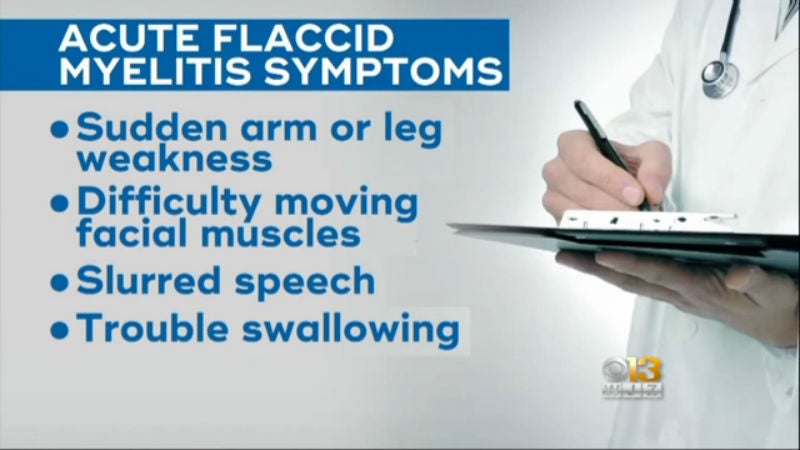 There are five cases of AFM in Maryland.
"Actually, the name says it all. It is an acute onset of paralysis that can involve either one limb, or all four limbs," said Dr. Cristina L. Sadowsky, with the Kennedy Krieger Institute.
Last week, a doctor at Kennedy Krieger told WJZ that their hospital is treating two possible cases there. Kennedy Krieger Institute is a national leader in treatment.
The disease made headlines recently when news broke of cases in Minnesota, Pittsburgh, Iowa and other states.
The Kennedy Krieger Institute is treating at least two kids from Maryland.
That's when we spoke with the families of 4-year-old Camdyn Carr, who's currently fighting the disease, and 7-year-old Sebastian Bottomley, who previously fought AFM.
Family Grapples With Polio-Like Disease In Children Being Treated In Maryland
"No one expects this to happen to their child," said Jarrod Bottomley, Sebastian's father.
Many times, the disease starts as a cold and fever, and then limbs go limp.
Sebastian, from Pennsylvania, is talented, on his wheelchair, but the 7-year-old has spent more than 1,000 hours since his AFM diagnosis relearning how to walk.
"I can walk, I can move my arm, and I can, like, kneel," Sebastian said.
But doctors still don't know where AFM comes from.
"No virus has been isolated from the spinal fluid in any of the patients that suffered AFM, so we cannot say completely that this is related to this one virus," Sadowsky said.
The CDC is investigating the cases to make a final determination as to whether or not they are AFM.
The CDC currently reports 38 cases of AFM in 16 states.
Follow @WJZ on Twitter and like WJZ-TV | CBS Baltimore on Facebook
Thanks for reading CBS NEWS.
Create your free account or log in
for more features.