FBI Puts Md. Man On Most Wanted List For The 1976 Murders Of 5 Family Members
BETHESDA, Md. (WJZ/AP)--The Maryland home was blood soaked. The victims were five family members. And for 38 years, the sole suspect has remained at large.
Alex DeMetrick reports on what could be law enforcement's final effort to find a killer.
The FBI's "Ten Most Wanted Fugitives" list added William Bradford Bishop Jr.--even though the photo was taken 38 years ago.
"There's no reason to believe Bishop is not alive," said Sheriff Darren Poplin, Montgomery County.
The same cannot be said of his family. In 1976, Bishop allegedly bludgeoned his family to death in their Bethesda home.
Authorities say he then drove 275 miles to North Carolina, where he dumped the bodies in a wooded area and burned them. The victims' bodies weren't identified until a week later, giving Bishop ample time to plot a getaway.
On Monday, March 8, 1976, a concerned neighbor called police because she had not seen anyone at the home for about a week. Around noon, police in Montgomery County entered the home on 8103 Lilly Stone Drive to find blood splattered in several rooms. They recovered tissue and bone samples, but no bodies.
Police know Bishop bought a hand sledgehammer and a gas can just before the killings.
Officers noted that the family car, a maroon 1974 Chevrolet station wagon, was missing from the driveway.
Meanwhile, detectives had been contacted by North Carolina authorities in regards to a murder case there with links to Maryland. On March 2, a park ranger in North Carolina spotted smoke and investigated, discovering the charred remains of five bodies buried in a shallow grave. A shovel at that scene was purchased at a hardware store in Montgomery County.
It was at this point that the burned bodies in North Carolina were now thought to be those of the victims from inside the Bethesda house.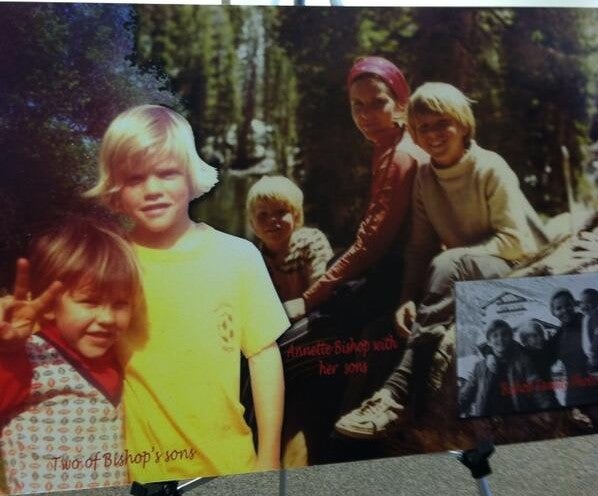 Bishop, who had vanished, was now the primary suspect for the murders of his 68-year-old mother, Lobelia Bishop, his 37-year-old wife, Annette Bishop; and his three sons, 14-year-old William, 10-year-old Brenton, and 5-year-old Geoffrey.
"He later ditched his blood soaked station wagon in the Great Smoky Mountains, in the national park there, and walked away and has not been seen since," said Ron Hosko, FBI.
Now, 38 years later, the FBI is placing Bishop on its "Ten Most Wanted Fugitives" list in an effort to bring this case back before the public and hopefully generate leads to his whereabouts.
The FBI says there is much more media saturation today than in 1976. The FBI, the State Department and local police established a task force last year to review the Bishop case, and authorities hope that by placing him on the list, the public might be able to help find him.
"Bishop broke with his life and assumed a new identity. Because of that fact, most traditional fugitive investigative techniques are worthless," said Steve Vogt, special agent in charge of the FBI Baltimore Division. "We're hoping media and people who are active on social media pay attention to this; they'll be the ones to solve this case."
Forensic artists have put together images of what Bishop might look like today.
Starting a new life in 1976 wouldn't have been hard.
"Brad Bishop would have found it rather easy to establish a new identity and a new life for himself without many questions," Vogt said.
There hasn't been a confirmed sighting of Bishop since 1976, in Jacksonville, N.C., although three people who knew him have reported seeing him in Europe over the years, most recently in 1994.
Bishop was a diplomat working for the State Department when he disappeared.
"Highly educated. He spoke several languages fluently," said Carlos Matus, U.S. State Department Investigations.
A Yale graduate who later earned a master's degree in Italian, Bishop is actually fluent in five languages, so State Department investigators are looking worldwide for him.
"Brad, you've been living with this on your conscience now for 38 years. The time is now for you to contact law enforcement," said Sherriff Poplin.
Former co-workers say he had a distinguishing trait.
"His almost obsessive need to look perfect and not appear as a failure to anybody or anything," Matus said.
Investigators have said it's possible that Bishop, who would now be 77 years old, fled to Europe and is living there under a false name.
People on the FBI's Most Wanted List have included Osama Bin Laden and James Earl Ray, who assassinated Dr. Martin Luther King Jr. The list was founded in 1950, and more than 90 percent of the 501 people placed on the list have been found.
Bishop was added to the list Thursday.
For more information about this case, click here.
Other Local News:

Thanks for reading CBS NEWS.
Create your free account or log in
for more features.