Tips For Traveling Over Thanksgiving Weekend
In a matter of weeks, Americans across the nation will be traveling to visit loved ones for the Thanksgiving holiday. Although the vast majority of Americans will be traveling by car and staying in the home of family or friends, the nation's airports will be packed with holiday travelers and hotels boost rates to maximize corporate profits. For those who haven't yet purchased airfare or made hotel reservations, are there still ways to keep travel expenses down? The following are five tips for traveling during Thanksgiving weekend.
How to Save on Airfare
Because it isn't always practical to purchase airfare well in advance, consumers can save a little by flying during peak days and times. For starters, to find the best possible rates before Thanksgiving, travel experts recommend searching for and booking flights on Tuesdays, when prices are typically at their lowest. Additionally, airfare is typically cheaper when departing on the Monday or Tuesday before Thanksgiving and returning Thursday evening, Friday or, if possible, the following Tuesday. Another way to obtain the best possible price for airfare is to compare travel sites like KAYAK, AirfareWatchdog, Bing Travel and Hipmunk, then set up a price alert in the event an airline lowers its airfare.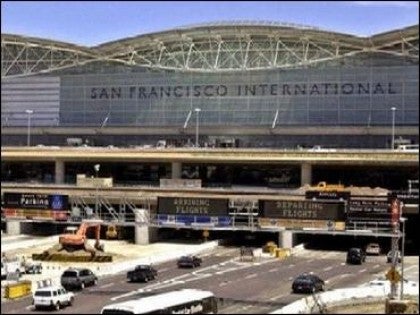 (credit: CBS)
Getting to the Airport
Regardless of the day of the flight departure, travelers should allow extra time for traveling to the airport. Also, it is a good idea to know how to get there in advance, and figure out whether a car needs to be dropped off or not. Another thing that travelers should keep in mind is the airport crowds, particularly on the day before Thanksgiving, arguably the busiest travel day of the year. Travelers must also take into consideration how long security lines will be, the distance to reach the boarding gate and making a connecting flight in an unfamiliar airport.
How to Get Through the Airport More Quickly
Most major airlines including United, American, Virgin America and Southwest feature online check-ins and printing the boarding pass 24 hours prior to departure, allowing travelers without checked bags to head directly to the security lines. This is especially helpful for travelers using Southwest, since there are no reserved seats in the coach section and those who check in earlier can board earlier. Even if a printer is unavailable, travelers can still check in, then print out the boarding pass at an airport kiosk.
Travelers with checked-in bags may still check in online but may be faced with a baggage fee for one or more checked in bags, unless their airline allows the first bag free, like Southwest and JetBlue. However some airlines like Virgin America require all members traveling in a group to check in at the same time and others like United disallows online check-ins if a group consists of nine or more people.
Lastly, one of the easiest ways to cut down costs and move through the airport more quickly is simply to pack lightly and bring carry-on baggage only, granted it meets the criteria from the Transportation Security Administration (TSA).
Finding the Best Deals on Hotels
When making hotel reservations, the general consensus amongst travel experts is to book at least 30 days in advance. Nevertheless, consumers may still find good deals in the weeks before Thanksgiving through travel sites like Hotels.com, Expedia and Priceline, where consumers can "make your own price." Other good sites include BedandBreakfast.com, Airbnb, Orbitz and Travelocity. Another option is to call a hotel directly to inquire about any last-minute deals as online travel sites might not feature a price change. Consumers can also inquire about unpublished hotel discounts, such as corporate discounts and discounts for members of AARP or AAA. One last recommendation is to search the internet again for discounts from sites like Expedia, Orbitz, RetailMeNot and CouponHeaven.
Ways to Save Money on Gas
People traveling by car to their holiday destination have many ways to save money on gas, although some are not as obvious as others. Among the better-known options are having fresh spark plugs, driving at a constant speed on highways, and avoiding quick accelerations and hard braking. Also, knowing where the best gas prices are, turning off the A/C, maintaining proper tire pressure and removing excess weight, e.g. unnecessary luggage. For longer journeys, it's also helpful to pack a lunch rather than make a stop for food off the highway, where prices for food and gas can be marked up for holiday travelers.
Some not so obvious options include keeping windows closed to avoid wind drag and decreased fuel economy, avoiding idling if stopped for more than 30 seconds, avoiding rough roads and filling up the tank after its at a quarter full. Driving with less than a quarter tank can potentially shorten the life of the electric fuel pump or worse, destroy it. Contrary to popular belief, it doesn't matter what time of day it is to fill up the tank, although it's definitely helpful to have a full tank before leaving.
For iPhone and Android users, there are plenty of useful apps like AAA's TripTik or GasBuddy to locate the best price on gas, Google Maps and Waze for driving directions and avoiding traffic and Car Care, an app that determines fuel economy, MPG, gas mileage and service maintenance. Lastly, GasBuddy has a convenient online Trip Cost Calculator to estimate fuel costs based upon destination and make of vehicle.
Randy Yagi is a freelance writer covering all things San Francisco. In 2012, he was awarded a Media Fellowship from Stanford University.
Thanks for reading CBS NEWS.
Create your free account or log in
for more features.