Snowbound San Francisco Couple Grateful To Rescuers
SAN FRANCISCO (CBS SF) -- What began as a camping trip in the wilds of Mendocino County quickly turned into a battle for survival for Maia Herman-Kitami and her boyfriend Carlos Hernandez.
The trees quickly became enveloped in a blinding snowstorm that swept into the forest over the weekend. Their jeep was quickly buried by several feet of snow.
"Safe and Sound. So grateful for everyone and everything," Herman-Kitami posted on her Facebook page on Tuesday.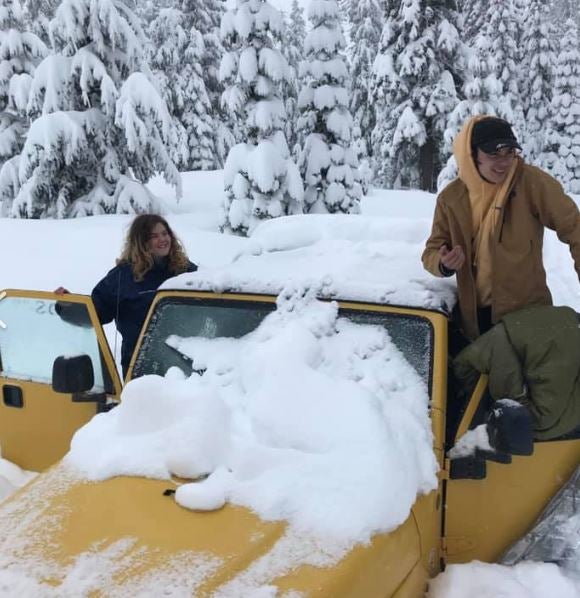 Photo courtesy of Jason Logan
The couple went camping Wednesday in Alder Springs, a subsection of the Mendocino National Forest. They were supposed to return home Friday. When they didn't show up by Saturday, their family reported them missing.
Search crews used a helicopter to comb through the snowy forest. But the couple was not located.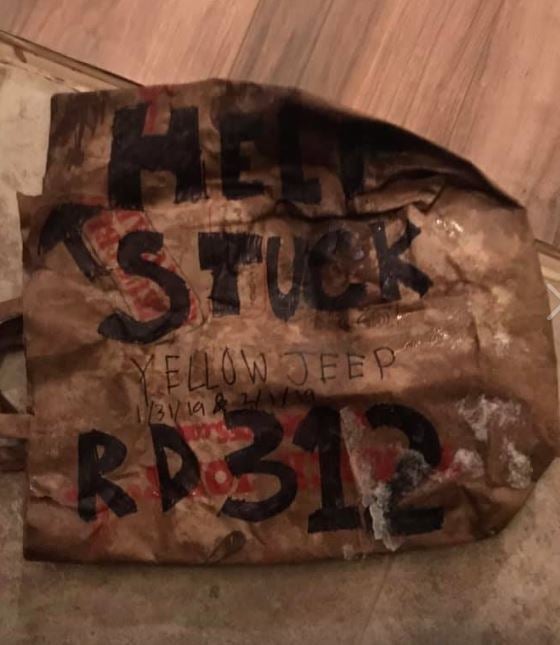 Photo courtesy of Jeff Logan
Hernandez described the incident to KPIX 5.
"The tracks end. I go a little bit forward, I back up and I get stuck and I'm spinning the tires. I get out look under," said Carlos, "It would pull a little bit, but because it was high centered. It would pull just enough and be like nope, just kidding. It would rock the car like little jolts, like eh, eh, eh, eh - but it wouldn't go anywhere."
Herman-Kitami said she was using her pocket knife to break the ice and using her hands to scoop it out.
Every time the couple dug out, even with four wheel drive, they'd get stuck again and the snow just kept piling up. They made a list and rationed food.
"We were really preparing for the worst and hoping for the best. I told her that if we weren't found by Tuesday morning, I'm going to set a tree on fire," the couple said.
Alicia Logan said she sent her father a text describing the couple's plight.
"I sent my dad a text telling him about this missing couple from SF," Logan wrote on her Facebook page. "Shortly after he called me saying he would load up the the sleds and go looking, if Jason wanted to go. So My husband and Dad went out to Mendocino National Forest on Snow Machines to try and locate the missing couple."
After 4 1/2 hours and 20 miles, they found the missing couple on Monday.
The couple was a bit cold but otherwise okay.
"She's never seen snow, so my Christmas present to her was, I'm going to take her to Mendocino so she can see snow. We're gonna go off-roading for like, 2, 3 days. We're gonna see snow, have fun," Hernandez said.
"They found them!," Logan posted along with several photos. "Thankfully my dad owns the sleds and Jason who is a Mendocino County Sheriff's deputy had his radio and was able to to tell the department the 2 have been found! Jason and my dad are not with search and rescue. They did this on their own."
"It was different. It was not a motor I had heard before--it was something else. And I popped my head up and I saw a snowmobile with a guy all in red. I leaned over, I honked the horn and opened the door and I was like, 'We need help!'" explained Herman-Kitami.
"I want to thank everyone who came out to search for us," she posted on Facebook.
"The fact that search and rescue, multiple sheriffs counties, and countless locals searched for us is absolutely amazing. Not only that but thank you to the hundreds of people who were ready to come out to willows if their search was unsuccessful. It is thanks to you all that me and Carlos are safe."
Thanks for reading CBS NEWS.
Create your free account or log in
for more features.