Massive 5-Alarm Fire Erupts In San Francisco; 6 Buildings Damaged, Fire Chief Injured
SAN FRANCISCO (CBS SF) -- A massive five-alarm fire erupted in a building housing a roofing company near southbound U.S. Highway 101 in San Francisco early Tuesday, causing the building to collapse and spreading to at least five other adjacent structures.
A fire chief was hospitalized after suffering a head injury during the fire, which prompted nearby evacuations and sent a large plume of black smoke over the city.
The fire was first reported at 6:30 a.m. in a block of commercial buildings. By 7 a.m. San Francisco firefighters tweeted that a second alarm had been called at the blaze in the building in the 100 block of 13th Street.
"I was on the second floor, so I was looking right at it," says John Voldal. "And it was crazy. Column of black smoke. It was apocalyptic."
Right outside Voldal's window, a column of smoke that towered over the city, coming from a fire that was quickly on its way to five alarms.
"Fire department was incredibly responsive," says another neighbor. "It appeared to be out of control from the beginning."
"Really, really fast," Vondal says. "I put my cell phone against the window, and my phone warmed up."
As massive flames engulfed the building near Folsom and 13th St., firefighters elevated the response to five alarms by 7:25 a.m.
"I got here on the second alarm," said deputy fire chief Victor Wyrsch. "It was fully involved, the fire building, and rapidly moving into the second building -- a rapid spread," he said. "We had huge problems on the Erie St. side with power lines. We actually had transformers falling onto the ground. I had to back everyone away."
As the blaze jumped from building to building, firefighters were able to halt it before it damaged a commercial structure owned by the San Francisco Sheriff's Department and containing boxes of live ammo in the basement.
Wyrsch said there was a deputy on duty inside the building as the fire approached.
"That was the first building I went inside to check to make sure everything was okay," the deputy chief said. "There was a sheriff deputy inside. I asked him to get his most important equipment out. They had a lot of ammo in the basement. So I said get all the ammo you can out -- get everything out."
ALSO READ: Firefighters Forced To Tap Into San Francisco Water Reserves To Fight 5-Alarm Blaze
Wyrsh had 160 firefighters and 60 pieces of equipment on hand. But what he needed more of was water, once crews drew past the capacity of neighborhood hydrants.
"We had to use our high-pressure system, we didn't have adequate water, the people saw this at the very beginning," Wyrsch said. "We exceeded all the hydrants ... We used our Jones Street tank and we went up to our Ashbury Street tank and now we are flowing water all the way from Twin Peaks."
Click to watch SFFD update on firefight
A San Francisco Fire Department chief suffered a moderate head injury while battling the blaze and was taken to the hospital for treatment. His condition was not immediately available.
"He's a tough guy," Wyrsch said. "We took him to the hospital as a precaution."
San Francisco Fire Chief Jeanine Nicholson said there were 160 firefighters and 60 pieces of equipment on the scene -- roughly half of the city's available firefighting capacity. She said "forward progress had been stopped" and the blaze was 75 percent contained at 9 a.m.
"Our members have done an incredible job out here," said Chief Nicholson. "And this is what we train for."
The intensity of the fire triggered the building to collapse, forcing firefighters to make a defensive attack of the blaze as they fought it as the flames spread down the block.
"Everybody did a fantastic job being as aggressive as they could be in a defensive fire," Wyrsch said.
San Francisco police evacuated nearby homes on 14th St. and power lines were down in the area. PG&E was forced to shut down power to the nearby neighborhood and streets also were blocked off.
The fire turned a family-owned roofing construction company into a pile of smoldering debris and melted metal.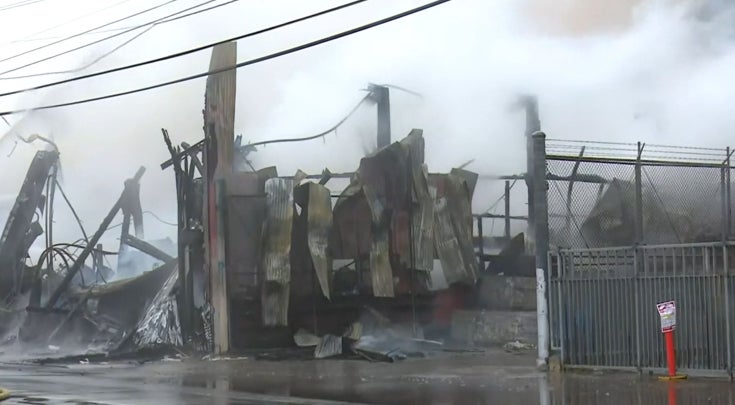 About 160 firefighters and 60 fire apparatus -- roughly half of the city's firefighting capacity, according to SF Fire spokesman Lt. Jonathan Baxter -- were on the scene battling the fire at its peak.
Fire crews and the San Francisco Police Department shut down traffic on Mission Street and access to nearby highway ramps to allow firefighters to battle the fire. The closures were still in effect Tuesday afternoon and their expected conclusion is still to be determined, Baxter said.
San Francisco fire investigators were on scene, trying to determine how and where the blaze began.
Firefighters are likely to continue tamping down the area of the fire for the next several days, fire officials said.
Social media was also flooded with frightening images of the fire as dozens of San Francisco firefighters raced to the scene to battle the blaze.
.
Thanks for reading CBS NEWS.
Create your free account or log in
for more features.