Kevin Durant Agrees To Free Agent Deal With Brooklyn Nets
OAKLAND (CBS SF) -- The Golden State Warriors' Kevin Durant era came to end Sunday as the injured superstar agreed to four-year free agency deal to join the Brooklyn Nets.
Durant made the official announcement on his "The Boardroom" Instagram page.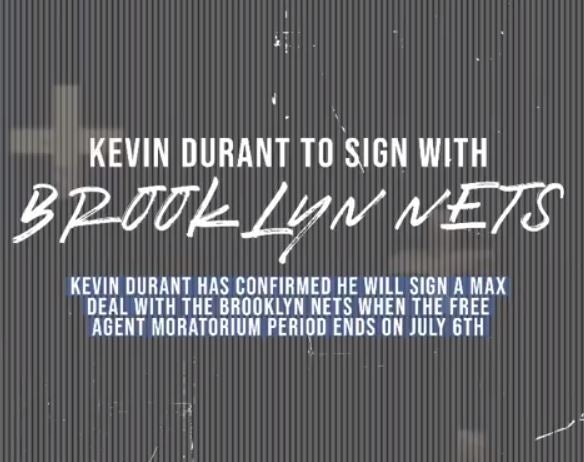 Durant will be joining fellow free agent Kyrie Irving on the Nets, ESPN insider Andrian Wojnarowski and others reported.
Wojnarowski said Durant has informed the Warriors of his decision.
"Kevin Durant and his business manager Rich Kleiman met with Warriors GM Bob Myers Sunday in New York and delivered him the news on the decision to leave Golden State, league sources tell ESPN," he tweeted.
Durant, who helped Golden State to win a pair of NBA titles and reach the NBA Finals in a third season, was expected to make the official announcement at 3 p.m. Sunday when free agency officially begins.
New York Times basketball expert Marc Stein had tweeted the Warriors would offer Durant a five-year, $221 million deal to stay with the team, but in a second tweet said the Nets were expected to announce they have signed Irving and were in hot pursuit of Durant.
The New York Knicks, Nets, Los Angeles Clippers, Los Angeles Lakers and Warriors were the four teams Durant is considering signing with. The Knicks, Nets and Clippers could only offer Durant a four-year, $164 million deal.
But it is unlikely Durant will take the court for the Nets during the 2019-2020 season. He is currently rehabilitating a torn Achilles tendon.
The two-time NBA Finals MVP went down with an injured calf in Game 5 of the NBA Western Conference Semifinals. Durant returned to the lineup for a most-win Game 5 of the NBA Finals after missing nine straight playoffs games.
He played brilliantly, scoring 11 points before his Achilles gave out while making a move on the court. He underwent surgery in New York to reattach the Achilles and was expected to miss all or nearly all of the 2019-2020 season.
Durant, a 10-time All-Star who just completed his 12th NBA season, was leading all postseason scorers at 34.2 points per game when he strained his right calf on May 8 in Game 5 of the Western Conference semifinals against the Rockets. He had seven 30-point performances during the recent playoffs.
It's unclear how he will play whenever he can return, but the Nets were willing to take a chance with a team on the rise.
Brooklyn finished 42-40 this season and lost in the first round of the playoffs, then got a huge victory Sunday when it beat out the Warriors, Knicks and Clippers out for Durant.
Thanks for reading CBS NEWS.
Create your free account or log in
for more features.