UPDATE: 3.9 Earthquake Rattles Nerves Across Bay Area, Centered In San Leandro
SAN LEANDRO (CBS SF/KPIX) -- A 3.9 magnitude earthquake centered in the East Bay near the Hayward Fault shook a wide swath of the Bay Area Monday evening. While it was not a major quake, it certainly rattled nerves.
The quake struck at 6:29 p.m. and was centered in San Leandro, according the U.S. Geological Survey. A USGS earthquake map pinpointed the location off of Fairmont Dr. just north of Interstate Highway 580 and near Lake Chabot Regional Park.
The quake was initially reported as a 4.2 magnitude temblor before being revised downward several times. There were no immediate reports of damage or injuries. It wasn't large enough for shake alerts to be activated.
BART said train service was automatically slowed down following the quake, allowing for a systemwide inspection of the tracks and prompting delays of 20 minutes or more.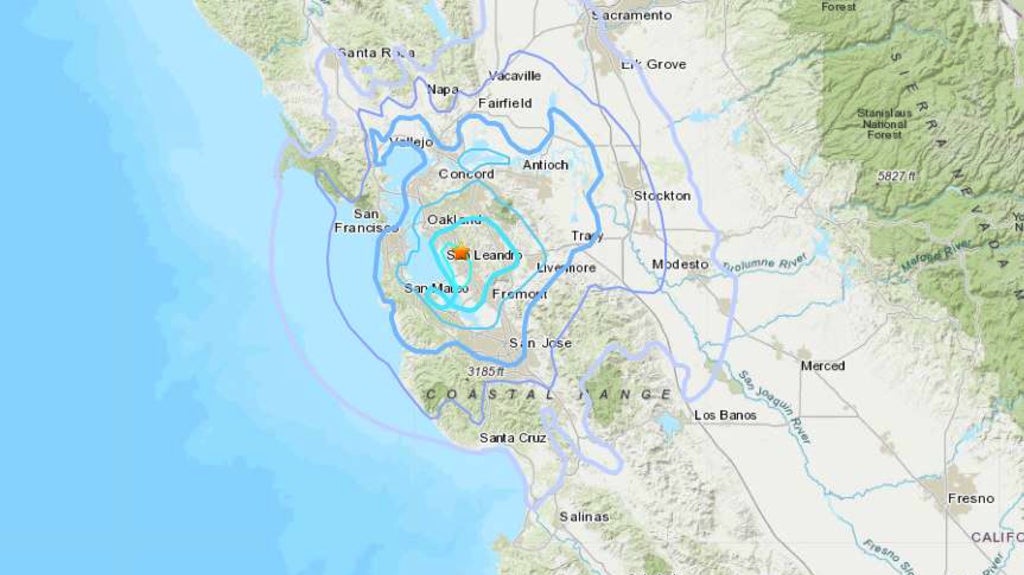 East Bay residents flooded to social media commenting on the temblor. Mary Ward was near the epicenter and took to Twitter commenting -- "Live right outside Ashland. It shook hard!"
The epicenter of this quake was just near Alameda County Juvenile Justice Center. It was a good enough jolt to scare one family from their home.
Fanny Johnson from Oakland says, "The whole bathroom moved like that. Everything moving, I freaked out."
Johnson didn't waste anytime running out of her two story home. Johnson and her four girls got in the car and decided to wait out any possible aftershocks at a nearby park.
"All of a sudden the whole place just shakes. It was so scary we ran out of the house and we haven't come back. We come to the park instead," she said.
The earthquake hit just around 6:30 Monday night. Jim Holtan, the bartender at Harry's Hofbrau in San Leandro says the bar was packed at the time of the jolt.
"It felt to me almost like a lightening bolt, striking the building because it was sharp and it was very sudden and it was over in just a second," said Holton.
Many people from Half Moon Bay to Clayton reporting they felt some degree of shaking. While the earthquake rattled some nerves, it was the thing people were talking about at this restaurant. Luckily there was no damage reported.
"The glasses, the liquor, nothing fell. Nothing broke," added Holton.
Poppy Corner Farmers posted: "Walnut Creek checking in… pretty good jolt then shake, here."
C.D. Ford posted: "Heard a loud BOOM before I felt it in North Oakland."
In Berkeley, Tracy Bates felt the shaking -- "Felt in N. Berkeley - mild preamble then mild rolling."
Andrea Nakano contributed to this report.
Thanks for reading CBS NEWS.
Create your free account or log in
for more features.