Local Leaders Respond After Report Of Draft Opinion Suggests Supreme Court May Overturn Roe V. Wade
PHILADELPHIA (CBS) -- A new bombshell report of a draft opinion suggests that the Supreme Court is about to overturn Roe. v. Wade and Tuesday morning there is a strong reaction from both sides of the abortion issue.
Chief Justice John Roberts on Tuesday confirmed the authenticity of the leaked draft opinion. He ordered an investigation into what he called an "egregious breach of trust."
An official ruling has not been made yet but if this draft opinion stands, women could lose their federally protected right to an abortion by the end of June - and that's already sparking protests.
Hundreds of supporters and opponents of abortion rights clashed outside the Supreme Court early Tuesday morning.
It's a preview of the state-by-state fight that may lie ahead for both sides after an explosive new report suggests the Supreme Court's conservative majority appears poised to overturn Roe v. Wade, the 1973 case that legalized abortion.
Pennsylvania Gov. Tom Wolf and New Jersey Gov. Phil Murphy have already tweeted that if this ruling becomes final, abortion will remain legal in Pennsylvania and New Jersey.
POLITICO received a copy of the 98-page draft opinion from a person familiar with the court's proceedings in the Mississippi case along with other details supporting the authenticity of the document.
The court's opinion is not official until published and it's unclear if this is the final version.
The draft is in response to a case about Mississippi's abortion ban, outlawing most abortions after 16 weeks. The ruling is expected by July.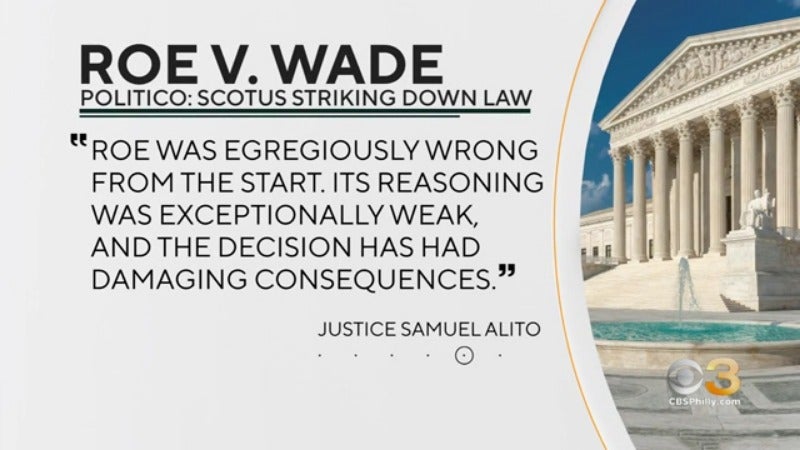 "If the draft opinion stands, it means women will live in two very different Americas," Loyola Law Professor Jessica Levinson said.
Loyola Law Professor Jessica Levinson notes about half of the states want to ban or severely restrict abortions.
"I think this was entirely expected, and I still think it's stunning," Levinson said.
In a statement released Tuesday morning, President Joe Biden reminded Americans that it's unclear if this draft is "genuine or whether it reflects the final decision of the Court."
"I believe that a woman's right to choose is fundamental, Roe has been the law of the land for almost fifty years, and basic fairness and the stability of our law demand that it not be overturned," Biden said.
Adding that after the enactment of a Texas law and other laws restricting women's reproductive rights he, "directed [his] Gender Policy Council and White House Counsel's Office to prepare options for an Administration response to the continued attack on abortion and reproductive rights, under a variety of possible outcomes in the cases pending before the Supreme Court."
Biden says his administration will be ready "when any ruling is issued."
While the court says it is not commenting on the report, sources tell CBS News that Chief Justice John Roberts is likely to order an investigation that includes the FBI to determine the source of the leak.
Former President Trump's nominees were pressed by Democrats during their confirmation hearings on how they would rule if the issue came up.
House Speaker Nancy Pelosi and Senate Majority leader Chuck Schumer said in a blistering joint statement that if the report is true, the conservative justices have "lied to the U.S. Senate" and "ripped up the U.S. Constitution."
Several prominent Republicans have been active on Twitter, arguing Roe v. Wade has always been flawed.
Leaders in the Philadelphia region are also responding to the report.
Dr. Mehmet Oz, a Republican candidate for U.S. Senate in Pennsylvania, is in favor of the overturning of Roe v. Wade.
"The Court is right. Roe was wrongly decided. Abortion laws should be left up to the American people and their elected representatives. I look forward to supporting pro-life legislation that saves innocent lives in the U.S. Senate," stated Dr. Mehmet Oz.
New Jersey Republican Sen. Edward Durr states it seems "likely the Supreme Court is on the verge of fixing a 50-year mistake."
As someone who believes in the sanctity of life, I am hopeful that Justice Alito's draft decision proves to be the final opinion that is approved by the majority to overturn Roe v. Wade and reaffirm states' rights when it comes to abortion. While it's possible things can change, it seems likely the Supreme Court is on the verge of fixing a 50-year mistake. It'll be a major victory for the pro-life community and for all those who kept faith that change would one day come.
Delaware Sen. Chris Coons calls the possible reversing of Roe v. Wade "outrageous."
Reversing the long-settled protections in Roe is outrageous. Every woman in America deserves the chance to make their own reproductive health care choices. Should this decision become law, roughly half the states in our country will make all or nearly all abortions illegal, leading to gross inequalities in health care access. This decision would be the end result of a decades-long conservative campaign to construct a Supreme Court that would gut the right to choose, put at risk women's access to birth control and allow states to criminalize women seeking access to reproductive health care, even in cases of rape or incest.
This country cannot return to a time of unsafe, back-alley abortions. It's more important than ever that we work to make sure women broadly have access to reproductive health care.
Pennsylvania Congressman Dwight Evans is calling for the U.S. Senate to pass the Women's Health Protection Act, a House-passed bill he voted for that would put Roe v. Wade's protections for abortion rights into federal law.
"The draft Supreme Court opinion should alarm every American who, like me, believes in the right to choose and opposes forced pregnancy, which would have a disproportionate impact on Black and Brown women. I voted for the Women's Health Protection Act when it passed the House last September. That was over seven months ago – it's time for the Senate to hear the voices of tens of millions of American women and allies who support reproductive freedom – and act!" Evans said.
The decision doesn't become official until it's published, which could happen in a couple of months.
CBS News correspondent Natalie brand contributed to this report.
Thanks for reading CBS NEWS.
Create your free account or log in
for more features.