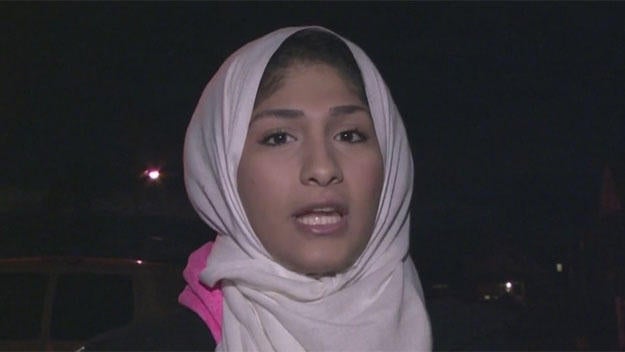 Teen accused of making up story of anti-Muslim harassment on NYC subway
NEW YORK — Police on Wednesday said a New Hyde Park teen made up a story about being verbally attacked on a New York City subway train because she is Muslim, CBS New York reported.
Yasmin Seweid, 18, was in police custody Wednesday afternoon, police told CBS New York.
Police told CBS News she was charged with filing a false report and obstructing governmental administration.
Seweid claimed that she was verbally assaulted by a group of three men on the subway around 10 p.m. Thursday, Dec. 1.
She told CBS New York she got on the No. 6 Train at 23rd Street and Park Avenue after leaving an event at Baruch College.
"I heard them talk, but I had my headphones in, I wasn't really listening, I had a long day. And they came closer and I distinctly heard them saying, 'Donald Trump,'" she said.
Seweid said she was then verbally attacked by the three drunk, white men.
"They were surrounding me from behind and they were like, 'Oh look, it's an f***ing terrorist,'" she said. "I didn't answer. They pulled my strap of the bag and it ripped, and that's when I turned around and I was really polite and I was like, 'can you please leave me alone?' and everyone was looking, no one said a thing, everyone just looked away."
Seweid said no one stopped the men, not even when they tried to tear off her hijab.
"They kept saying, 'you don't belong here, get out of this country, go back to your country,' and finally they came really close and they were like, 'take that rag off your head,'" she said.
Seweid also criticized President-elect Donald Trump.
"The president-elect just promotes this stuff and is very anti-Muslim, very Islamophobic, and he's just condoning it," she said.
But on Wednesday, police said Seweid made up the story of her attack. Sources told CBS New York that police observed inconsistencies in her story, and said she admitted to making up the story to get out of a "family problem."
Last week, Seweid went missing for a few days, but was later found safe.She had been carrying a bag of clothing when she left her home.
Thanks for reading CBS NEWS.
Create your free account or log in
for more features.