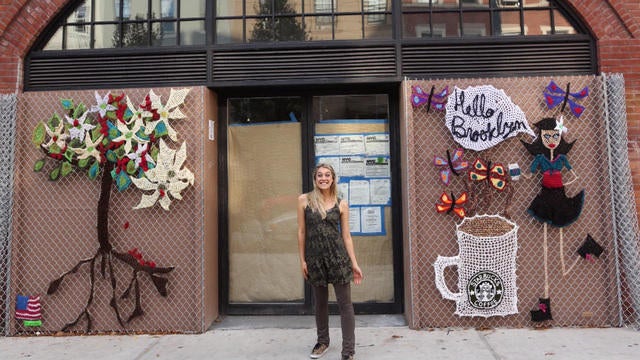 "Yarn bomber" hopes to bring new perspective to street art
A crafty kind of graffiti is popping up in all sorts of unlikely places.
Critics of graffiti in general might call it vandalism. But admirers call it street art. And this emerging, fuzzier form of art called yarn bombing is being stitched around the world, changing the appearances of cities and landscapes.
With crochet hook in hand, London Kaye looks very much at peace – so at peace, it's contagious.

"What drew you to it?" Miller asked.
"I have loved crochet ever since I started crocheting. And I learned when I was 13 and it was kind of a way for me to just sit and be with myself and take a moment," Kaye said.
But at heart, she's a renegade artist – a yarn bomber.
"I guess the best way to define it is when you take a piece of knit or crochet and you wrap it around something outside. So you're bringing, like, a touch of warmth into an urban environment," Kaye said.
Kaye brings the art to the age-old craft of crocheting to street art, where traditionally, walls and fences have been the canvas for graffiti artists.
Kaye guided CBS News correspondent Michelle Miller to one area in New York City that she yarn bombed.
"This pipe, I have been replacing the crochet for, I want to say, over a year now," Kaye explained. "After a little while, people will end up taking it and I just go back and replace it. So I've gotten pretty creative with these water pipes. But this is one of my favorites yet."
Kaye's work ranges from whimsical to subversive. She once yarn bombed a cliff in Italy.
"I love that I'm doing something that's so clearly a feminine craft, and putting it out there on the street with anybody else who's doing it. Street art's definitely done by mainly men. And I like to be able to bring that female perspective into the whole thing. And I love being on the subway and, like, a guy will come up to me and be like, 'Hey, you're that girl that yarn bombs!'" Kaye said, laughing. "It's like, 'What? You've been following the crochet too?' That's a good sign."
Yarn bombing is part of a rebirth for crocheting and knitting. It's not just about scarves and sweaters and hats, but pictures and sculptures as well.
"People started knitting and crocheting and then thought artistically about what they could do to self-express using this, and so took it to an extreme level," said Trisha Malcolm, editorial director for Vogue Knitting magazine.
Malcolm said these are exciting times for "yarn heads."
"And how global is this?" Miller asked.
"Oh, hugely global, hugely," Malcolm said. "In Rouen, in France recently, a group of women got together and knitted squares and recreated a 20-foot-tall Monet painting."
Kaye's work has caught the eye of corporate America, too. She's done installations for companies ranging from Starbucks to Miller Beer, putting up low-tech billboards in neon-lit Times Square. But she's experienced pushback too, like when she hung a mural for a flea market on a building whose owners had not granted permission.
"I want it to be something that is going to bring about good feelings. And it's just — this did not. And it really affected me," Kaye said.
She said feedback has made her more conscious about how her art affects people. She said that's made her a better artist.

"Safe to say you're hooked," Miller said.
"I am hooked," Kaye agreed, laughing. "I am. And I love crocheting so much. So this is truly a dream."
Thanks for reading CBS NEWS.
Create your free account or log in
for more features.