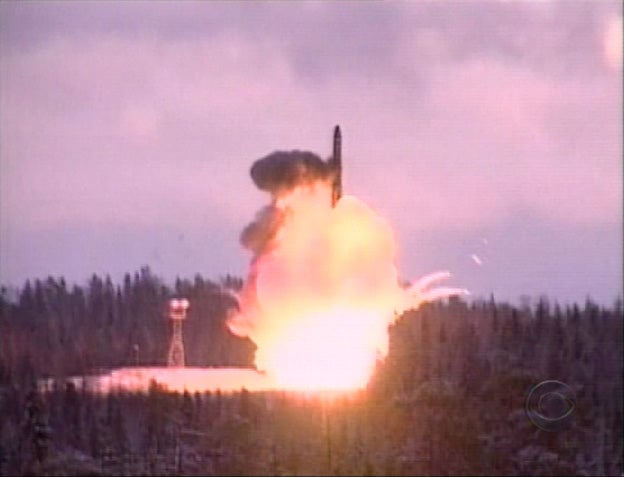 15 years ago: When America freaked out about Russia's nukes
Has it already been 15 years since the new millennial dawned? Remember the fears of how computers would come to a grinding halt when the dial turned to year 2000? In a three-part series, CBS News looks at how Americans were coping with the big change. This report looks at fears about Russia's Y2K preparedness. Other reports look at fear mongering by gun marketers in 1999 and how Americans looked to the Amish for how to survive in a technological meltdown.
---
The uncertainty surrounding Y2K was very much a global one. Of particular concern was the question of Russia's preparedness.
The opening line of former CBS News correspondent David Hawkin's 1999 report from Moscow phrased it best: "When the clocks strike midnight on New Year's Eve, what'll happen to Russia's nuclear missiles?"
Moscow's response in the face of a perceived nuclear crisis was classic Russian stoicism.
"We're confident there'll be no danger when our systems make the transition into the year 2000," said Russian Defense Ministry spokesman Col. Alexander Somov.
In typical Kremlin fashion, the Russian government compared its readiness to America's, saying in a statement: "Russia has prepared at least as well as the United States, nothing serious is going to happen."
Experts' response to the threat of a nuclear crisis was a bit droller. They said that since the military's computers break down all the time, if the system were to fail on January 1st, it'd be business as usual.
The American government didn't take it so lightly. It arranged with the Russians to post officers in each other's missile command centers to make sure there were no accidental launches. The State Department even evacuated hundreds of U.S. embassy employees and their families.
"This is a crisis the exact proportions of which we are not able to predict," said Under Secretary of State Thomas Pickering.
Russians at the time had never seen a computer; much of the country outside of the big cities was still living in a Y1K world, reported Hawkins. For Russians, food shortages, dead phone lines, and blackouts were all just part of everyday life.
With a strike of a match, one Russian perfectly summed up his country's apathy to Y2K: "If the power goes out, we'll just light a candle."
And that's the way it was on Wednesday, December 29, 1999.
Thanks for reading CBS NEWS.
Create your free account or log in
for more features.